Johor BN head Abdul Ghani Othman is the candidate for the Gelang Patah parliamentary constituency, setting the stage for a grand battle with DAP supremo Lim Kit Siang.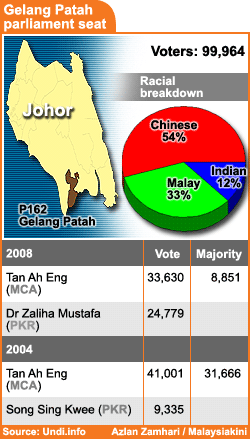 The announcement was made this morning alongside the launch of the Johor BN manifesto at a hotel at Johor Baru.
However, he denied that his candidacy is to "bury" Lim's political career, but rather, is an attempt to defend what Johor has achieved all this while including the harmony among different races.
"I receive the mandate from the party and coincidentally the candidate from the opposition is Kit Sang.
"I'm assigned to defend BN's seat in Gelang Patah, but not to bury anyone. It is for the victory of BN, which is my task," he said during a press conference after the launch.
Ghani has given up the Serom state seat to make the switch.
Nothing less than 100 percent victory, BN told
The four-term menteri besar said he is ready to face Lim and hoped that the voters in Gelang Patah will give him the chance to continue to serve on a different platform.
"I would like to offer myself to serve the people of Johor, including the Chinese community, as well as play my part for the well-being of the country."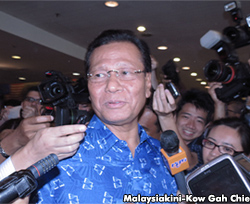 During his speech to some 1,000 BN supporters and local leaders before announcing the Johor BN manifesto and candidates list, Ghani ( right ) sounded the battle cry and demanded Johor BN deliver a 100 percent victory in Johor.
"Recently the opposition has raised a wave to challenge what we have built in Johor over the years together with all the races - Malay, Chinese and Indians.
"Johoreans have been practising mutual understanding and working with each other but the opposition wants to challenge what we have all this while.
"They tried to split the society in this state, which is very challenging to all of us in Johor... I urge you to defend what we have in Johor against those from Kelantan or even Ipoh Timor."
The state BN also announced its other candidates for parliamentary and state seats.
Caretaker Higher Education Minister Khaled Nordin ( below ) will move from his Pasir Gudang parliamentary seat to the Permas state seat, making him an obvious candidate to succeed Ghani as menteri besar post, should he win.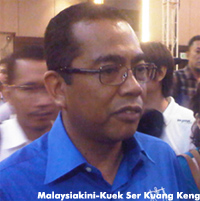 Khaled ( left ) received a round of strong applause from the crowd when his name was announced as the candidate for Permas, but he refused to comment on his prospective after the general election.
"Let us win this election first... only then we will decide who will be the menteri besar.
"I cannot be the one to say what will I be, you have to ask the question to the leadership," said a beaming Khaled when asked by reporters.
Another hopeful for the menteri besar's post, Nur Jazlan Mohamed, will defend the Pulai parliamentary seat.
Veteran Shahrir Samad will defend Johor Bahru parliamentary constituency, while former Umno Puteri chief Azalina Othman has been tasked with defending the Pengerang parliamentary seat.
Ghani told reporters that his "transformation team" consists of 55 percent and 30 percent of new faces in state and parliamentary level respectively.
Hishammuddin: Support for Ghani unprecedented
During the press conference, when asked about the protest by the supporters of Gelang Patah MCA division chief Jason Teoh, who has been dropped as candidate to make way for him, Ghani said all members from BN component parties should place the interest of the state above all.
"They should realise that we should not bet our future on the opposition... I think we can mange it (the protest). One thing about Johor is the tradition that members will finally support the candidates selected by the leadership."
Ghani also rebutted the claim that MCA had 'loaned' the seat to Umno as the latter has a better chance to fend off Kit Siang.
"It has been the history of Johor that you have MCA contesting in areas like (Malay-majority) Ayer Hitam (parliamentary seat) and Gerakan standing in a (parliamentary) constituency like (Malay-majority) Simpang Renggam.
"I think in this instance, we have an Umno candidate in a Chinese-majority area. It'll be quite a nice way to reciprocate what has happened in Johor BN."
On whether his chances in Gelang Patah would be affected if Teoh contests as an Independent candidate, Ghani replied that he hoped rational thinking within the electorates will prevail.
After last night's 1,000-strong rally to support Teoh, his supporters are calling for another rally tonight at Taman Universiti, Skudai, to urge MCA president Dr Chua Soi Lek and BN chief Najib Abdul Razak to reconsider fielding Teoh in Gelang Patah.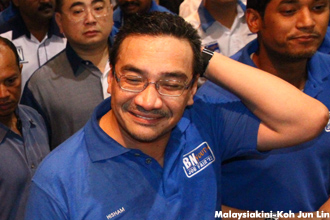 Caretaker Home Minister Hishammuddin Hussein ( right ), who has been tasked to defend his Sembrong parliamentary seat, told the same press conference that Ghani will not fight a lone battle as the support from Johor BN will be "unprecedented and extraordinary".
"He will not contest in Gelang Patah without the whole support of BN. I am the first one to give him my full support.
"Now the outsiders come (to contest), but who is the one that developed Johor? Kit Siang? Look at Ghani's track record. Is this a game (to the opposition)?"
Kit Siang seeks 'clean contest'
In an immediate reaction, Lim "invited" Ghani to join him in an accord to make Gelang Patah the model constituency of clean, free and fair elections.
This, said Lim in a statement, is because GE13 is expected to be dirtiest in Malaysia's election history.
Lim said he is seeking Ghani's agreement to a campaign with these features:
No personal attacks or character assassination, not only by the candidates, but their election teams and workers;
No playing the race or religion card, as GE13 should be an occasion to promote and foster race relations, and not an occasion to divide and polarise further the diverse races and religions;
No politics of money or the use of money to buy votes, which is the root cause of the rampant corruption in Malaysia;
Commitment by both of us to condemn and dissociate ourselves from dirty tricks, even by anonymous quarters; and
Both candidates to sign the Transparency International-Malaysia's Election Integrity Pledge (EIP) with the establishment of a EIP Watchdog Commission in Gelang Patah comprising Malaysians of impeccable character.