Nomination day this morning marks the official start of the race towards the 13th parliament.
There are 222 parliamentary and 505 state legislative assembly seats that will be contested. However, elections will not be held for the 71-seat Sarawak assembly.
The weather this morning was forecast to be mostly fine throughout the country, except for Penang, Johor and parts of Malacca.
Nominations were from 9am to 10am after which the Election Commission (EC) scrutinised the nomination forms.
For the first time ever, there was no public objection period against any potential candidates, as election rules had been amended to rid this process.
Unlike in 2008, the tripartite alliance of PAS, PKR and DAP are unlikely to field candidates against one other, but plenty of Independent candidates have surfaced to force multi-cornered fights.
A large number of people not chosen as candidates for BN and Pakatan Rakyat were expected to file in their papers as Independents.
Sabah was expected to have the most number of multi-cornered fights, which is traditionally the case, with Sabah Progressive Party (SAPP) and Sabah State Reform Party (Star) joining in the fray.
DAP was expected to use its own logo for the contest following a last-minute assurance from the Registrar of Societies (ROS) that it has no objections to it, despite not recognising its party leadership.
Once the returning officers announced the candidates, the general election campaign, lasting 15 days until midnight on May 4, officially began. Polling is on May 5.
LIVE REPORTS
7.54am:
Supporters from BN and Pakatan started gathering at various constituencies to move to the respective nomination centres.
Kota Kinabalu (Sabah) - Traffic is sparse, and one would not guess that today is nomination day if not for the party flags lining the streets, though even these are few and far between.
Bentong (Pahang) - Some 300 Himpunan Hijau and Pakatan supporters have started to march from Medan Selera Kampung Baru, which is 600m away from the nomination centre.
They chant "Ini kalilah" and "Kuburkan BN" (Now is the time, Bury BN).
Jerlun (Kedah) -
Supporters of both coalitions have started to gather.
The nomination centre is at Sekolah Men Sains Kubang Pasu and both camps are gathered on opposite sides.
The Jerlun parliamentary seat and Ayer Hitam state seat will see Umno strongmen Othman Aziz and Mukhriz Mahathir face off with PAS excos Ismail Saleh and Abdul Ghani Ahmad respectively.
Pandan (Selangor)
- Though few party supporters from either side are seen, over 100 police and local council personnel have already closed the road in front of the nomination centre.
Fire trucks assist by filling up road barriers with water, while tow trucks remove vehicles parked within the 50 metre buffer zone from the nomination centre.
The weather remains cool and breezy while members of the press waiting outside the nomination centre make guesses as to whether the incumbent MP, Ong Tee Keat, will defend his seat as an Independent candidate.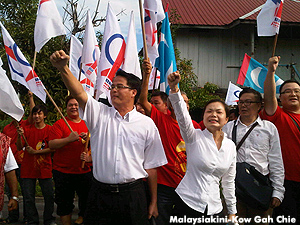 Sibu (Sarawak) - About 30 DAP supporters gather at the Sibu HQ to accompany Sibu candidate Oscar Ling and Lanang candidate Alice Lau to the nomination centre.
They move off after Ling leads a prayer for the nation's democracy.
They serve auspicious food to the candidates to bring good luck, such as steamed buns, rice dumplings, yam cake and glutinous rice dumplings.
Sarawak DAP chief Wong Ho Leng explains this is DAP's tradition before nomination.
8am:
Pandan
(Selangor)
- Ong shows up opposite the Lembah Maju food court and delivers a speech to around 100 of his supporters in orange shirts. It is still unclear if he is contesting.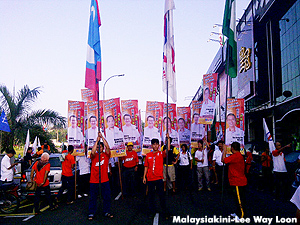 Kluang (Johor) - A 1,000-strong multiracial crowd gathers in front of the Pakatan operations centre and prepares to march to the nomination centre about 1km away.
Many Chinese are seen carrying the PAS flag while Malay supporters hold the DAP rocket flag.
Pakatan accessories such as caps and T-shirts being sold by party workers are going like hotcakes.
8.11am: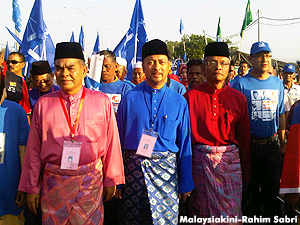 Jerlun (Kedah)
- Mukhriz and Abu Hassan start moving with roughly 3,500 supporters in tow.
Bukit Gantang (Perak) - PAS supporters conduct prayers with Nizar Jamaluddin (Changkat Jering state seat) and Idris Ahmad (Bukit Gantang parliamentary seat) at Taman Tasik Taiping before moving off to the nomination centre at the Larut and Matang land office.
About 300 supporters have flooded the venue with swelling numbers. BN supporters meanwhile gather at the Umno Bukit Gantang office with their candidates.
Kota Kinabalu (Sabah) - PKR's Api-Api candidate Christina Liew is the first candidate to arrive at the Kota Kinabalu nomination centre at Dewan Maksak, Likas.
50 supporters with party flags chant "Reformasi!" and "Ini Kali Lah!".
Bagan (Penang) - 1,000 Pakatan supporters gather in front of DAP's operations centre, 500m from the nomination centre Kwong Wah school.
8.20am:
Jerlun (Kedah) - 3,500 PAS supporters start to move with candidates Ismail Saleh, Abdul Ghani and Ismail Wan The. Supporters link hands to form a chain while reciting prayers.
Sungai Siput (Perak) - PSM candidate Dr D Jayakumar, under the PKR ticket, marches with 50 PSM members and supporters to the nomination centre at Kuala Kangsar municipal council.
Lembah Pantai (Kuala Lumpur) - Some 500 multiracial supporters of PKR candidate Nurul Izzah Anwar gathers at Jalan Maarof.
Bagan (Penang) - DAP sec-gen Lim Guan Eng leads a 500-strong crowd to the nomination centre, chanting "Ubah" (Change).
Gelang Patah (Johor) - DAP candidate Lim Kit Siang arrives at the party's gathering point at Taman Ungku Tun Aminah, cheered by some 500 supporters clad in the tri-coloured yellow, green and red T-shirts bearing the word "limkitsiangv2.0".
Holding DAP and Malaysia flags, they repeatedly shout, "May 5, change the government," in Mandarin.
"Let's start a clean and fair election!" says Kit Siang who gives a short speech before leading the supporters to march to the Johor Bahru Tengah City Council building nomination centre.
Leading the march is a lion dance team in orange, the Pakatan colour. The crowd takes up two lanes of the main road of Jalan Tun Teja, causing a traffic jam.
Joining Kit Siang is Johor DAP chief and the Skudai state seat candidate Dr Boo Cheng Hau. They will join with the supporters of PAS who have gathered at another point.
8.30am:
Segamat (Johor) - BN's Segamat candidate S Subramaniam and Jementah candidate Lee Hong Tee have arrived at Dataran Segamat. The crowd here has swelled to over 300 people, most of which are armed with blue BN flags.
A BN supporter, Raziah Abdul Kahir, 32, brought along her two-month-old baby boy.
"My husband is working but I'm here to show support," she said.
Meanwhile at Padang Bukit Hampar, Pakatan's crowd has swelled to about 200, all armed with their respective party flags and also backed by Himpunan Hijau activists.
Shah Alam (Selangor) - PAS and Pakatan supporters arrive and gather at the entrance to the nominations centre, reserved for them. No BN supporters are yet inside.
Lembah Pantai (Kuala Lumpur) - Two busloads of Raja Nong Chik Raja Zainal Abidin supporters are seen being ferried to their gathering point near Jalan Bangkung.
Permatang Pauh (Penang) - PKR de facto leader Anwar Ibrahim arrives with his Jelajah Merdeka bus. Supporters are lining up to welcome him. Party flags are all on standby as supporters conduct prayers before moving off.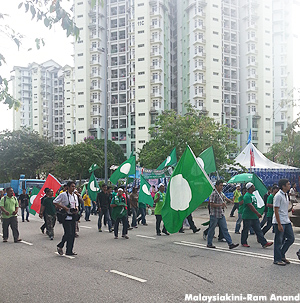 8.35am:
Putrajaya - PAS supporters have begun coming in droves heading to their gathering point to march with candidate Husam Musa, while there are little signs of the BN entourage so far.
At least more than 200 PAS supporters have marched quietly in batches so far.
They are carrying flags, but things have been relatively quiet thus far.
8.40am:
Sungai Siput (Perak) - Sungai Siput parliamentary incumbent MP Dr Michael Jeyakumar (who will be defending his seat under the PKR ticket), DAP Jalong state seat candidate Loh Sze Yee and PAS Lintang state seat candidate Ahmad Mazlan Othman are marching towards the nomination centre at Kuala Kangsar municipal council, which is located 300 metres away.
The trio are escorted by PAS Unit Amal and are in high spirit, chanting "Long Live the People".
Kota Kinabalu (Sabah) - Star Api-Api candidate Felix Chong arrives, to about 50 SAPP supporters bearing flags and chanting 'Ini Kali Lah!' and 'Autonomy!'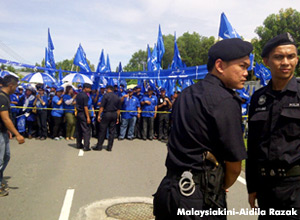 The supporters are marching in military style and appear very disciplined, obeying orders to raise flags and not drink water when told.
Also present is Star's Likas candidate Martin Ho, who is Chong's opponent for the Likas state seat.
Meanwhile, a man wearing a Tatap BN shirt was asked by the Election Commission (EC) and police to wait outside the nomination centre.
Lanang (Sarawak) - Over 200 DAP supporters accompanied DAP's Lanang candidate Alice marching toward Sibu library, used as the nomination centre for Lanang.
The group shouted slogans of "May 5, BN falls" and "Vote Rocket for change".
When the group passed a BN group, both groups pointed and shouted at each other, but police officers were fast to react to stop them.
Alice Lau's grandmother Liong Leh Ting, 78, and mother Ha Foong Yien, 51, are spotted at the nomination centre to show support for Alice.
Pandan (Selangor) - Incumbent MP Ong is nowhere to be seen, but his supporters are here to root for his aide Allan Tan, who is standing as an Independent.
Tan tells reporters that he wanted to continue his boss' work in the area.
Teratai incumbent assemblyperson Jenice Lee, who is not fielded by her party DAP, said she is standing as a "Pakatan-friendly Independent".
Tan has about 100 supporters, while Lee has about 50 in tow. There are about 400 supporters each for BN candidate Gary Lim and PKR candidate Rafizi Ramli.
8.45am:
Shah Alam (Selangor) - BN supporters arrived some 300-strong dressed in BN T-shirts and carrying BN flags, singing 'Inilah Barisan Kita'. On the Pakatan side, supporters swell to about the same number.
BN candidate Zulkifli Noordin arrives soon after, and was escorted inside the nomination centre along with his proposer and supporter The crowd shouted "Sayangi Selangor!" and "Yakini BN!".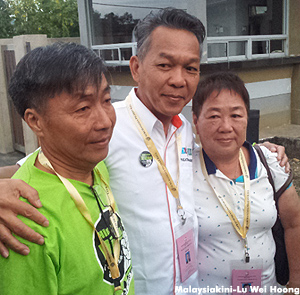 Bentong (Pahang) - BN's candidate Liow Tiong Lai and incumbent Pahang Menteri Besar Adnan Yackob and 700 blue T-shirt supporters reach the nomination centre running.
The supporters are in high spirits, chanting, "Ini barisan kita."
Surprisingly, Adnan chats with DAP newcomer and green activist Wong Tack and other Pakatan candidates. Adnan will be defending his Pelangai state seat.
8.50am:
Putrajaya - The BN entourage have gathered in huge numbers at the nomination centre, and will be separated by PAS supporters who are expected to arrive soon with a distanced barricade to separate the two groups.
The BN entourage are singing patriotic songs, while PAS supporters are expected to march from a mosque nearby. The BN entourage are made up of around 300 people.
Kota Kinabalu (Sabah) - BN's four candidates Chin Su Yin (Likas), Agnes Shim (Luyang), Yee Moh Chai (Api-Api) and Chin Tek Ming (Kota Kinabalu) arrive with 200 supporters in blue.
Their DAP opponents Junz Wong (Likas), Hiew King Cheu (Luyang) and Jimmy Wong (Kota Kinabalu) are already there with with about 50 supporters, with umbrellas as it is a hot day.
Although both groups are kept about 200 metres apart by authorities, they still engage in a chanting match with the Pakatan side chanting "Reformasi" to BN's "Tatap BN".
Meanwhile, SAPP's Likas candidate Yong Teck Lee ( in yellow shirt ), Luyang candidate Melanie Chia and Api-Api hopeful Wong Yit Ming are also there.
Star's Micheal Chiew is also there to be nominated for the Kota Kinabalu parliamentary seat.
Independent candidate Marcel Jude Joseph hopes to try his luck in Api-Api.
9am:
Sungai Siput (Perak) - The nomination process begins with BN-MIC's SK Devamany submitting his nomination forms.
Interestingly, former MIC chief Samy Vellu and former 30-year Sungai Siput MP is Devamany's proposer in this straight fight with PKR-PSM's Jayakumar.
Only a small crowd of 150 from both sides are waiting outside.
Gelang Patah (Johor) - Kit Siang (Gelang Patah) and Boo Cheng Hau (Skudai) enter the nomination centre.
PAS candidate Salahuddin Ayub (Nusajaya) is not there yet as he has to submit his papers for the Pulai parliamentary seat first at the Pulai nomination centre.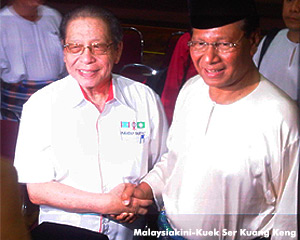 Seven minutes after, BN's Abdul Ghani Othman (Gelang Patah), Zaini A Bakar (Nusajaya) and Liang Ah Chy (Skudai) also enter to submit their nomination papers.
Kit Siang shakes hands with Ghani and poses for photographs. Surprisingly an Independent, R Rajendran, 55, appears to submit his nomination.
The retired army sergeant says he wants to contest as the previous MP has failed to solve his problems.
Hulu Langat (Selangor) - PAS supporters are blocking PSM supporters from marching towards the nomination centre.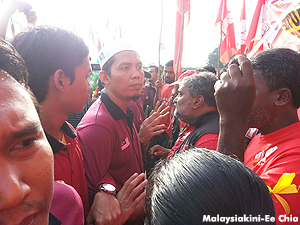 PSM supporters start to chant, "Whose road is this?" while party leaders negotiate with the PAS supporters, who eventually relent.
PSM secretary-general S Arutchelvan is contesting the Semenyih state seat under this constituency.
9.15am:
Lembah Pantai (Kuala Lumpur) - A trader from Bangsar, Rosli Baba ( below ), files his nomination papers to stand as an Independent.
He said he is contesting because he is not satisfied with Umno.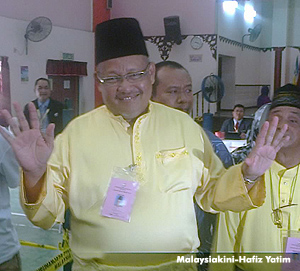 As a virtual unknown, he will be face an uphill task to convince people to vote against incumbent Nurul Izzah (PKR) and Raja Nong Chik (BN).
Also present are observers which include Negri Sembilan Royalty Tunku Zainal Abidin who was reported to have been previously offered to join DAP.
Kluang - MCA national veep Gan Ping Sieu, who failed to become a candidate in Kluang, turns up and joins the BN crowd, marching in support of his colleague Hou Kok Choong.
Speaking to Malaysiakini , he says as a party man, he needs to give his full support for Hou.
"This is my duty to be around today... This is a very critical moment for MCA and BN.
"I am also the division leader here. I have the duty to accompany my colleagues for nomination here," said the deputy youth and sports minister in the caretaker government.
9.18am:
Kluang - As expected, DAP incumbent Mengkibol assemblyperson Ng Nam Hua has shown up at the nomination centre at Kluang to submit his nomination form to contest as an Independent.
Ng, still a DAP member, said he is ready to face whatever consequences included being axed from the party in order to get justice for himself.
"Today, my purpose to contest as an Independent is to show that it's not fair to say I'm not working.
"I'm ready to be axed by the party. I just want to show that I'm innocent. You cannot drop me just because of some complaints that I am not working.
"They did not even send any people to my office to investigate the complaints," he told reporters.
Refuting the accusations against him, he said he has been working in Mengkibol even before he was elected in 2008.
"For the past 24 years, I have never stopped my work and service. But once I have won here, they come back (to demand the seat)," said an angry Ng.
Mengkibol is one of the state seats under the Kluang parliamentary seat. DAP will field its state youth chief Tan Hong Pin to contest there.
Jempol (Negri Sembilan) - BN's Mohd Isa Samad (Jempol) hands in his nominations as PAS' singer candidate Aisyah waits her turn, having a go at the breakfast prepared by the EC in the Jempol district administrative office.
9.20am:
Sungai Siput (Perak) - Jalong state seat under Sungai Siput sees a three-cornered fight as S Kalimuthu, a former Gerakan Kuala Kangsar councillor has decided to stand as an Independent.
The 53 year-old says he was fired from his former party as they want to field someone to replace him in the state seat.
He says he had contributed a lot to the local community so he has decided to stand to continue serve the people.
"I was chosen by the people, I'm the people's choice," he said.
Permatang Pauh (Penang) - BN candidates have entered the nomination centre while Anwar and his entourage mill around.
Earlier, when Anwar approached the centre, BN supporters shouted and booed at him. Both BN and Pakatan supporters shout at one another although they are about 500 meters apart.
Anwar's supporters, about 3,000, outnumbers BN's 1,000. No DAP flags are seen among the Pakatan crowd.
Later as Pakatan candidates, including Anwar, pass the barricades to go into the nomination centre, their supporters get into a scuffle with the police.
They shout at the police, who try to push them back from following the candidates into the centre, while the supporters shout, "The new PM must be close to the rakyat!"
The police spend 10 minutes trying to hold back the enthusiastic supporters.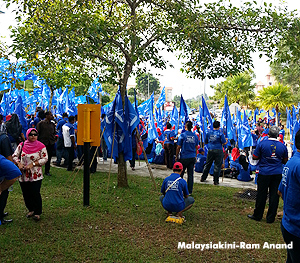 Putrajaya: BN supporters are relatively quiet as their candidate Tengku Adnan Tengku Mansor enters the nomination centre.
It is more like picnic in the BN camp, with supporters seated and taking freebies such as fans, mini flags, water and 'I love PM' signs.
9.25am:
Bagan (Penang) - DAP candidate Lim says all four party candidates for both state and parliament seats under Bagan have completed their nomination by using DAP letters of appointment.
He says the election officer has accepted the authorisation letter signed by him as the DAP secretary-general.
He believes pressure from the people over the ROS move this week has made an impact to stop BN from playing dirty tricks to deny DAP the right to use their Rocket logo.
He does not expect any problems in other places as the same set of rules should apply to all. For now, no DAP letter has been rejected, pending any new developments.
Lanang (Sarawak) - DAP candidate Alice Lau went into the nomination centre.
Lau submits her nomination using the DAP's logo, and this is approved by returning officer Hii Chang Kee.
Lau's nomination was proposed by Lawrence Hii, and seconded by Yap Hoi Liong, Dudong Adun.
Fifteen minutes later, BN candidate and four-term Lanang parliamentarian Tiong Thai King appeared at the nomination centre.
Segamat - Segamat candidates S Subramaniam (BN) and Chua Jui Meng (Pakatan) have submitted their nomination forms.
State candidates for Jementah and Buloh Kasap from both coalitions have also finished submitting their forms.
Thus far, it appears that it will be straight fights between BN and Pakatan in these seats as no Independents have shown up. The nomination process ends at 10am.
Outside, chants of "Ubah" and "Hidup BN" is heard as supporters from both sides continue to taunt each other.
Bentong - Pakatan and BN supporters are chanting at each other. Interestingly, anti-Lynas Green March activist Aunty Mei, 72, who was involved in a verbal scuffle with Adnan Yaakob earlier, shouts, "50 ringgit", alluding to the latter's attempt to appease her with RM50 in Kuantan before.
Aunty Mei has been trailing Adnan in Kuantan to demand an apology for the latter's claim that the participants of the Green March had finished their journey, from Kuatan to Kuala Lumpur, by car.
9.50am:
Jempol (Negri Sembilan) - Unexpectedly, Jeram Padang state seat under Jempol constituency, may see a four-cornered fight with two Independents showing up with their forms.
One, R Mazavan says he wants to serve the community, and is not from any party.
Putrajaya - Supporters from both sides are quiet and hiding under their umbrellas from the scorching heat. PAS supporters clearly outnumber the BN and are drowing out the latter with their chants.
Jerlun (Kedah) - Dr Mahathir Mohamad, under heavy security escort, shows up at the nomination centre and is being warmly greeted by supporters.
Pasir Mas (Kelantan) - Umno candidate Che Johan Che Pa fails to file his nomination papers. This means that the seat will see a one to one fight between Perkasa chief Ibrahim Ali and PAS Nik Abduh Nik Aziz, who is son of Kelantan MB Nik Aziz.
Bagan (Penang) - Guan Eng has confirmed ROS has handed over another letter to him by hand, addressed to the DAP HQ to say the authorities have no objections to DAP using its logo. He believes the EC has also issued directives to all its officers over the matter.
He adds that every opponent deserves respect, even though BN's candidates are all newbies.
10.10am:
Putrajaya - Nominations are closed in Putrajaya. Both candidates are expected to come out soon.
A Putrajaya resident, who refuses to be identified, tells Malaysiakini that he believes PAS really does stand a chance to win Putrajaya.
"(There are) Plenty of new voters, it's 50 50," he said, judging by the huge turnout of PAS supporters.
The officer announces that two candidates will contest the Putrajaya parliamentary seat- Tengku Adnan from BN who filed his nomination at 9.02am and Husam of PAS who filed his nomination at 9.14am.
No objections have been raised and the candidates have been finalised.
Kota Kinabalu (Sabah) - Sabah PKR Youth chief Jafery Jomion who quit on Thursday is the nominated candidate for Star for Luyang.
"We want to represent the people... don't forget, a star is bigger than the moon," he said, referring to the Pakatan partner PAS' logo.
Bentong - There are 12 red helmeted Light Strike Force and 30 uniformed police in between 600 Pakatan and 700 BN supporters.
A MCA party member Wong Shu Whah says that incumbent Bentong MP Liow Tiong Lai has helped him before, so he is throwing his support behind the man.
"Last time when I was lying on bed because of an industrial accident, I have no money. Liow come to assist us and paid my bills. I thank him for that."
Segamat - Nomination officer Ismail Abu says the centre is awaiting response from the EC headquarters and invites potential candidates, observers and journalists for breakfast first. They proceed to dine while awaiting the results.
Sungai Siput - "Relief! It's a big relief. That should be our right," says the DAP Jalong state seat candidate Loh Sze Yee after the EC accepts his party logo.
"They should not do this at the last minute, it has caused a lot of headache for us," says the Perak DAP Youth assistant secretary.
Jalong sees a straight fight between Loh and Liew Yew Aw (BN).
The nomination of Loh over the incumbent Leong Mee Meng resulted in a protest by the DAP grassroots leader and his supporters in front of Perak DAP headquarters yesterday.
Nevertheless, Loh says that is their rights to do so, but he must follow the party's instruction to contest in Jalong.
When asked about potential sabotage from local party members, he says, "There are such rumours, everybody knows that."
10.20am:
Kuantan (Pahang) - There is a minor scuffle outside the nomination centre between BN and Pakatan supporters.
As BN supporters are gradually leaving the centre, Pakatan supporters are taunting the BN supporters with RM50 notes, "Are you not receiving enough money, then leaving?"
Retaliating, several BN supporters put up an underwear on a bamboo pole to humiliate Pakatan. Some of them even wear underwears on their heads.
This sparks an exchange of vulgarities from both sides.
Nevertheless, PKR's Fuziah Salleh and BN's Suffian Awang are successfully nominated as the Kuantan parliamentary candidate.
10.30am:
Pandan (Selangor) - Jenice, the Teratai incumbent, says that she is unhappy that the party is fielding a newcomer that had never done any groundwork in the Teratai constituency.
"What I'm doing is not betrayal, because if I retain (the seat), I'll still hand it to DAP," she said.
She notes that her supporters are chanting "Rafizi for Pandan, Jenice for Teratai".
On rumours that she has been sacked by the party for standing as an Independent, she replies, "The central executive committee (CEC) is suspended. What authority is being used to sack me? I remain loyal with DAP".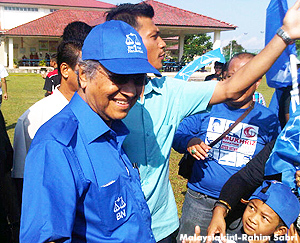 Kota Melaka (Malacca) - Sim Tong Him, the incumbent, causes a stir when he is nominated to stand as an Independent in the Kota Laksama state seat.
This means he is contesting as a DAP candidate for Parliament, but an independent for state level, possibly a first in Malaysia's electoral history.
Jerlun (Kedah) - Mahathir is seen shaking hands with BN supporters, leading to PAS supporters to shout 'Reformasi', 'Allahuakbar', 'Hancur BN' (Destroy BN) and 'Ini Kalilah'.
Mahathir is there to support the candidacy of his son, Mukhriz, who is slated to be Kedah MB should BN retake the state.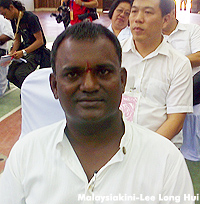 Sungai Siput - SP Nagalingam ( right ), a 46-year-old Keadilan Insan Tanah Air (Kita) party member, has filed his nomination papers for the Sungai Siput parliamentary seat and Lintang state seat candidate.
This leads to a three-cornered fight in both Sungai Siput and Lintang.
Nagalingam stresses that he is just a party member and "not from Kita".
He says the reason he wants to stand is to bring changes to Sungai Siput.
"I am a local here, I try to bring some changes, because we need change," he says.
Nagalingam will be facing Michael (PSM-PKR) and Devamany (BN) in Sungai Siput and facing Zolkafly Harun (BN) and Ahmad Mazlan (PAS) in Lintang.
10.30am:
Permatang Pauh (Penang) - Supporters of BN and Pakatan continue to wait under the sweltering heat while shouting and singing their party slogan and songs.
BN supporters, who seem very energetic up until now, are shouting "Hidup BN" and singing the patriotic "Inilah Barisan Kita" song.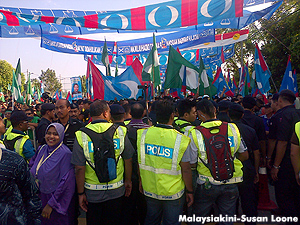 Pakatan supporters are having fun shouting, "Are you ready for BN?" to the resounding "No!".
Earlier, before entering the nomination centre, Anwar is asked about the impact of Independent candidates making their appearances in the election this time.
"It would probably have an impact on one or two seats but not all. This is a battle mostly between BN and Pakatan," he tells reporters.
"There is much interest in this polls because we are not forming an opposition coalition, but a government that can take over Putrajaya," he adds.
He does not think the Independents can split Pakatan's votes, saying "BN and Pakatan have their own strengths".
During this time, about 50 federal reserve units personnel stood guard at each side to maintain peace and order.
Putrajaya - Both sides cheer their candidates. Tengku Adnan however is booed by the PAS camp as he leaves. After a short press conference, both sides disperse.
Sungai Siput (Perak) - Samy backs his successor Dewamany claiming the latter can bring development.
Speaking at the sidelines in the nomination centre, he claims that he had brought a lot of development and changes to Sungai Siput from 1974 to 2008.
"We actively realise the people's needs, not just practising the politics of talk.
"If you want to me to vote you, then what can you bring for me?" he questions Devamany's competitor Jayakumar from PSM.
Samy is the proposer for Devamany, while Sungai Siput Umno Wanita chief Sharifah Mohd Tamin is his seconder.
10.40am:
Kota Kinabalu (Sabah)
- With no objections made, it will be a five-cornered fight in Api-Api between Christina Liew (PKR), Felix Chong (Star), Wong Yit Ming (SAPP), Yee Moh Chai (BN) and Marcel Jude Joseph (Independent).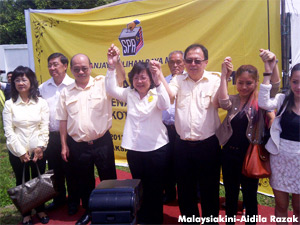 The other state constituencies under Kota Kinabalu, Likas and Luyang will see four-cornered fights between Star, SAPP, DAP and the BN.
The parliamentary constituency will see a battle between three parties - Jimmy Wong (DAP), Michael Liew (Star) and Chin Tek Ming (BN).
10.47am:
Kota Kinabalu (Sabah) - DAP candidate for Luyang confirms that all DAP candidates in Kota Kinabalu and the three state constituencies will use the DAP logo - the Rocket - and not the PKR logo.
Meanwhile, candidate announcements are met with cheers and boos by both sides.
"Please calm down," EC officer Alijus urges all.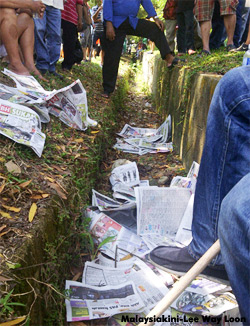 Kluang (Johor) - Outside the Kluang nomination centre, two men are seen distributing free copies of Berita Harian among the Pakatan crowd.
Pakatan supporters respond by booing them and throwing the free newspapers into a ditch by the roadside.
About 10 minutes later, a few members of the PAS Unit Amal pick up the newspapers from the ditch and scold the supporters for littering.
Jerlun - Mahathir speaks to the media, and when asked, says the Kedah MB candidate is BN chief Najib Abdul Razak's decision.
"I do not know (who it will be). That is Najib's problem. I will just follow whatever he says," says the former PM. His son Mukhriz is touted to be the choice for MB.
When asked of Mukhriz' chances in Ayer Hitam, he said, "It looks positive, but in an election, we can never know (the true situation)."
However he is upbeat that BN's chances to win Kedah is "over 50 percent".
"I feel that BN supporters today are more spirited than in the past. Their numbers are great," he says.
"I hope when voting time comes, they will all come out. I am not voting here," he adds.
10.54am:
Kota Kinabalu - PKR supporters loudly boo and chastise Star candidate for Luyang Jafery when his candidacy is announced. Up till Thursday, Jafery was Sabah and Kota Kinabalu PKR Youth chief.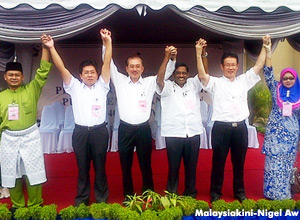 Segamat - After a long wait, nomination officer Ismail Abu officially declares Subramaniam (BN) and Chua (PKR) as candidates for the Segamat parliamentary seat, Lee Hong Tee (BN) and Tan Chen Choon (DAP) for the Jementah state seat and Norshida Ibrahim (BN) and Firdaus Masod (PAS) for the Bulok Kasap state seat. There are no third parties.
With no problems with the rocket symbol, Tan is now officially a DAP candidate.
Meanwhile three-term Subramaniam speaking to the press acknowledges that he is facing a stronger rival as Chua is a national figure.
"It is a strong competition but it will be in a friendly manner," he says.
Chua echoes this, stating that they are old friends and he had campaigned for Subramaniam before in the past.
"It will be a friendly fight and I hope the election will be held with integrity and all authorities will act impartially," says the Johor PKR chief.
11.10am:
Bukit Bendera (Penang) - Guan Eng says he will issue a statement tomorrow pertaining to the party's independent candidates issue, including Jenice and Sim Tong Hing. But he say the usual principles should apply.
As he leaves the centre, BN supporters shout, "liar" at him.
Jempol (Negri Sembilan) - EC officer Wan Razali Wan Awang announces the candidates for the parliamentary and state constituencies.
Pakatan and BN candidates will be in straight fights in Jempol, Serting, Palong and Bahau.
In Jeram Padang, Manikam Letchumanan (MIC) faces a four-cornered fight with T Kumar (PKR), R Mazavan, and Zailani Zakaria (Independent).
Zailani says she is from Umno Jeram Padang division, and is contesting because she feels a Malay leader should represent the Malay majority constituency.
Bentong (Pahang) - The EC officially announces DAP's Wong Tack and BN's Liow in a straight fight for Bentong parliamentay seat.
Meanwhile, incumbent Adnan will be challenged by Bentong PAS chief Abdul Hamid Bahatim in the Pelangai state seat.
Kota Kinabalu (Sabah) - PKR candidate for Api-Api Liew urges all voters to come out on polling day come rain or shine.
"I am facing a five-cornered fight and already 4,000 questionable voters have been added recently onto the roll. So I have lost these votes even before the battle starts.
"So I urge the original residents of Api-Api to come out to vote and not let these imported people determine the outcome," she said.
Meanwhile, DAP chief Jimmy Wong says Jafery contesting under Star in Luyang will impact DAP's chances there.
"Any opposition would have an impact, although not to the extent of winning. Even if he can take away 100 votes, there's an impact," he says.
While Independent candidate for Api-Api Marcel Jude Joseph ( right ), who will use the television symbol, says he is contesting because the big parties are not providing solutions to the common man's everyday problems.
"For example, Sino-Kadazans and people from mixed parentage are deprived of inheritance and get no answers to their applications for years," says the prominent Kota Kinabalu lawyer and Borneo Post columnist.
11.30am:
Sungai Siput (Perak) - The nomination of SP Nagalingam to contest in Lintang is rejected on the grounds that his proposer is not a Lintang voter.
This makes the state seat under Sungai Siput a straight fight between Zolkafly Harun (BN) and Mazlan Othman (PAS).
11.35am:
Taiping (Perak) - Nizar Jamaluddin addresses around 2,000 Pakatan supporters in the heart of Taiping town, after which the crowd disperses.
Jerlun - EC officer Mokhtar Abdul Rahman announces straight fights in all its seats, wherein Ayer Hitam Mukhriz will face PAS' Abdul Ghani Ahmad.
11.40am:
Gelang Patah (Johor)
- Residing officer Md Fuzi Ahmad Shahimi announces that the Gelang Patah parliamentary seat will see a straight fight between Kit Siang and Ghani.
Rajendran, who earlier arrive intending to run as an Independant, had pulled out at the last minute.
It will also be straight fights in the two state seats Nusa Jaya and Skudai.
Bagan (Penang) - Guan Eng will face a three-cornered fight with MCA's David Chua Teik Siang and PCM's Lim Kim Chu.
11.50am:
Bentong - Adnan says that DAP using its own logo will give BN an advantage.
He says this is because DAP would not get the Malay votes it might swing had it used PAS' logo.
"If they (DAP) use PAS, the voters would think, yes, PAS is for Islam. The fence-sitters and those who are not happy with the government would swing their side," the incumbent Pelangai assemblyperson said.
Adnan also jokingly said that he could not wish his opponent all the best, "(because) I have to give the best of luck to myself and my BN friends."
"Frankly speaking and god willing, we can win in the (Bentong) parliamentary seat... but we may have to work hard in the Ketari (state seat)."
He expressed confidence in retaining the parliamentary seat and the other four state seats Bilut, Ketari, Sabai and Pelangai with greater majorities.
"Last time the voting trend was more towards (Pakatan); this time it will go to (BN)."
12pm:
Sibu (Sawarak)
- Narawi Haron, 63, standing as an Independent in Sibu for the third time, explains that part of the reason he is contesting is to prove both DAP and SUPP wrong over the votes he can gain.
"I got information that people from both DAP and BN said that I will only get 100 votes,"he says
He bets he can get 600 votes, at least double what he got in the 2010 by-election.
Narawi garnered 232 votes in the three-cornered by-election that saw DAP Wong Ho Leng's victory.
He says if he can't get 600 votes this time, he would not come out in the next poll.
Despite being an 11 percent minority in Sibu, Narawi wants the seat to be represented by him to fight for bumiputera rights.
3pm:
EC headquarters - The EC cancels a press conference initually scheduled to take place at 12pm.
About 50 journalists had waited at the EC's media centre for three hours, as they were earlier told the press conference will be postponed.
However, a EC staff member tells reporters that the commission is having problems retrieving the full candidates list from "two or three states", including Selangor.
"We have state-level problems," the officer says, and adds that the commission will issue a press statement later.
At the time of writing, there are at least 30 parliamentary seats and nearly 100 state seats which are yet to declare the candidacies.
Bukit Aman - Police public relations assistant head ACP Ramli Mohamed Yoosuf has said that no untoward incidents were reported during nomination day today.
Ramli noted, however, that there had been a serious fight involving party supporters in Pengkalan Kubur, Kelantan as the victim suffered serious leg injuries that required 18 stitches after three people had attacked him with a parang.
"There was also a punching incident in Tampin and in Kajang, (wherein) there was a reported riot involving rival BN and PAS supporters.
"I urge all candidates and supporters to respect the law, and not take on matters on their own. At the same time, under the Elections Act, parties are required to apply for permits with the police to hold ceramahs," he said, adding that in Jasin, a police corporal named Nordin Ahmad, 54, had passed away due to a heart attack.
4.25pm:
Putrajaya - According to the EC, there are 579 candidates for 222 parliamentary seats: 221 from BN, 99 from PKR, 79 Independents, 73 from PAS, 51 from DAP, 28 STAR, nine from Berjasa, eight from SAPP, six from SWP, two from PCM, two from Kita, one from Bersama. The EC's.official statement is not out yet.
For the 505 state seats there are a total of 1,320 candidates: 505 from Barisan, 236 from PAS, 190 Independents, 172 from PKR, 102 from DAP, 49 from Star, 41 from SAPP, 11 from Kita, five from Berjasa, four from Bersama, three from PCM, two from PSM.
6.28pm:
At the completion of the nominations tally, it becomes clear that as of today, trouble is brewing in Pakatan with PKR and PAS competing in one parliamentary seat in Sabah and six state seats in Penang, Selangor, Johor and Terengganu.
Meanwhile in Sabah , the local opposition's cries of 'Ini Kalilah' (change this time) is slowly becoming 'Lain Kalilah' (change next time) as the state is swamped with multi-cornered fights, leaving only two straight fights in Sandakan and Tanjong Batu.
Unlike the last general election, where straight fights was crucial in the opposition's campaign against the ruling BN, this GE may see the most multi-cornered fights in recent history.
The full candidates lists for all states has been uploaded on the EC's official website .
8.20pm:
Accoding to Bernama , of the 579 parliamentary candidates, 221 are from BN, 73 (PAS), 99 (PKR), 51 (DAP), 28 (Star), eight (SAPP), nine (Berjasa), two (Kita), one (Bersama), two (PCM), six (SWP) and 79 (Independents).
Of the 1,321 state seat aspirants, 505 are from BN, 236 (PAS), 172 (PKR), 102 (DAP), 49 (Star), 41 (SAPP), five (Berjasa), 11 (Kita), four (Bersama), three (PCM), two (PSM) and 191 independents.
A total of 523 contestants vying for parliament seats are men, 56 women while 1,209 state seat aspirants are men and 112 are women.
Eight parliamentary candidates are aged between 21 and 29, 77 (30-39 years), 145 (40-49 years), 223 (50-59 years) and 126 (60 and above).
For state seats, 26 contestants are aged 21-29, 176 (30-39 years), 455 (40-49 years), 492 (50-59 years) and 172 (above 60 years).
Free PRU13 app - GE updates at your fingertips