A forensics team investigating this morning's attack on the Malaysiakini office took back evidence, including the live duck and Seputeh MP Teresa Kok's photographs, for analysis.
The team, from the Brickfields district police headquarters, began inspecting the site in Bangsar Utama, Kuala Lumpur, about 1.30pm, just after officers from the investigations unit concluded obtaining information on this morning attack. In the incident, the news portal's office was splashed with red paint.
Photographs of the DAP MP were found taped to the external wall of the office, as well as on a cardboard box containing a duck, which was later found to be alive.
Even more odd, was the fact that Kok's photos were wrapped in plastic and filled with rice grains.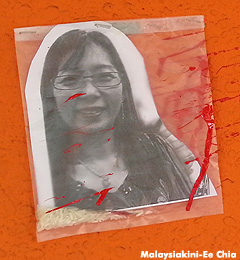 Police also found needles dipped in red paint in the rice - elements which suggest black magic.
Malaysiakini was informed that the duck would be taken to the forensic laboratory where police would try to lift fingerprints off the raffia string used to tie the bird's legs before it was put into the box.
The duck was later returned to the Malaysiakini office.
The forensics team also took six plastic bags of paint which were thrown at the building as well as on the Malaysiakini signboard.
CCTV feeds
In addition, the police will also be examining the video footage from the CCTV (closed-circuit television) installed by Kuala Lumpur City Hall at a busy intersection outside Malaysiakini office.
In the incident that happened early on Tuesday morning, red paint was splattered on the walls and floor, as well as on the Malaysiakini signboard.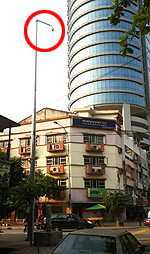 Photos of Seputeh MP Teresa Kok were taped to the walls of the news portal's building.
Malaysiakini graphics editor Azlan Zamhari, who was first to arrive at the office at 6.15am, said the paint was still wet.
Subsequently, a police report was lodged at the Brickfields police station at about 10:40 am.
Similarly, last week, red paint and a dead chicken were discovered on the staircase leading up to Kok's office in Jalan Kuchai Lama.
Meanwhile, the attack earned concern from Kuala Lumpur reps from PKR and DAP including Nurul Izzah Anwar, Tony Pua, N Surendran, Lim Lip Eng and Ng Sze Han.
After assessing the damage for themselves, they expressed shock and disappointment at the state of political affairs in the country.
"I know the police came and investigated at Malaysiakini. What we want now is the prime minister to take serious action against such attackers. We must support and defend the media from such attacks," said Nurul, the MP for Lembah Pantai, where Malaysiakini's office is located.
Emphasising that no citizens wanted to live in fear, DAP's Pua also urged stern action against the perpetrators of such attacks so they can never be repeated.
Police bag duck, Kok's photos as evidence