MALAYSIANS KINI Community worker Sarah Amer is in a long-sleeved, thick flannel shirt for the outdoor walk in Malaysia's tropical heat, so she can sweat her way to immediate recovery from a fever.
Together with Syahida Nawar, 30, she is busy preparing the 'Pekan Ampang Heritage Talk and Photo Walk', scheduled for tomorrow morning.
The event, first in their 'Save Pekan Ampang' plan, is a bid to keep the pre-war century-old shoplots from being demolished to make way for the construction of Sungai Besi-Ulu Klang Elevated Expressway (SUKE), a new highway slated to commence next year.
With the venue, a local community hall, already booked, and the stars of the walk – the local businesses who occupy the century-old pre-war shoplots of Pekan Ampang – on board, no fever will keep Sarah down.
"We also plan to organise a karaoke session and a food map for Pekan Ampang," said Sarah ( photo, left ), her sunny personality shining as she speaks excitedly despite her sore throat.
It has been a two-month journey to build momentum for the campaign to save the buildings, mostly occupied by family-owned traditional businesses.
In the two months, Sarah and Syahida ( photo, right ) also worked to document and photograph the once tin-mining hub, the buildings, and how life is in the quaint town, a stone's throw away from the glitzy Petronas Twin Towers.
Eaten up by highway
The two have one mission – to empower the mostly elderly local business community to take ownership of the struggle to save their properties from being eaten up by the highway.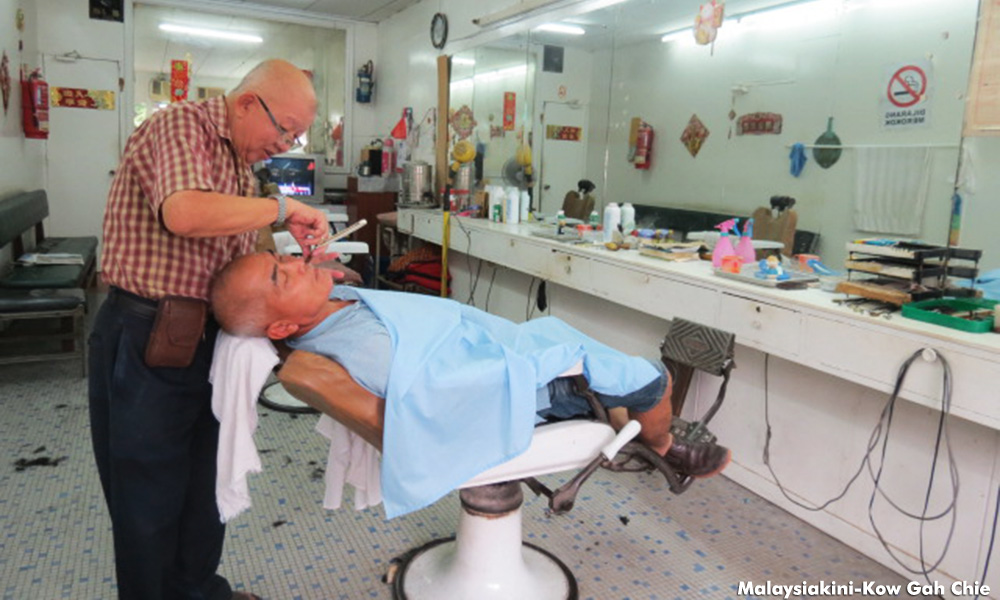 SUKE, a 32km dual carriageway expressway, planned to serve as an alternative route to the often-clogged Middle Ring Road II (MRR2), will stretch from Sri Petaling through Sungai Besi, Cheras, Kajang, Taman Putra, and Ampang to Ulu Klang.
The government awarded the 60-year concession contract to Projek Lintasan Kota Holdings (Prolintas).
Standing in the way are 40 shophouses – including one occupied by independent music venue Rumah Api – which sit along the main road of Pekan Ampang.
Some of the premises are rented out to businesses but some others are still occupied by their owners who live upstairs.
Others are vacant and dilapidated, abandoned, and covered with weeds and plants.
It has, after all, been close to half-a-century since the golden age of Ampang tin mining. The last of the mines – plied by the mostly Hakka community – were exhausted in the early 1980s.
Sarah was born a decade later but it did not stop the 'Malaysia Heritage and History Club' Facebook page member from starting the campaign on Oct 8.
Some 200 people have said they will join tomorrow's walk , but for Sarah, it is local participation which matters most.
"We want the locals to participate and share their collective memory in Pekan Ampang," said Sarah, distributing a copy of the event leaflet to the locals on Wednesday.
We are nobody, we are powerless
But on the ground, not all the residents are as passionate. Some appear non-committal.
"What is all this about? We are nobody, we are powerless. How can we save our property (from the government and conglomerate)? If our struggle will see result we want, then I don't mind working hard for it," an operator told Malaysiakini .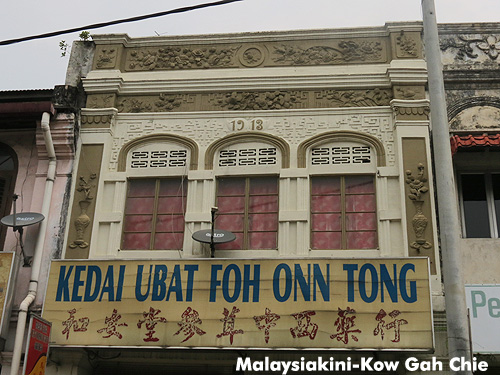 Some believe that they will not be affected, but Sarah says the list of affected premises keeps changing so there is no way to be sure just yet.
She is unperturbed by the locals' seeming dispassion. She believes if they start sharing their experiences with each other, they will realise how important preserving Pekan Ampang is.
"From Kampung Hakka, Kampung Kerinchi, and Kampung Chubadak, we have witnessed the same pattern of how the houses the people live in for decades have been torn down without mercy.
"This pattern is repeating itself in Pekan Ampang. This has to be stopped."
Sarah is an old soul in a young person's body, and has a penchant for nostalgia.
She says the government is short-sighted about Pekan Ampang and does not see how it should be preserved for heritage and tourism.
Ampang Jaya Municipal Council (MPAJ) had said the town has no heritage value and will not be gazetted as such.
"If you continue to talk like that, then everything has to go. This is a shame."
Falling in love
Neither Sarah nor Syahida grew up in Ampang.
Sarah grew up some 20km away from the other side of Kuala Lumpur, while Syahida hails from Penang – the home to Unesco's world heritage site Georgetown.
They fell in love with Ampang after wandering around in the area and five years ago Syahida decided to move in to start her screen-printing and sewing business.
Many KL-ites equate Ampang with constant congestion but for Syahida, Pekan Ampang is a place of tranquillity and peace.
"Even though Pekan Ampang is located in the city, we don't feel like we are living in the city. We feel like we are living in a small town."
Amid the traditional barber shop and chicken rice shop, a Chinese medicine shop sells a cure for everything, while coffin makers cosy up to a pawn shop and local groceries.
It is the sort of local-ness that has since disappeared in the big smoke of city life – from her interaction with her neighbours, to knowing the local farm where the vegetables she buys is sourced from – that makes life in Pekan Ampang precious to Syahida.
The sense of community also makes her feel safe. In their quiet way, she says, the neighbours look out for each other.
"There is an uncle who once had 17 dogs. Now he has only three. He would sit outside his house when he sets his dogs free and let them run wild.
"Every time I pass by, I feel especially safe. He is like a security guard to us."
The affinity with the local community hits Syahida the hardest. She is especially sad for the elderly business operators who operate and live in the double-storey shoplots.
The businesses are old, she says, and rely on old customers from the area. They will not be able to reboot if told to move elsewhere.
"They are not rich people. When you take away their shoplots and livelihoods, where are they going to live?"
---
MALAYSIANS KINI is a series on Malaysians you should know
Previously featured:
Siti Aishah – from blogger to youngest senator
A lawyer hooked on 'the perfect murder'
DAP ideology suits rapper Edry just fine
A PKR Youth leader and a reluctant politician
Documenting convicts reborn through dance