The RM2.6 billion donation Prime Minister Najib Abdul Razak received in his personal bank accounts dwarfs the amount of contributions Umno received last year, which totalled a mere RM82 million.
This, reported The Malaysian Insider , is according to Umno's financial statement up to Dec 31, 2014, which was tabled at the Umno annual general assembly yesterday.
The report said an addendum to the financial report broke down the fund into RM113,000 coming from Umno's building fund and RM81,960,000 as "contributions received".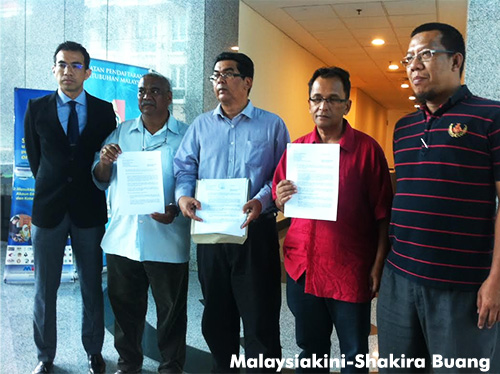 This confirmed the claim by a group of Umno branch chiefs that the RM2.6 billion "political donation" was not reflected in Umno's accounts.
The group, dubbed 'Gabungan Ketua Cawangan Malaysia', lodged a report with the Registrar of Societies on Dec 8 ( photo ) to probe the massive funds.
Najib had said the funds were meant for the ruling coalition.
He had also defended the collosal deposits in his personal bank accounts, stating that the donor had insisted that the money should go directly to him.
The donor, beyond being described as an Arab, remains a mystery.
Former premier Dr Mahathir Mohamad had alleged the money came from debt-ridden state-owned 1MDB.
However, Najib denied this, citing the Malaysian Anti-Corruption Commission's finding. He also denied any wrongdoing.
According to the report, Umno is also running a deficit of around RM31 million in 2014.
This was despite generating an income of RM171.53 million, compared to only RM147.15 million the previous year.
The deficit was due to the high expenditure at RM203 million, even though it was significantly lower than in 2013, which is an election year, at RM284 million.
'Remainder of RM2.6bil remains a mystery'
Allegations that Najib received some RM2.6 billion in his personal bank accounts first emerged in July in the Wall Street Journal and Sarawak Repo rt.
According to the reports, Najib received two separate deposits of US$619,999,988 and US$60,999,998 on March 21, 2013, and March 25, 2013, respectively, from an entity called Tanore Finance Corp.
The reports said Najib received further deposits of RM10 million and RM32 million on Feb 10, 2015, and Dec 26, 2014, respectively, which funds originated from state-owned SRC International Sdn Bhd.
The total came to around RM2.6 billion based on the exchange rate in July, when the reports first emerged.
While Najib has insisted the money was meant for the party's use, it is unclear where the remaining amount had gone.
Sarawak Report claimed a substantial chunk - US$650 million - was transferred out of Najib's AmBank accounts in Malaysia to Singapore.
This was used as a premise by sacked Umno member Anina Saadudin, who filed a lawsuit against Najib to " recover " the remaining funds.