1Malaysia Development Berhad (1MDB) is alleged to have continued prioritising political spending despite its insufficient cash flow to repay its heavy debt, reported the Wall Street Journal (WSJ) today.
1MDB board of directors were so alarmed by the poor financial state that they expressed their fears at a board meeting last year.
The directors even discussed if they had landed in hot water and whether the police would launch a probe on the firm.
The US-based daily based its report on the minutes of a 1MDB meeting on Dec 20, 2014.
"The minutes portray a fund that repeatedly prioritised political spending, even when 1MDB's cash flow was insufficient to cover its debt payments.
"Board members wondered aloud if they would get into trouble. In a meeting on Dec 20, 2014, they discussed what to do about the police who came to investigate allegations of financial irregularities, according to the minutes," WSJ reported.
1MDB's debt had soared to RM42 billion as of March 2014.
Prime Minister Najib Abdul Razak had signed cheques from his personal accounts to lawmakers, who used the money as they saw fit, said a cabinet minister who was not named.
The daily also reported that Najib had gathered a group of Umno leaders in July when he was under pressure to resign. He reminded the Umno leaders that they had benefited from the RM2.6 billion political donation.
"I took the money to spend for us," the minister quoted Najib as saying.
Source unknown
WSJ was unable to pin-point the source of the RM2.6 billion despite having conducted a six-month examination.
It, however, claimed the public entities spent hundreds of millions of dollars on a massive campaign to ensure Umno continue to stay in power.
"The payments, while legal, represented a new milestone in Malaysia's freewheeling electoral system, according to ruling-party officials," said the report.
1MDB also transferred hundreds of millions of dollars to politicians through Ihsan Perdana Bhd, a company formed in 2011 to carry out 1MDB's corporate social responsibility programmes, said a person involved in setting up the fund.
Ihsan Perdana is exempt from filing financial statements, according to Malaysian company records.
WSJ reported that Malaysian investigators believe the cash that had ended up in Najib's personal accounts had been channelled to government agencies, banks and companies linked to 1MDB.
At least US$14 million (RM42 million) flowed into Najib's accounts via Ihsan Perdana, according to documents from a Malaysian government investigation.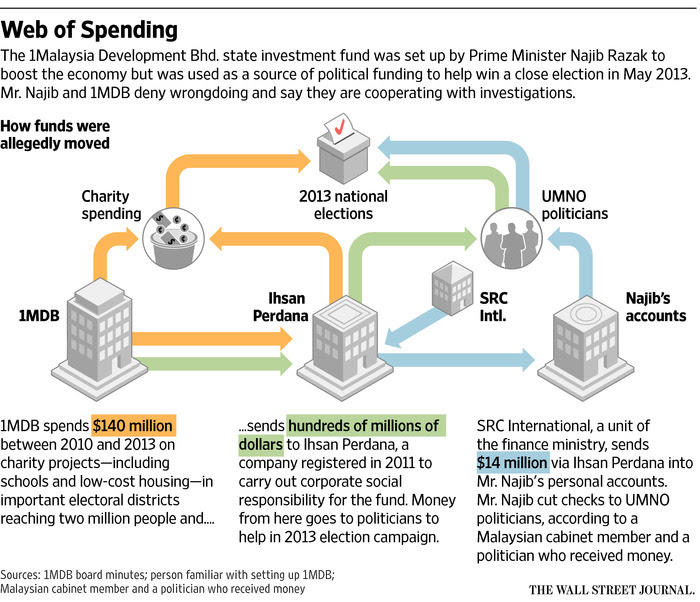 Related Stories:
WSJ: 1MDB prioritised political spending despite insufficient funds
'Jho Low helped disburse 1MDB political spending'
WSJ still recycling unproven allegations, says 1MDB
Looks like our ministers are the new comedians