It was only two days ago that kindergarten teacher M Indira Ghandi lodged a police report, expressing her fears that her former husband may flee the country with their child.
Now, it seems that her worst fears may have come true.
Responding to police who have not been able to find Muslim convert Mohd Ridhuan Abdullah @ K Patmanathan, due to his unknown whereabouts, Indira's anger, therefore, is understandable.
"It's illogical how police can't find him, why can't the police find him?
"The police have just been giving excuses for not detaining him. He (Ridhuan) is Malaysian, holds a Malaysian passport, has an identification card and has been using the same phone number for the past eight years. So, why can't they find him?" Indira told Malaysiakini.
The mother of three did not mince her words when she said other not-so-fitting characters would have done a better job in locating Ridhuan than the police.
"Everybody is frustrated and angry about this. What will foreigners think about the Malaysian system?
"I can't even express my anger now. Everybody's asking me what the police are doing (and) I can't give an answer," she said.
Indira also lamented how nobody from the police had contacted her with updates on the matter.
"No, nothing at all," she said when asked whether police had contacted her.
Ipoh police chief Sum Chang Keong was reported as saying that police had checked all known addresses of Ridhuan and his officers have also asked Ridhuan's family members and friends of his whereabouts, but to no avail.
Lawyer is also shocked
Indira's lawyer M Kulasegaran, who is also the MP for Ipoh Barat, also expressed shock that the police have not been able to locate Ridhuan.
"Ridhuan has been using the same phone number, definitely the service provider can find out.
"Police can also invoke provisions of the Multimedia Act to find out those things. These are within their province to do so.
"And he's a fugitive now. So why are the police asking others for help, since it's not a new case and (it's not) that (they) can't get him at all?" Kulasegaran pointed out.
This is also the reason why Indira's legal team had asked for the recovery order, asking that the Health Ministry divulge details on Indira and Ridhuan's eight-year-old daughter's inoculations.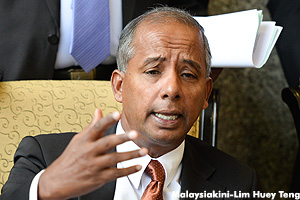 "The Health Ministry will have all these basic records. I'm surprised that the situation is looking wishy-washy, neither going here nor there," Kulasegaran (photo) added.
The lawyer also cited how Ridhuan had never stated his address in the affidavits he filed with the High Court in Ipoh, the Court of Appeal as well as with the Federal Court and had instead given his lawyer's address.
And this, said Kulasegaran, had shown had Ridhuan never wanted to be traced.
Indira's legal team is therefore considering taking legal action against the parties responsible for delaying action to be taken against Ridhuan.
"That has been seriously considered by the legal team. Civil remedy is still open and we will see what can be done," Kulasegaran said.
The Federal Court last week ordered inspector-general of police Khalid Abu Bakar to arrest Ridhuan, after having found the committal order against him issued by the High Court to be justified as he had failed to bring his child, Prasana Diksa, to the jurisdiction of the court.
Prasana Diksa was 11 months old when Ridhuan, took her away. Indira has not seen her daughter in the eight years since then.
Her two other children, now aged 18 and 19, are currently staying with her.
Indira is currently locked in a bitter custody battle with Ridhuan, who wants to take all three children away from her, claiming that he fears for their faith, since he had converted all of them to Islam following his own conversion.