KINIGUIDE The US Department of Justice's (DOJ) civil forefeiture suits last week have exposed 1MDB's questionable dealings over the past few years.
After scrutinising the 136-page document, Malaysiakini will try to trace the 'vanished' funds 1MDB's critics have brought up, and compare it with official narratives.
How much money has 'disappeared'?
The opposition members sitting in the Public Accounts Committee (PAC) said US$7 billion (RM28 billion) of 1MDB cash and liquid assets could not be verified by the auditor-general and had "disappeared without a trace".
The US$7 billion can be broken down to four money trails, namely:
US$1.03 billion paid to Good Star Ltd, which was questioned by Bank Negara Malaysia;
US$3.51 billion paid to Aabar Investment PJS as "security deposit", "cancellation of options" and "top-up security";
US$1.56 billion in investment by 1MDB Global Investment Ltd;
US$940 million in "units" in BSI Bank, Singapore.
DOJ's filing has explained the first three money trails, and Malaysiakini will trace its origins and whereabouts one by one.
Money Trail 1: US$1.03 billion to Good Star Ltd
1MDB's first major investment was a US$2.5 billion joint-venture with PetroSaudi International (PSI) in September 2009, soon after its inception.
But a portion of the funds ended up in Jho Low's pockets, instead, and was used to buy luxury properties and a jet, according to DOJ's filing.
How did this happen?
In 2009, US$700 million of the investment was transferred to Jho Low's company Good Star Ltd. Another US$330 million was transferred to the company two years later.
To conceal the misappropriation from the 1MDB board, two of its executives - referrred to as 1MDB Officer 1 and 1MDB Officer 2 in the filing - claimed Good Star Ltd was a wholly-owned subsidiary of PSI.
It even made material misrepresentations to Deutsche Bank.
What happened to the US$1.03 billion transferred to Good Star Ltd?
In 2009, Good Star Ltd, through multiple transactions, transferred US$368 million into an Interest on Lawyer Account (IOLA) held by the law firm Shearman & Sterling LLP in the United States.
Jho Low had access to this account, and, with the money, rented luxury yachts and jetplanes. He also purchased jewellery, gambled away some of the funds in Las Vegas, and sent millions of dollars to his sister.
According to the DOJ filing, parts of Jho Low's "expenses" between October 2009 and October 2010 are listed as:
Caesars Palace - US$12,000,000
Las Vegas Sands Corp - US$13,400,000
Eric Tan Kim Loong - US$11,000,000
Jet Logic Ltd - US$4,000,000
Jho Low's sister - US$3,500,000
Rose Trading, Hong Kong Jeweller - US$3,080,000
Yachtzoo - US$2,698,000
Argent Design Ltd, UK-based interior designer - US$2,288,000
Excel Air - US$670,000
Skyline Private Air - US$460,000
Billyon Air - US$155,000
Within a year, Jho Low also purchased three real estate properties in New York and Beverly Hills, California and even bought himself a personal Bombardier 5000 jet with US$35 million.
In 2011, Good Star Ltd, through multiple transactions, transferred US$389 million to another account Jho Low had access to: Abu Dhabi Kuwait Malaysia Investment Corp's (ADMIC) BSI account.
With the money, Jho Low (photo) purchased the Time Warner penthouse in New York and the Oriole Mansion in Beverly Hills, California, as well as stakes in EMI Records. He also invested in the Hollywood movie 'The Wolf of Wall Street'.
Did anyone else benefit from the Good Star transactions?
Actually, yes: Malaysian Official 1.
According to DOJ's filing, approximately US$24.5 million was transferred from Good Star Ltd to PSI CEO Tarek Obaid's account between February and June of 2011.
"From those funds, US$20,000,000 was then transferred, within days, to an account belonging to Malaysian Official 1," it revealed
It did not elaborate as to how the US$20 million was spent, but this has shown that Malaysian Official 1 received money that can be traced to 1MDB from even as far back as 2011.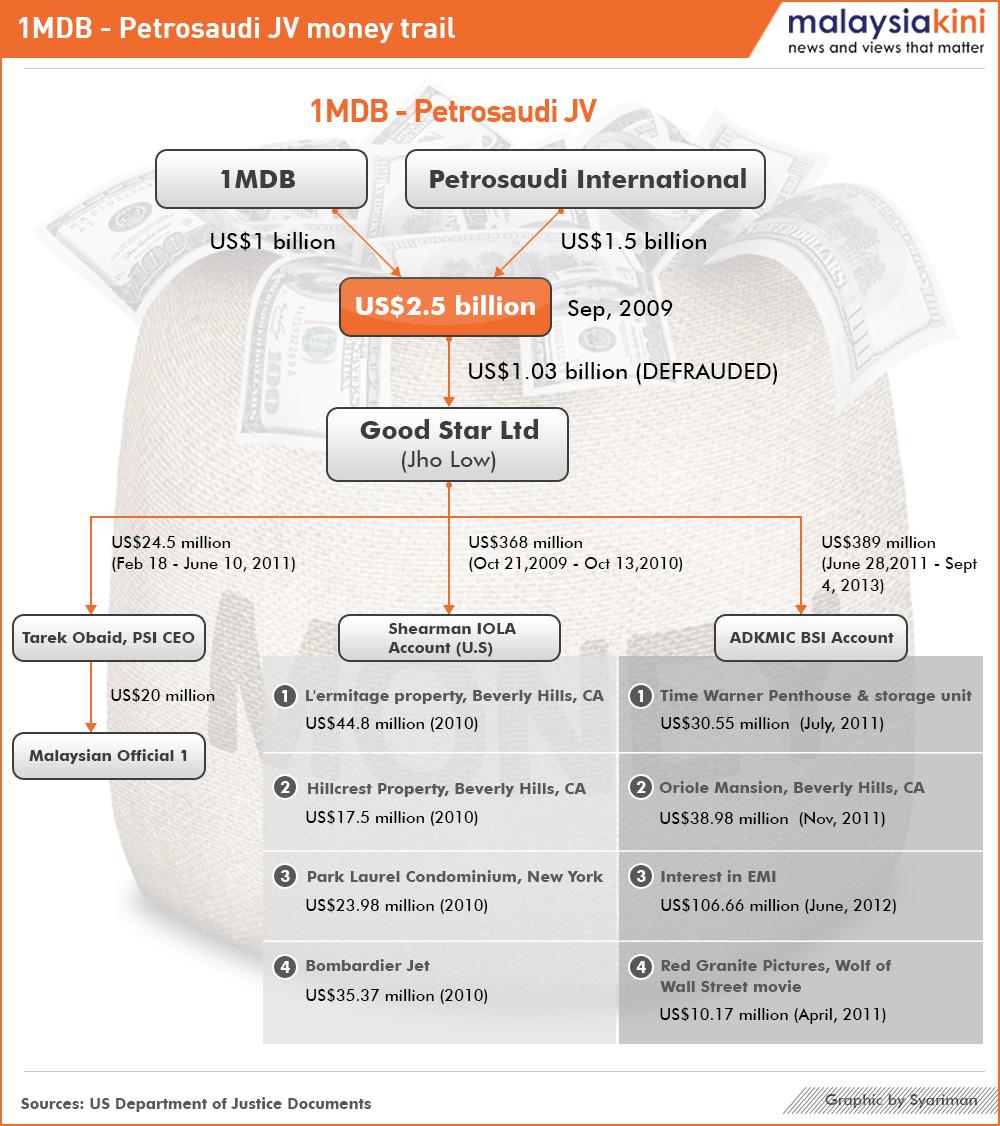 Money Trail 2: US$3.51 billion paid to Aabar Investment PJS
In 2012, 1MDB raised a total of US$3.5 billion through two separate bond offerings, arranged and underwritten by Goldman Sachs International, in order to buy energy assets.
But the opposition members of the PAC claimed that the funds, which were meant for Aabar Investment PJS, could not be traced by the auditor-general.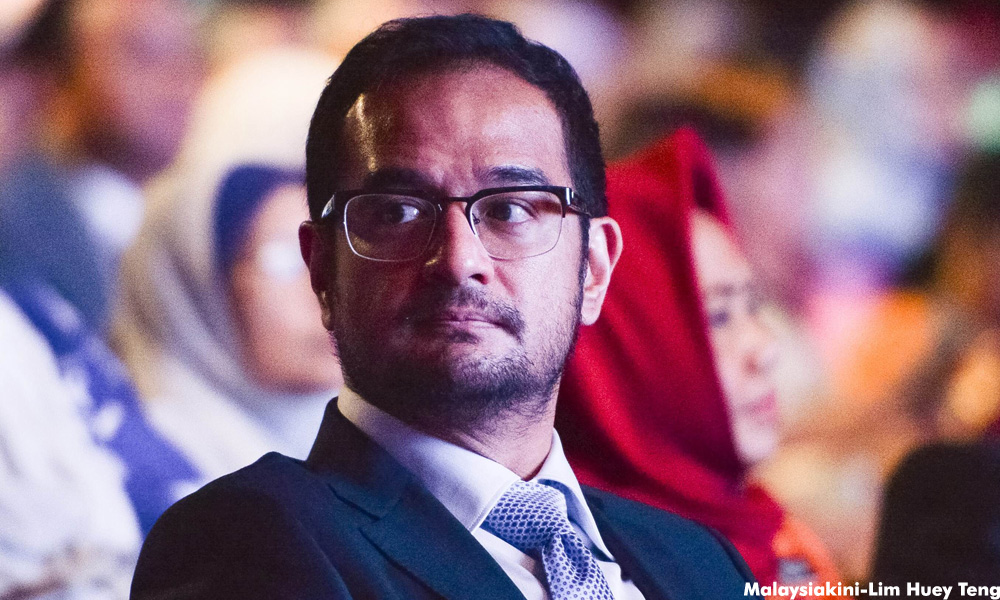 As it turns out, part of these funds was diverted to Red Granite Pictures, which belongs to Prime Minister Najib Abdul Razak's stepson Riza Aziz (photo), and was used to fund the production of the movie 'The Wolf of Wall Street'.
How did this happen?
Although the DOJ filing does not reveal what happened to all US$3.5 billion of the money that was meant for Aabar Investment PJS, it said US$1.367 billion was diverted to another company.
That company was British Virgin Islands-based Aabar Investments PJS Ltd (Aabar BVI). Despite its similar name, it is not related to IPIC's subsidiary Aabar Investment PJS.
Aabar BVI was owned by two IPIC executives, who appeared to be part of the fraud.
After Aabar BVI received the huge sum, approximately US$1.1 billion was transferred to Blackstone Asia Real Estate Partners, and this real estate firm then transferred nearly US$800 million from it to the bank accounts of four persons.
These four are Najib's stepson Riza; Malaysian Official 1; the managing director of IPIC and chairperson of Aabar, Khadem Abdulla Al Qubaisi; and the CEO of Aabar, Mohamed Ahmed Badawy Al-Husseiny.
Of these funds, Riza received a total of US$238 million. He purchased luxury properties from Jho Low, gambled with Leonardo DiCaprio and funded 'The Wolf of Wall Street'.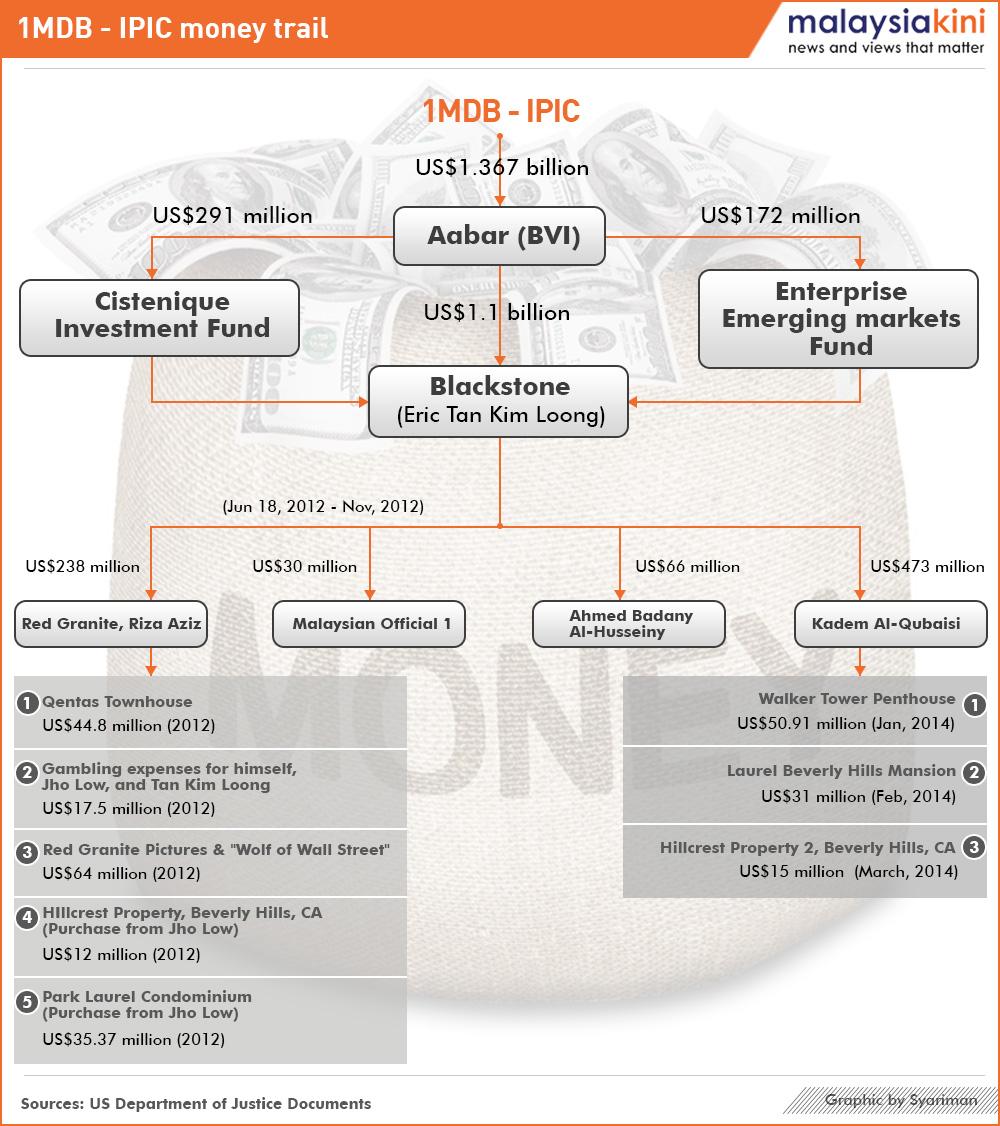 The document does not state how Husseiny spent the money, but it details how Qubaisi bought three properties in New York and Beverly Hills with nearly US$860 million.
It is also noteworthy that Riza, in a New York Times interview, denied that the 'The Wolf of Wall Street' involved Malaysian public money. However, he said that Husseiny was a main funder.
Money Trail 3: US$1.56 billion in investment by 1MDB Global Investment Ltd
In a joint venture with Aabar Investment PJS, 1MDB issued a US$3 billion bond in 2013 to invest in power assets and strategic real estate, including the Tun Razak Exchange (TRX).
But DOJ's filing revealed that part of the proceeds from the US$3 billion capital raised eventually wound up in the bank accounts of Malaysian Official 1.
How did this happen?
All proceeds were supposed to be transferred to the Aabar Investment PJS-1MDB joint venture firm called ADMIC.
Instead, 1MDB's subsidiary, 1MDB Global Investment Ltd, diverted US$1.5 billion of the proceeds to three Caribbean companies. From there, US$1.26 billion of it was transferred to various shell companies, such as Tanore Finance Corporation.
Tanore Finance was owned by a Malaysian and Jho Low's associate, Tan Kim Loong. He is also known as Eric Tan.
On the eve of the 13th general election, Tanore Finance transferred a total of US$681 million into the Ambank account of Malaysian Official 1, within four days.
Strangely, Malaysian Official 1 only kept the US$681 million temporarily, and of the sum, US$621 million was returned to Tanore Finance, months later.
DOJ's filing neither explained the reason behind it, nor elaborated on where the remaining US$60 million was spent.
But the filing appears to contradict attorney-general Mohamed Apandi Ali's claim that the US$681 million payment Prime Minister Najib Abdul Razak received was a "personal donation from the Saudi royal family without any consideration".
Malaysian Official 1 was not the sole beneficiary of this fraud. Part of the funds were transferred into accounts owned by Jho Low's family and used to purchase stakes in a New York hotel.
Jho Low, through an agent, also made a bid for art works and returned it to himself as a form of "gift".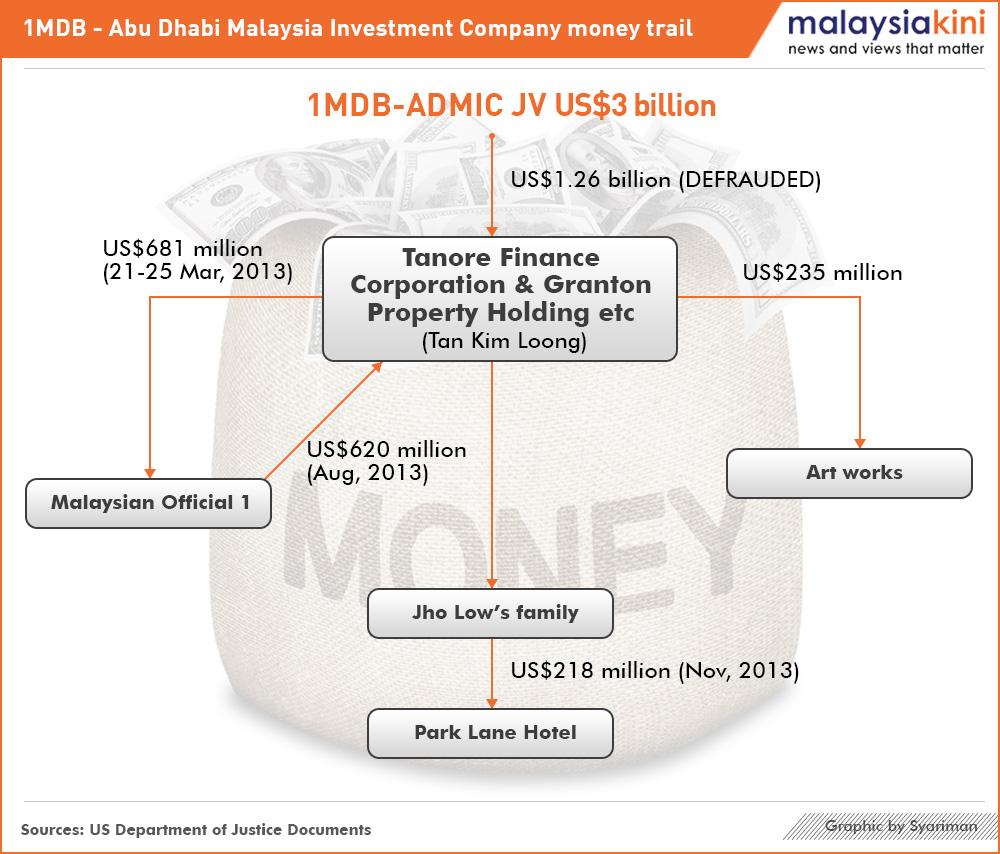 What is the unresolved money trail?
The findings of the Kleptocracy Asset Recovery Initiative did not address the 'saving in units' that was deposited in Singapore.
According to the PAC report, the 'units' are from the joint venture project between 1MDB and PSI.
1MDB pumped US$1 billion into the joint venture. However, 1MDB did not retrieve the money it invested once the joint venture fell through. Instead, it loaned the money to PSI, plus an additional US$830 million.
1MDB finally got back the money - a whopping US$2.318 billion - from PSI in September 2012 and deposited the money in the Cayman Islands.
In early 2015, 1MDB withdrew the money from the Cayman Islands in two tranches. But the money at that point was owned by Brazen Sky Ltd, a subsidiary of 1MDB, and held through the now folded-up BSI Bank in Singapore.
In March 2015, the Finance Ministry claimed that the US$1.1 billion cash from the above money was moved to Singapore, but subsequently admitted to making a mistake and that the cash was actually 'units'.
1MDB said that its president and executive director Arul Kanda Kandasamy took "full responsibility" for the misunderstanding between 1MDB and the ministry.
Many opposition leaders and former prime minister Dr Mahathir Mohamad have questioned the disappearance of the money.
And this remains a big question.
---
This instalment of KiniGuide was compiled by Adrian Wong and Lee Long Hui.