FEATURE | It is not uncommon to read about cases of stateless children in Malaysian newspapers. These children are not granted Malaysian citizenship due to a variety of reasons.
Currently, there are more than 300,000 stateless children in Malaysia. They are excluded from society, unable to meet even basic living standards, especially in terms of education and medical treatment.
If measures to improve their plight are not implemented, they will end up trapped in a vicious cycle - themselves and their future generations bound by their statelessness and exposed to institutional discrimination, all the while remaining helpless to escape from their predicament.
A-Qing's story
"It's nice to meet you, may I know where you are? If you happen to be in Malaysia, we can arrange to meet up," A-Qing (not her real name) says in a relaxed manner when she accepts our request for an interview.
We reach the bus station at 11 pm, where her father picks us up in a minivan with her mother in the front seat, and A-Qing and her younger sister in the back seat. "Hello!" A-Qing says warmly after opening the car door.
Pictures and newspaper clippings decorate the wall of A-Qing's house –proof of A-Qing's outstanding performances in hosting and singing competitions. A family photo hangs on the corner of the wall.
A-Qing is almost 20 years old. Her father is a Malaysian citizen, while her mother is an Indonesian citizen. A-Qing is the eldest of four children, with two younger brothers and a younger sister. Only her sister is a Malaysian citizen.
In a hurry to bring his new Indonesian wife back to Malaysia, A-Qing's father married his second wife before completing divorce proceedings with his first wife.
When he registered his new marriage at the National Registration Department (Jabatan Pendaftaran Negara, or JPN), the officer-in-charge at the time did not notice that he was still legally married to his first wife. The officer successfully registered his second marriage, leading to him unknowingly committing the crime of bigamy and facing imprisonment up to seven years, a fine, or both.
The JPN only discovered the bigamy issue when A-Qing's father attempted to register his children for birth certificates. Since the registration of his second marriage was due to their administrative error, the JPN did not report him to the police. However, they rejected the birth certificate registrations of A-Qing and her two brothers.
Therefore, A-Qing and her brothers only received handwritten certificates from the doctor. Without birth certificates issued by the JPN, the siblings risked becoming stateless and being unable to receive an education or healthcare.
A-Qing's father has worked for years to apply for their birth certificates, driving his minivan back and forth from the JPN multiple times with A-Qing and her brothers in tow. His minivan was a portable office, A-Qing's father tells us. He had a printer and laptop in the back for printing any application documents at a moment's notice.
The three siblings began applying for birth certificates in 2003. For 10 years, they were left in limbo despite repeated enquiries about the status of their application. A-Qing and her brothers finally received their official birth certificates in 2013. However, the birth certificates they received state that A-Qing and her brothers are "Non-Citizens" ("Bukan Warganegara").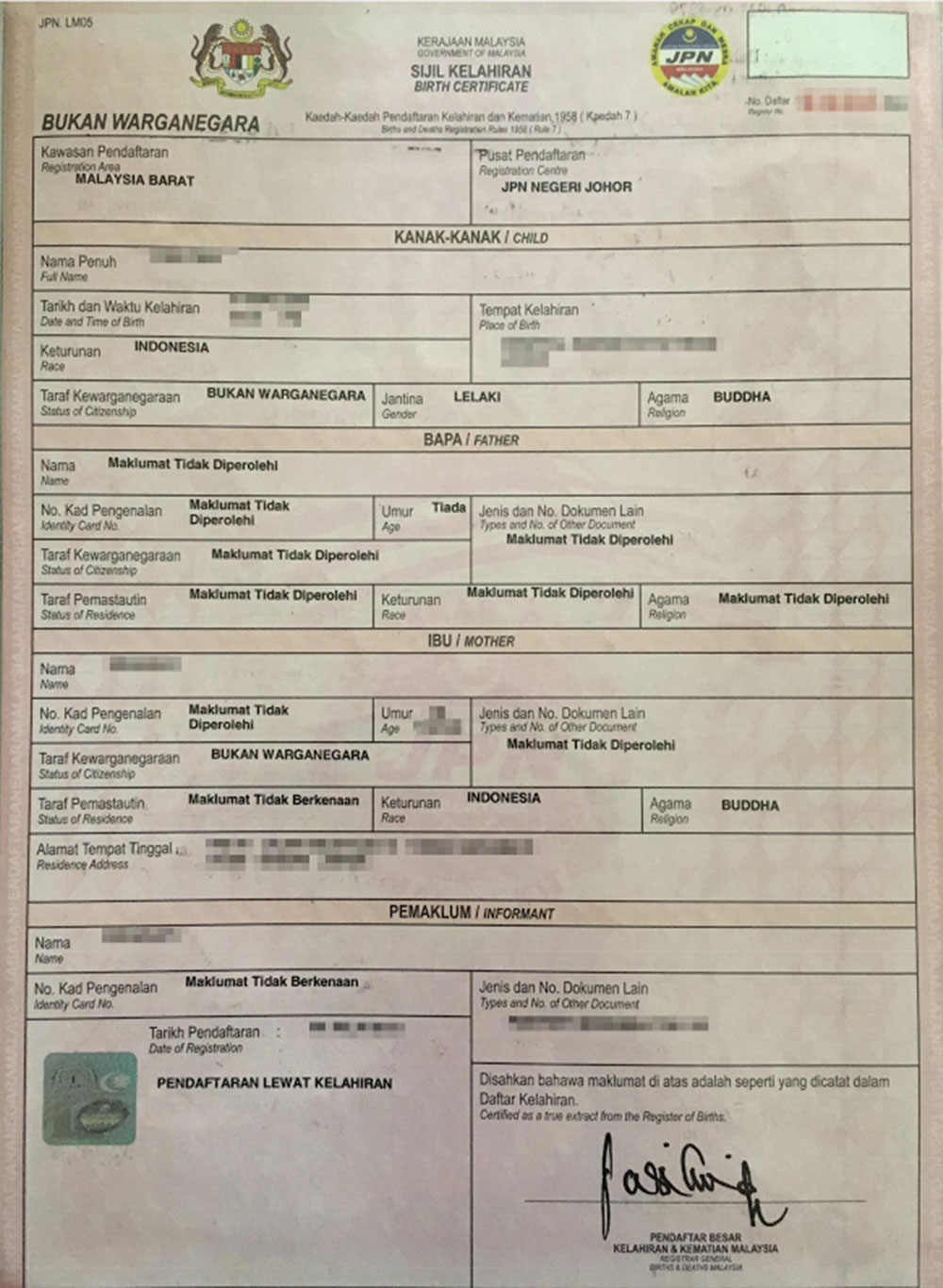 In the birth certificate received by A-Qing's brother in 2013 (photo), his citizenship status is labelled as "Non-Citizen" ("Bukan Warganegara"), while his father's details are listed as "No Information Available" ("Maklumat Tidak Diperolehi").
A-Qing's father could not comprehend why his children had not received Malaysian citizenship.
He brought their birth certificates to the Indonesian Consulate to try his luck at getting their applications for Indonesian citizenship approved so that A-Qing could sit for the SPM examination using proper identification.
To his surprise, the Indonesian Consulate approved the application, and A-Qing and her two brothers officially became Indonesian citizens. A-Qing's father credits this turn of events to luck and A-Qing's multiple talents, which he believed must have been greatly appreciated by the Indonesian ambassador to Malaysia.
How do children in Malaysia become stateless?
There are many ways a child can become stateless, or be at risk of becoming stateless in Malaysia. It could happen to anyone from any race or social class. Below are four situations that may lead to a child becoming stateless:
1. Children born out of wedlock
According to Malaysian law, only legally married parents can be listed as "spouses" on their child's birth certificate. This condition, in turn, becomes the only legal way to prove the father's identity and for the child to receive Malaysian citizenship. If there is no legal marriage certificate, then the Malaysian government considers the child to be of the same nationality as its mother, but even then these children might still become stateless.
Legal and valid marriage certification is the deciding factor on whether a child is entitled to Malaysian citizenship (further details will be discussed in the following section).
When the marriage between a Malaysian man and a non-Malaysian woman is not legally recognised by the Malaysian government, or if they do not have a marriage certificate, their children usually fail to acquire Malaysian citizenship.
A foreign mother has to register her child at her country's embassy or consulate to confirm its nationality, or the child will risk becoming stateless. However, if the mother is Malaysian, the child will automatically gain citizenship even though the marriage may not be legally recognised.
If a couple divorces and the child's foreign mother returns to her home country, the child's parentage cannot be proven without a valid marriage certificate, leaving the child unable to leave with the mother or to be granted Malaysian citizenship.
2. Delayed or late birth registration
Registration of a child is usually delayed or late if the parents were unable to register the child at birth because of an invalid or unrecognised marriage.
Generally, when these families are registering the birth of their children, the process becomes more complicated due to bureaucracy and conflicting regulations, such as different standards and policies at different JPN locations.
If the child is unable to produce the documents required by the JPN and provides insufficient proof of birth due to reasons such as death or disappearance of both parents or the absence of identification documents, the birth certification application process will hit complications and be delayed. Even successful cases have taken years. A-Qing, for instance, waited 10 years.
In the case of rejected applications, the authorities often do not provide specific reasons, causing applicants to lose their will and hope as they continue to wait for a breakthrough for months, even years.
3. Illegal adoption
Malaysian Muslims and non-Muslims follow different legislation for adoption processes. Muslims follow Islamic law, while non-Muslims have a choice of two legal procedures: the Registration of Adoptions Act 1952 (RAA) and the Adoption Act 1952 (AA). The former statute is also applicable to Muslims, while the latter statute is only applicable to non-Muslims. Both these acts are valid only in Peninsular Malaysia.
The adoption procedure is generally straightforward, but some parents may not completely understand the adoption procedure, or think the legal process might take too long.
A 2012 status report on children's rights in the country by the Child Rights' Coalition Malaysia states that there is a two-year waiting period for legal adoptions, but social workers and parents have often complained that the wait is too long. Some parents then turn toward less reliable channels such as baby-trafficking groups.
Parents adopting through these groups might receive a forged birth certificate for their baby. Since they cannot verify the authenticity of the documents, they only realise their child's registration data does not exist when their child applies for a passport or identification card. The child's forged birth certificate is confiscated by the authorities, and the child becomes stateless.
4. Children of refugees or undocumented migrants
Currently, there is no available legislation that protects the children of refugees, as the Immigration Act 1959/63 makes no distinction between asylum seekers, refugees, irregular immigrants and undocumented or stateless people. Instead, the groups above are collectively considered undocumented migrants, and both parents and children face the threat of arrest.
In Malaysia, most refugees are Rohingyas from Myanmar, while a minority are from Sri Lanka, Pakistan and other regions. Some of the refugees or migrants do not possess identification documents, and since they live under fear of arrest or harassment from the authorities, they do not register their children born in Malaysia. This means both parent and child are at risk of becoming stateless.
Other refugees face another set of problems when they try to register. For example, Somalia has no internationally-recognised government or an embassy in Malaysia, so the offspring of Somali refugees face the possibility of becoming stateless as well.
In East Malaysia, there is a large population of stateless children born to Indonesian and Filipino immigrants. Some of these children were born in Malaysia, but have no idea what their nationality is (their parents are either stateless or have been repatriated to their own countries).
Although there are Indonesian consulates in Sabah, and the Philippine embassy provides mobile consular missions which travel around Sabah to process registrations, the area covered is extremely limited, and public awareness of these services is low.
Room for discussion and improvement in the constitution
The issue of statelessness could be improved and resolved with reference to Malaysia's highest law, the Federal Constitution. The Convention on the Rights of the Child could also serve as a guide to amend the relevant laws. However, both solutions have their corresponding loopholes.
Below are some cases in which the Federal Constitution may be applied, but with some loopholes:
1. Children born out of wedlock
According to the Federal Constitution, citizenship should be granted to every person born in Malaysia who has at least one parent who is a Malaysian citizen or permanent resident at the time of his or her birth.
As previously mentioned, the "marital status" of a child's parents becomes the key deciding factor in cases of children born out of wedlock. The Malaysian courts often refuse to acknowledge the blood relation between father and child if a valid marriage certificate is not available, even if the father is a Malaysian citizen.
DNA test results can only serve as supporting documentation, instead of being considered mandatory to prove a child's parentage in Malaysian courts.
Although the Federal Constitution does not require parents to be legally married for the article to be enacted, the Malaysian courts still cite the validity of the marriages to determine parentage.
Only when both parents are legally husband and wife do their children automatically gain Malaysian citizenship by operation of the law, according to a lawyer we consulted.
2. Other cases of stateless children
According to the Federal Constitution, citizenship should be granted to "every person born within the Federation who is not born a citizen of any country otherwise than by virtue of this paragraph".
In theory, this means that a child who is born in Malaysia is, by operation of law, a Malaysian citizen if he or she does not hold citizenship of any other country at birth.
In principle, this article could be applied to stateless children, for example in cases where the citizenship of a child "could not be judged", which means that both parents could not be traced.
Children in this situation should theoretically be able to obtain Malaysian citizenship, but in reality, they are still unable to receive birth certification.
Other factors such as the parents' lack of legal knowledge and financial difficulties also affect these children. Thus, the guarantee provided by the enactment of this law does not, in fact, help or protect children in Malaysia who are stateless or at risk of being stateless.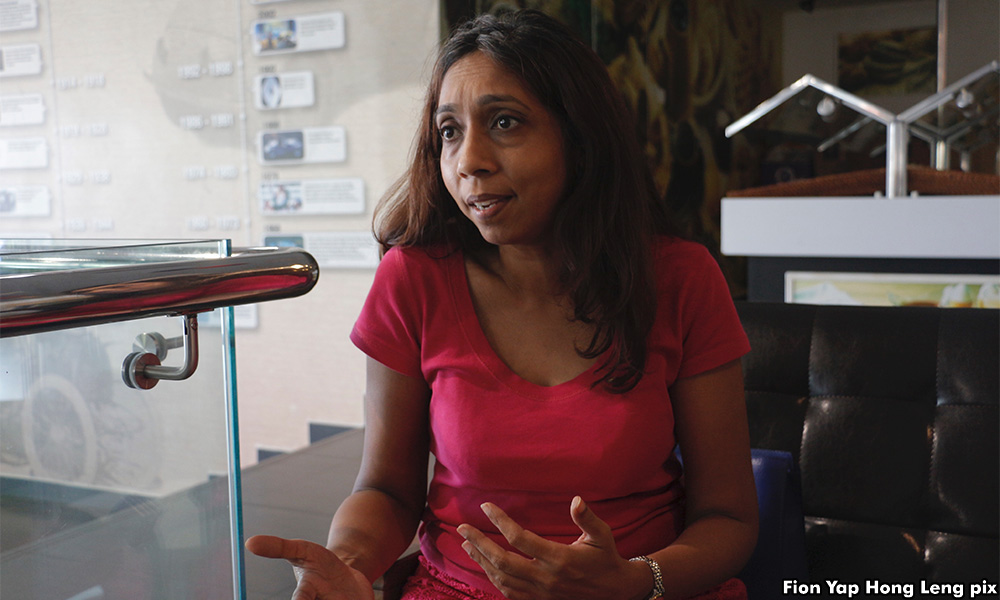 "All problems are caused by humans, but humans also enacted the laws," says Sharmila Sekaran ( photo), president of child advocacy group Voice of The Children.
Sharmila's group advocates for the reconstruction of laws and policies in order to protect Malaysian children's rights. Flexible amendments to current laws could widen the legal framework to provide further protection in this area.
"Voice of The Children currently works to remind the government that the marital status of parents should not affect the rights of children in citizenship acquisition.
"We also say that DNA test results should serve as more than just supporting documents. It is the most sustainable solution by means of [amendment of] laws. However, this is definitely not something that can be accomplished in a short time," Sharmila tells us.
"Everything is about 'political will', and whether you as a leader are willing to solve problems," she said.
---
This article was first published in Mandarin in The News Lens here. Malaysiakini has been authorised to publish the English version, which was translated by Ziqing Low, Chee-An Ng and Hui-Yee Chiew.
Part 1: 'An invisible jail' - stateless children in Malaysia
Part 2: Finding the political will to help stateless children