MALAYSIANSKINI | When Tuty Sofia Ahmad Tajudin first told her friends she wanted to become a bus driver, she was not surprised that she was laughed at.
As a former taxi driver, she had also been criticised for her choice of work.
"They told me that being a bus driver was a 'man's job' and as a woman, I would never make it in the industry.
"But I never let all the negativity get to me, you know. Nothing they said could possibly break my spirit or make me lose sight of the goal.
"In fact, their comments made me braver and even more determined than ever to follow through with my dream," she told Malaysiakini in an interview.
Taking on the challenge, Tuty left her day job as a taxi driver seven months ago and applied for a position with Rapid KL's Bus Rapid Transit (BRT) division.
The position was a new experience for her but at the same time allowed her to do what she always loved - being behind the wheel.
The 28-year-old was excited during her job interview but did not know that upon qualifying, she would become the first female bus captain of the BRT line.
"I very much like being a bus captain, and there's nothing wrong with that. I've always wanted to be behind the wheel," she said, adding that she had her family's blessing in her career choice.
Speaking to Malaysiakini at the BRT Sunway depot near Sunway University, Tuty proudly recounted the whole experience with gusto.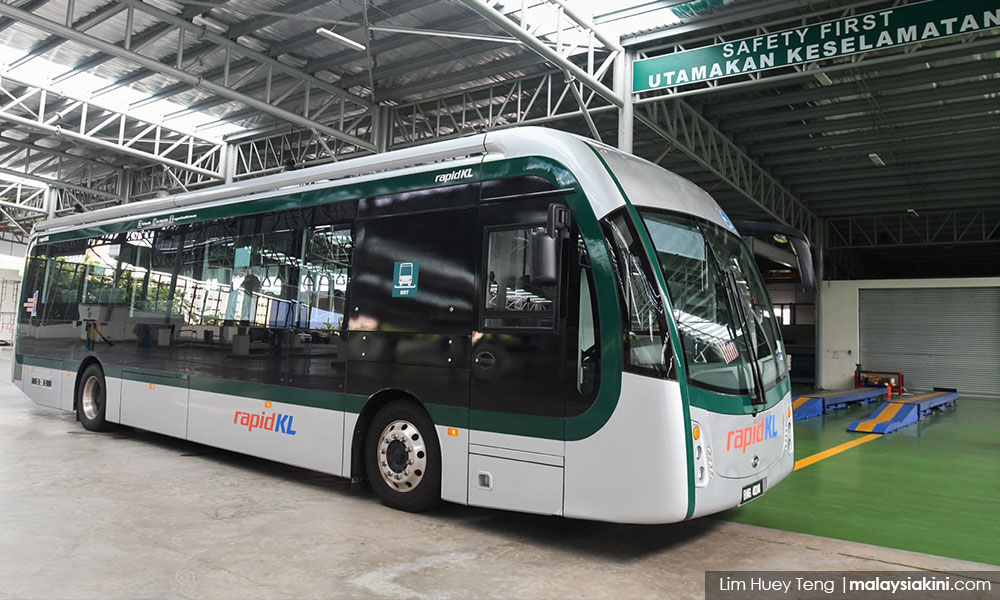 The BRT Sunway line is an elevated guideway for electric buses and remains the only public transportation system in the country that runs fully on electricity. The line was open to the public in late 2015.
Buses on the line ferry passengers from USJ 7 to the Setia Jaya KTM station and back, connecting commuters to Mentari, Sunway Lagoon, Sunway Medical Center, Monash and Sunway universities, as well as South Quay USJ 1.
Prasarana CEO Azmi Abdul Aziz (photo) on Sep 5 said the move to appoint a female to the BRT's bus captain ranks reflected the company's stand towards inclusivity.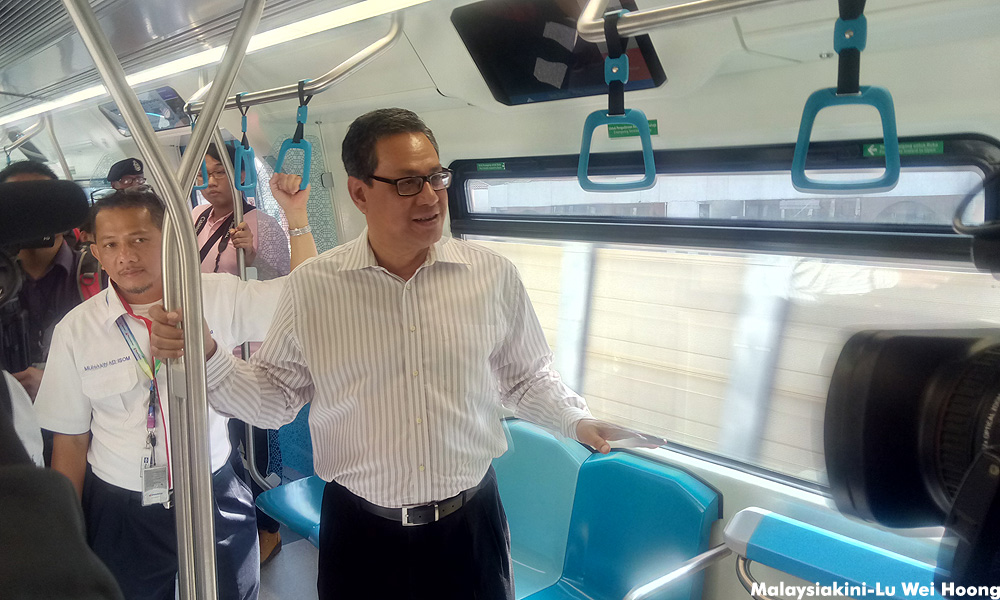 "We want to break the male-dominated stereotype in this industry by creating an inclusive environment in Prasarana where everyone, regardless of their gender, will thrive and succeed," he said in a Facebook post.
"Thank you (Tuty) for being a role model for young girls out there who want to build a career in the public transportation industry."
Prasarana operates much of the nation's public transport infrastructure, including the BRT, the Mass Rail Transit (MRT), Light Rail Transit (LRT), KL Monorail and Rapid bus services in the federal capital, Penang, Kuantan, and Kamunting.
Tuty works 14-hour shifts daily. To get to work she has to drive to and from the depot in the wee hours from her home in Setiawangsa, Kuala Lumpur, which has proven to be a challenge for the mother of two.
"But I'm grateful," she said. "I get to do what I want to do, and I am having a great time here," she added with a smile on her face.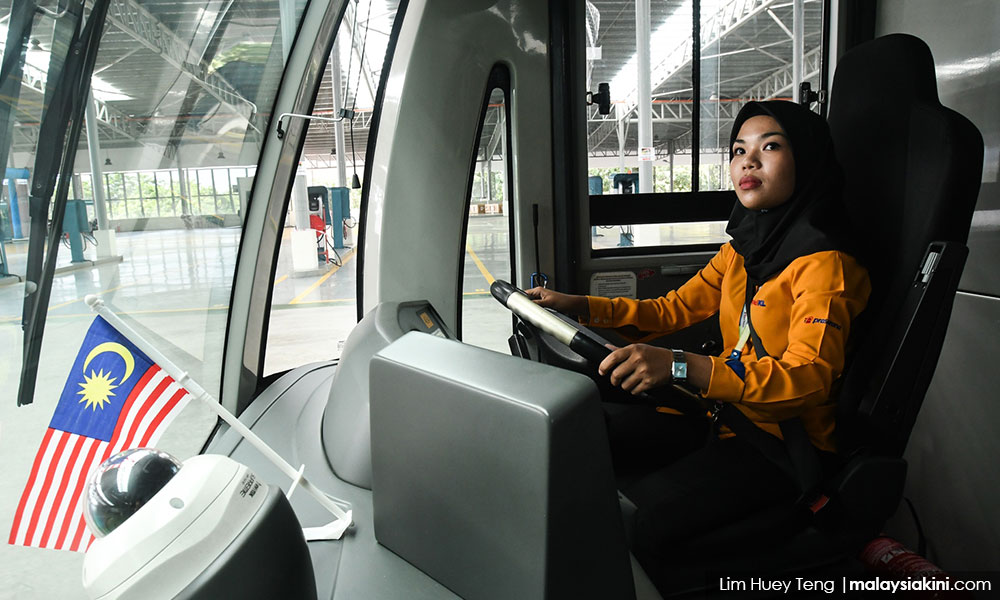 She quipped that the only problems she faces now are "tight swerves" and "peak hour crowds".
In her own words, Tuty shares her story.
I DID NOT WANT TO WORK AS A NORMAL BUS DRIVER BECAUSE the idea of a BRT driver was more appealing to me. I found that it would be safer, and more convenient, given that the BRT has a guideway; only BRT buses drive on the route. I also wouldn't be caught in traffic jams and the chances of meeting an accident were also somewhat lower.
BEING A TRAIN DRIVER WAS NEVER MY FORTE EITHER. I never wanted to work for the Light Rail Transit (LRT) or Monorail service, because I had always wanted to be behind the wheels of a bus. I also didn't want to work with Grab or Uber too. Being a bus driver was somewhat a dream of mine, as I said.
THE DECISION HAS NOT AFFECTED MY PERSONAL LIFE, and I am grateful for my flexible schedule. Here we work according to fixed shifts, so if I work in the morning, I spend my evenings with my family, and vice versa.
I DO HAVE TO BE HERE REALLY EARLY IN THE MORNING, and I leave late at night too sometimes, and this is rather tiring for me. Mind you, I do get three hours' worth of breaks within my 14-hour shifts. I also get adequate rest whenever I'm off duty.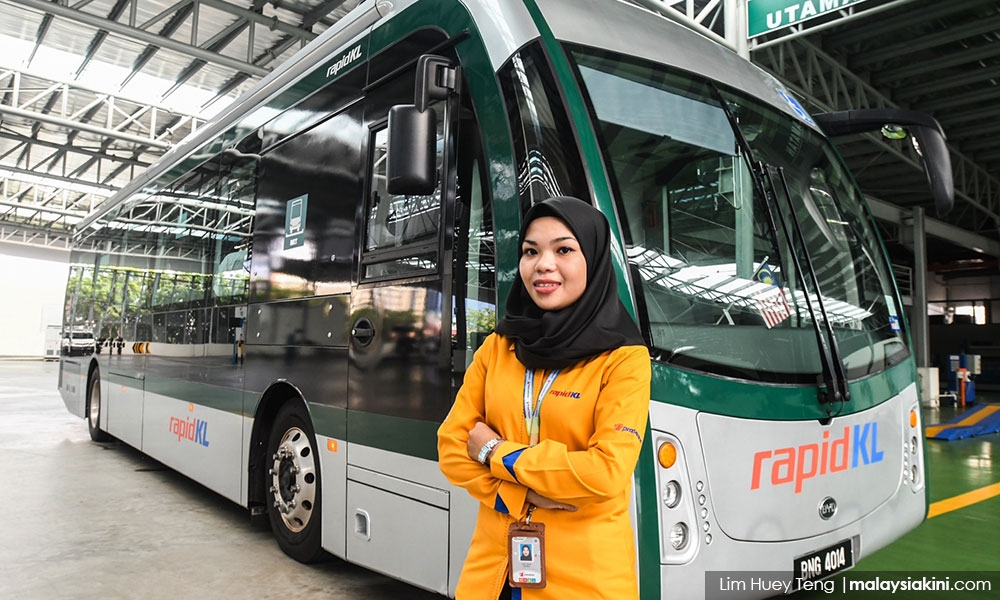 I HOPE MY CHILDREN UNDERSTAND WHY I come back late all the time. Whenever I take leave or have holidays, I spend all the time I have with my children and give full attention to them, and to my husband too.
I AM GRATEFUL FOR MY HUSBAND'S SUPPORT because sometimes I take the night shift too, and the final bus leaves the depot at about midnight. If this is the case, then I am allowed to spend the night at the depot, where employees are provided rooms to sleep in.
MY HUSBAND UNDERSTANDS ME AND MY WORK, and my responsibilities as a bus captain, and I'm happy our relationship has not been affected.
THE MALE BUS CAPTAINS HERE ARE TRUE GENTLEMEN and they help me out regardless of whether they are on the job or have just clocked out of work. We work here together as one, and the team spirit is clear. They don't bully me or treat me differently because I am a woman.
WE HAVE NO PROBLEMS AMONGST EACH OTHER and we always respect each other. This is one of the many reasons why I love working here.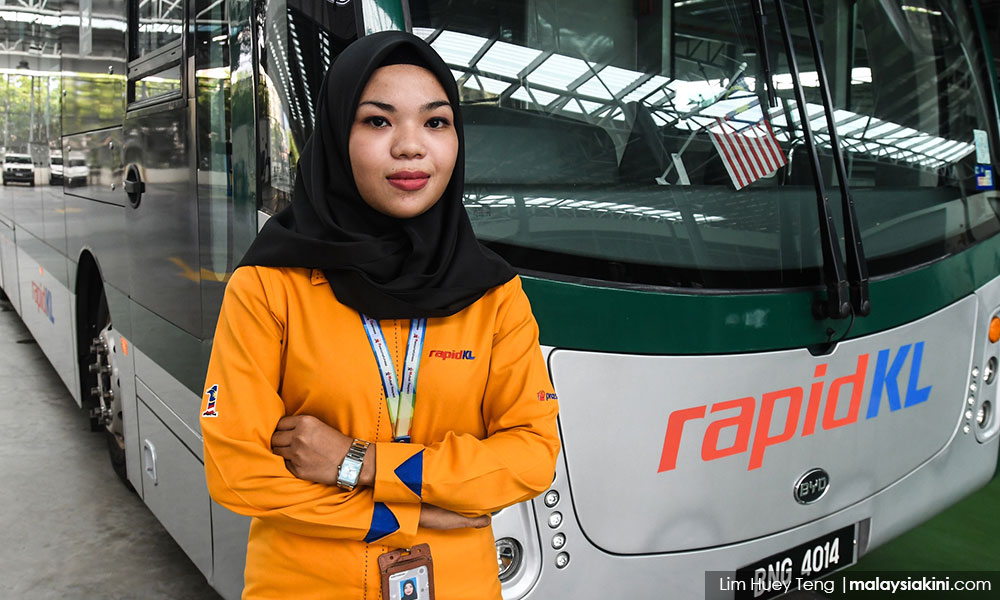 MY BECOMING THE FIRST FEMALE BRT DRIVER PROVES that with determination to follow through with your dream, you can make it a reality. I've been excited about this job since day one, and I only hope that other women who want to take up jobs like mine do so, and take that plunge of faith.
MY MESSAGE TO OTHER LADIES OUT THERE who want to enter an industry traditionally dominated by men is to keep on believing and make your dreams a reality. Don't give up easily, and pay little attention to the negative things people say behind your back.
TO THE REST OF THE WORLD, LOOK OUT for the ladies of the world. Do not look down on us and our capabilities, just because of our physical appearance.
---
MALAYSIANSKINI is a series on Malaysians you should know.
Previously featured:
War has no victors, says last surviving WWII vet
The one-man Malay literature archive
The last of generations of storytellers
Sarawak's sape travels across the South China Sea