100 DAYS | Pakatan Harapan's ambitious timeline to fulfil 10 promises within its first 100 days in office is coming to a close is less than 24 hours
Malaysiakini explores the progress Harapan had made on its 10 promises and whether they were accomplished or not.
Harapan manifesto committee chairperson Rais Hussin also weighs in on the progress. His remarks have been edited for brevity and clarity.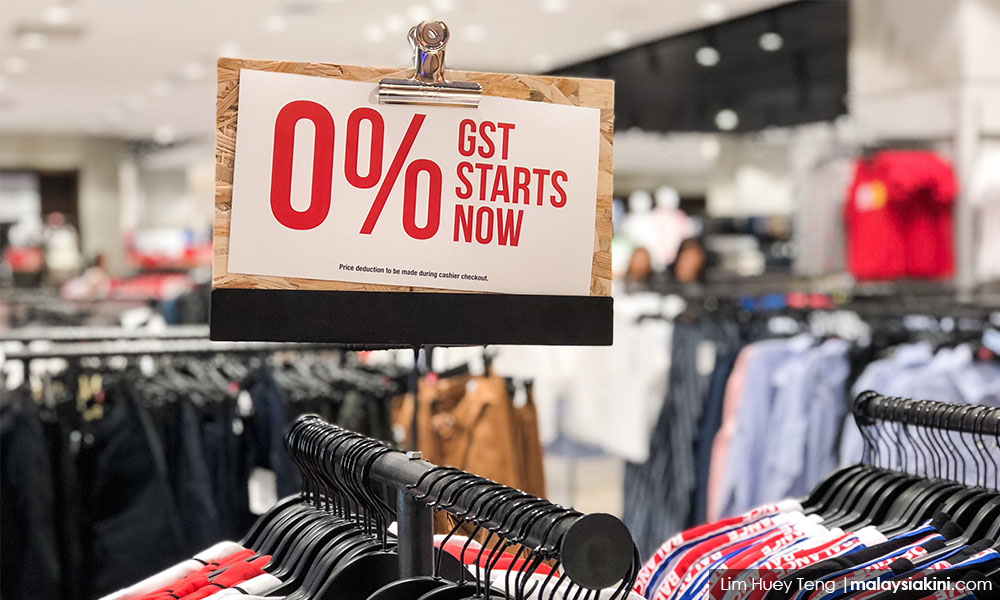 Promise No 1: To abolish the GST and take steps to reduce the cost of living.
Status: Fulfilled.
This promise was effectively achieved when the GST was zero-rated on June 1.
While the final repeal of the GST Act will only take place after the 100 days, it is a done deal as the Federal Constitution allows the government to present "money bills" to the Yang di-Pertuan Agong, even if the Senate does not pass the GST abolition bill.
Rais' remarks: Effectively, we have abolished the GST. Reducing the cost of living is a continuous process which isn't solved by just abolishing the GST.
You also need to moderate the depreciating ringgit, which we inherited and is affected by prior confidence issues and external factors such as the US-China trade war.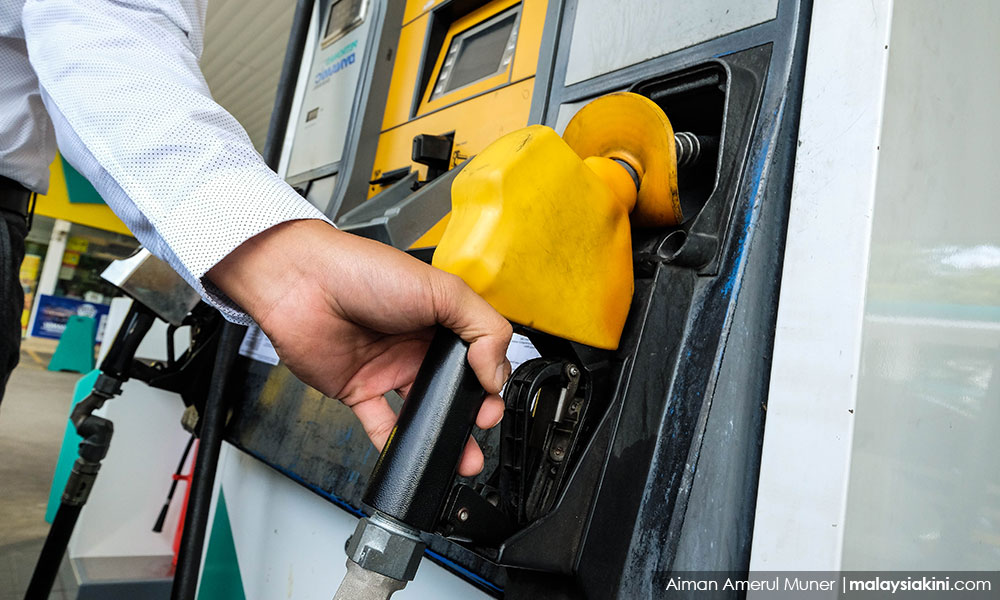 Promise No 2: To stabilise the price of petrol and introduce targeted petrol subsidies.
Status: Partially fulfilled
Putrajaya was quick to stabilise fuel prices for RON 95 at RM2.20
However, there has not been much progress announced on targeted petrol subsidies, with the last development being that a mechanism was being studied.
Rais' remarks: We are working very hard on how best to implement targeted subsidies. It will take some time. It will not take years, but will be implemented soon.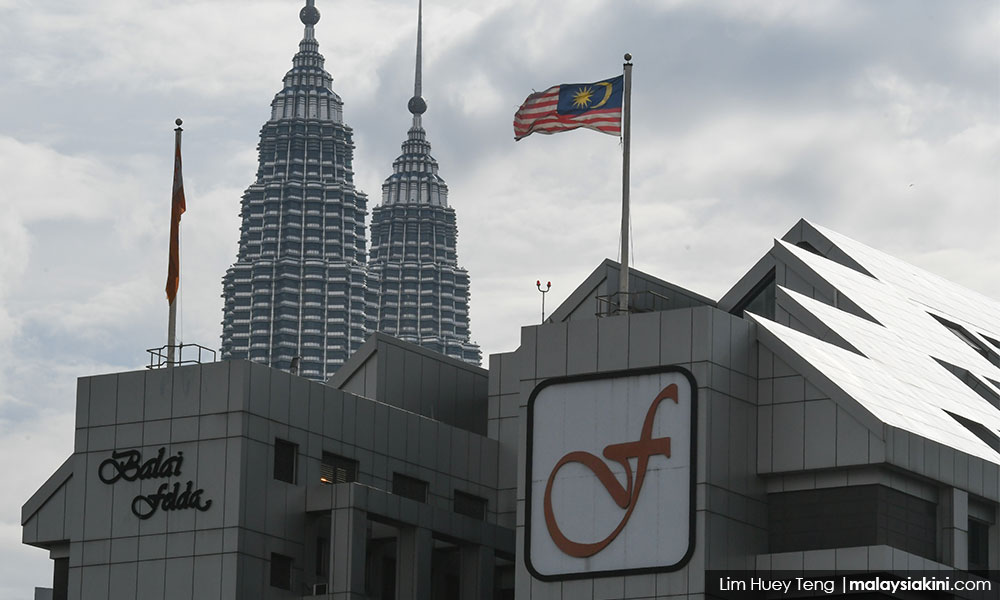 Promise No 3: To abolish unnecessary debts that have been imposed on Felda settlers.
Status: In progress.
There has been no notable movement announced on this front except that the government was looking at various means to reduce the debts owed by Felda settlers.
Rais' remarks: This is a headache for us and we are still studying it. The unnecessary debts exist. They are in the accounting books. The amount is between RM4 billion and RM5 billion. But nobody knows what these are, except debts to Felda.
The Felda senior management said it is an accounting filler and there was never an attempt to get the money back. It will take some time, this is very complex work.
We are determining its exact nature but it could be handouts made to look like debt. Felda previously wanted to create a feudal existence through debt bondage, that is something we want to get rid.
Promise No 4: To introduce EPF contributions for housewives.
Status: Partially fulfilled.
Beginning last Wednesday, housewives registered under e-Kasih can open EPF accounts and contribute a minimum of RM5 per month, which the government will top up with RM40 per month.
However, the two percent contribution from the EPF accounts of husbands as outlined in the wider manifesto is only expected to be implemented in 2020.
Rais' remarks: Deputy Prime Minister Dr Wan Azizah Wan Ismail is championing this, and it is something she is very passionate about. It requires a lot of involvement from other agencies such as the EPF, Inland Revenue Board and other ministries. This will be done, it is just a matter of time.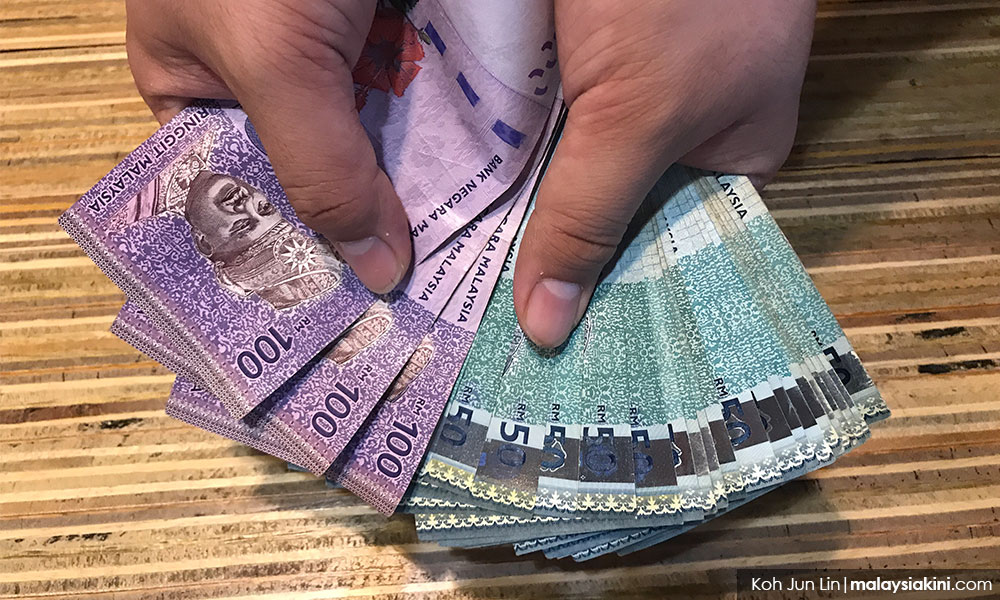 Promise No 5: To equalise the minimum wage nationally and start the processes to increase the minimum wage.
Status: Partially fulfilled.
Touted as an easy promise to fulfil, Putrajaya has yet to equalise the RM80 difference between East Malaysians who earn a minimum of RM920 per month compared to their the RM1,000 of their counterparts in the peninsula.
However, the government has initiated the process to increase the minimum wage, which it says will be carried out gradually.
Rais' remarks: There is some opposition to it, even the equalising of wages. They say the cost of where the employees are working is different.
This will take maybe another 50 days or so to fulfil. It is at the tail-end of being delivered, it is just a matter of fine-tuning.
Promise No 6: To postpone the repayment of PTPTN loans for all graduates whose salaries are below RM4,000 per month and abolish the blacklisting policy.
Status: Partially fulfilled.
PTPTN has removed loan defaulters from the Immigration Department blacklist.
However, efforts to postpone repayment for those earning less than RM4,000 has yet to be realised as the fund undertakes a clean-up of its borrowers' database.
Rais' remarks: The PTPTN blacklist has been abolished. What is left is the postponement of payment for those earning under RM4,000. The PTPTN database is in complete shambles. They don't know where the people who took the loans are now. Are they working? Married? Latest address? Nothing! So the cleaning up has to be done.
It needs hard work and we still need all the agencies to work with us. The people should understand that this is a work in progress.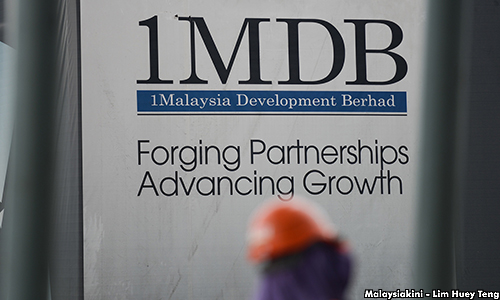 Promise No 7: To set up Royal Commissions of Inquiry (RCI) on 1MDB, Felda, Mara and Tabung Haji, and to reform the governance of these agencies.
Status: In progress.
There has been a lot of progress regarding investigations into 1MDB but no RCI as of yet as it will be in conflict with the investigations by the police and the Malaysian Anti-Corruption Commission (MACC).
Similarly, the MACC initiated a probe into Tabung Haji on May 23 while Mara and Felda were probed last year, but the outcome of the investigations was never announced.
No RCI has been announced for these institutions either.
Rais' remarks: Why do we need RCIs when the investigations are more important? The most important thing is to take the culprits to court. Let those investigations take place. If we find that those responsible manage to wriggle themselves out of court, then we will go for an RCI.
We are already moving so far ahead… An RCI is only in the event that we fail to bring this to court.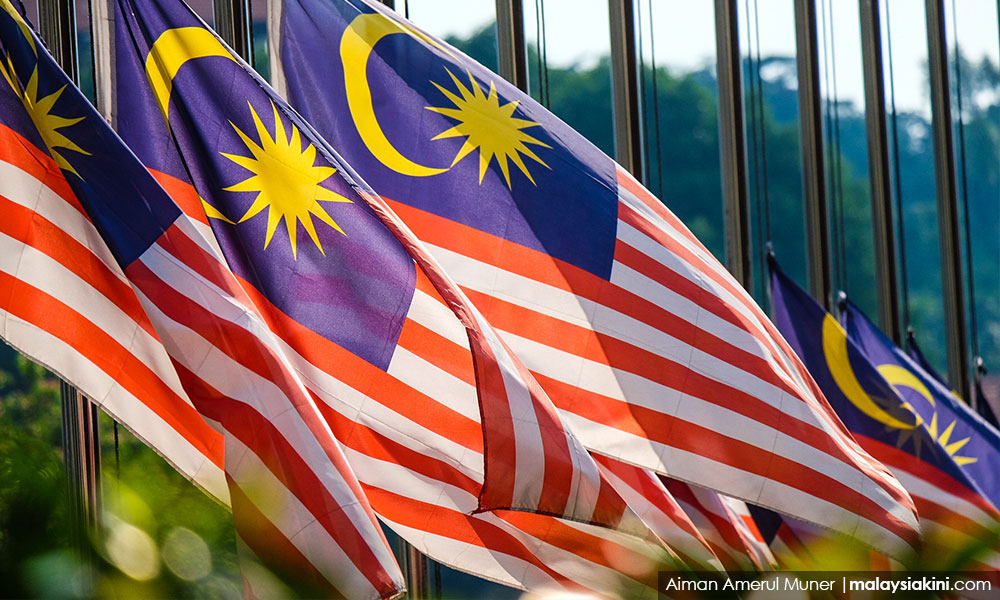 Promise No 8: To set up a special cabinet committee to properly enforce the Malaysia Agreement 1963.
Status: Partially fulfilled.
The cabinet has consented to form the special committee. However, the members of the committee have yet to be announced.
Rais' remarks: They want to get the right people in the committee, those who understand the agreement in its spirit. The appointments will be done.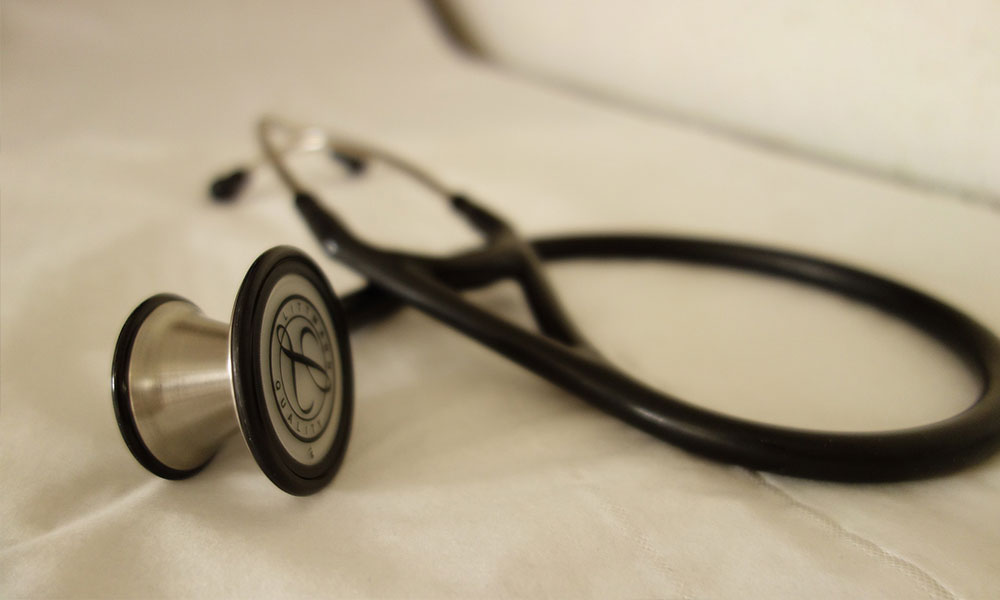 Promise No 9: To introduce the "Skim Peduli Sihat" with RM500 worth of funding for the B40 group for basic medical treatments at registered private clinics.
Status: In progress.
The health scheme has now morphed into a possible insurance scheme. However, while Health Minister Dr Dzulkefly Ahmad has been proactive in updating his progress, he has said that this will not be fulfilled within the 100 days.
Rais' remarks: Some states have already done it, like Selangor (Editor's note: Selangor's programme was introduced in 2017). It is an ongoing process.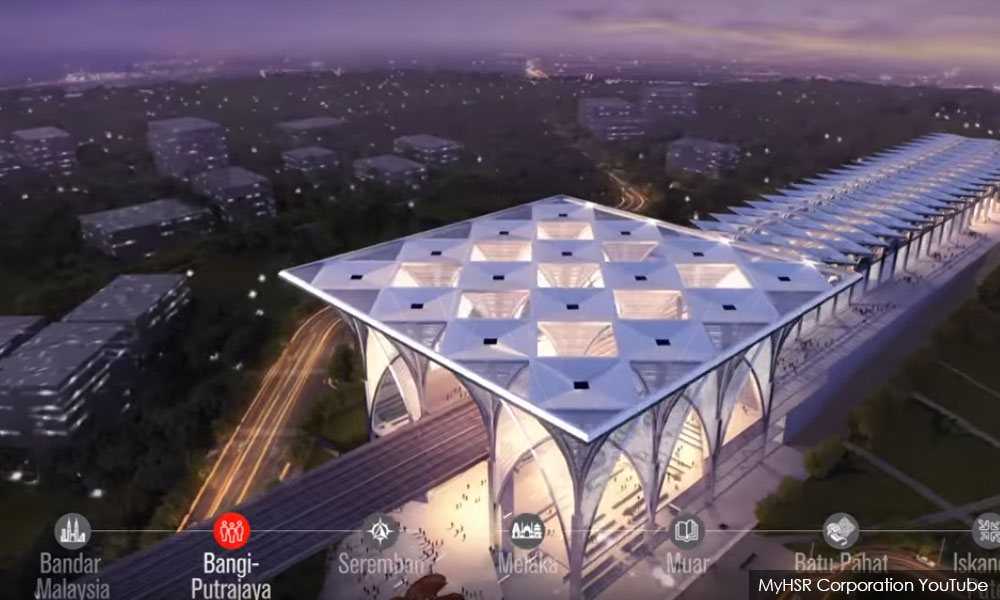 Promise No 10: To initiate a comprehensive review of all mega-projects that have been awarded to foreign countries.
Status: Fulfilled.
Rais' remarks: Some projects we have stopped. Some projects will be continued and some are being reviewed. So, okay lah.
Final score: Fulfilled: 2 | Partially fulfiled: 5 | In progress: 3
Definitions
Fulfilled: Promise has been delivered.
Partially fulfilled: Promise is nearly fulfilled or contains mutiple components and at least one part was fulfilled.
In progress: Efforts being made but there is not yet significant deliverable to show for.
For more details, visit Malaysiakini's Pakatan Harapan 100 day manifesto tracking microsite here.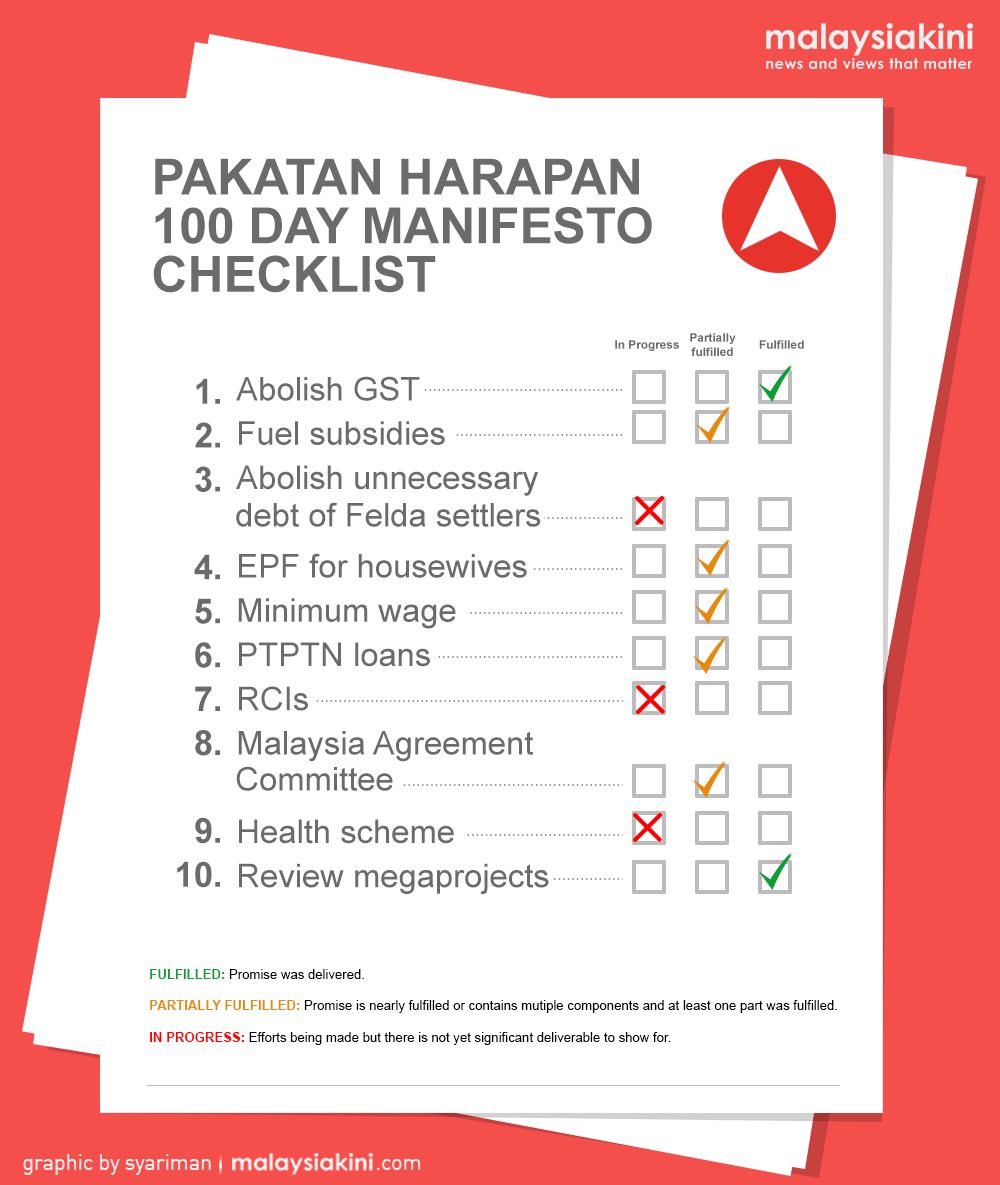 RELATED REPORTS
New M'sia, 100 days later: A look back at Harapan's first 100 days in power
100 days under Harapan - whither the national economy?
10 promises in 100 days - monitoring Pakatan Harapan's manifesto pledges
'Read!' - Rais tells ministers who don't know about Harapan manifesto
KJ: After 100 days, time for BN to stop harping on the manifesto