Japanese Prime Minister Shinzo Abe today warned South Korea it risked damaging ties by disbanding a fund meant to settle compensation for South Korean women forced to work in Japanese military brothels during World War Two.
"If international pledges are broken, then forging ties between countries becomes impossible and as a member of the international community we urge South Korea to act responsibly," Abe told reporters at his residence in Tokyo.
Under a 2015 deal, Japan apologised to the "comfort women" – Japan's euphemism for Asian women, many of them Korean, forced to work in its wartime brothels. Tokyo provided a 1 billion yen (now US$9.4 million) fund to help them.
Today, South Korea's Ministry of Gender Equality and Family said it planned to dissolve the Reconciliation and Healing Foundation after consulting with victims, their advocates and related agencies.
"We will make utmost efforts to carry out policies that can help the victims recover their honour and dignity," Minister Jin Sun-mee said in a statement.
The two countries share a bitter history that includes Japan's 1910-45 colonisation of the Korean peninsula, and the issue of comfort women has been a major obstacle to better relations.
South Korean historians estimate there may have been up to 200,000 Korean women forced into sex slavery. There are 27 survivors registered with the government.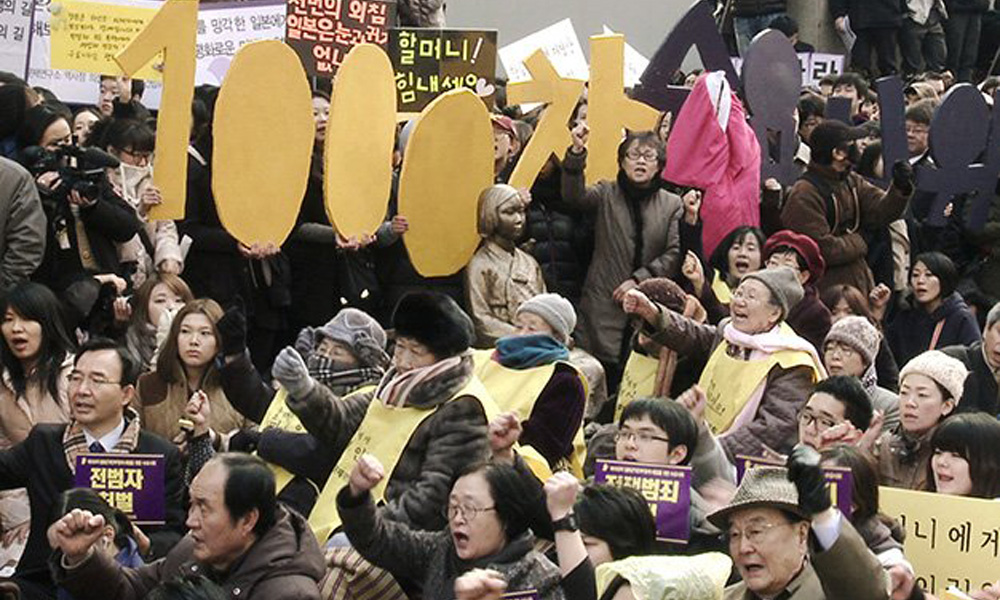 Abe told South Korea's President Moon Jae-in in February the 2015 pact settled the dispute, but Moon said Japan was in no position to declare that as the "perpetrator of wartime crimes against humanity."
The South Korean ministry said it will discuss with Tokyo on what to do with the balance of the fund, which at the end of October stood at 16.08 billion won ($14.21 million), including Seoul's contributions.
Kim Bok-dong, a surviving former comfort woman, welcomed the decision to disband the fund.
"The only thing left is the Japanese government's repentance and compensation," she said in a statement released by a civic group supporting the victims, known as Jungdaehyup.
The group, and the "House of Sharing," another major advocacy organisation that provides a shelter for the victims, respectively issued a statement, calling for Seoul to nullify the deal and return the 1 billion yen to Japan.
The fate of the money will deepen the dilemma for the Moon administration, which has refrained from formally breaking the agreement and vowed not to seek a renegotiation.
The new row comes after South Korea's top court last month ruled that Japan's Nippon Steel & Sumitomo Metal Corp must compensate four South Koreans for their forced wartime labour.
Japan denounced that judgement as "unthinkable," saying that South Korea had waived all such claims in a 1965 pact under which Japan agreed to provide grants and loans to help spur South Korea's economic development.
South Korea says nearly 5,000 victims of wartime forced labour are still alive, from a total of nearly 150,000 who were forced help the Japanese war effort by working in factories and mines in Japan.
A South Korean appeals court is expected to deliver its ruling in another case against Mitsubishi Heavy Industries in December.

– Reuters