MP SPEAKS | The country seems to be overwhelmed by a multitude of problems, which raise the question of whether the vision of 'New Malaysia' has any relevance to the future of Malaysia.
But I think otherwise, as I believe that this vision, which resulted in the historic decision of May 9, must continue to inspire and unite Malaysians, despite the multitude of problems haunting and hounding the country after six decades of Umno/BN rule.
In the past week, problems piled up, some of which seemed to concern only one particular community or religious group, but actually concern all Malaysians and all religious groups.
Icerd debate
This includes the ratification of the International Covenant for the Elimination of All Forms of Racial Discrimination (Icerd), which has been distorted to mean a grave threat and assault on the rights and interests of the Malays, Islam and the Malay rulers.
This is untrue, as 179 countries, which include 99 percent of the world's 1.9 billion Muslims, have ratified Icerd – including 55 of the 57 countries in the Organisation of Islamic Countries (OIC). In the past half a century, no community or religion had suffered as a result of such ratification.
Apart from Malaysia and Brunei, 36 of the 38 countries with monarchical systems have ratified Icerd, and none of these countries has abolished the monarchical system as a result of ratification.
If Icerd represents such a grave assault on the rights and interests of the Malays, Islam and the Malay rulers, I myself would not support it, and all Malaysians regardless of race, religion or region would oppose it.
Why can't the practitioners of toxic politics of lies, hate, fear, race and religion stop inciting raw emotions and primordial fears, even issuing threats of Malays running amok and "rindu May 13 (longing for the May 13 riots)" and instead, engage in a rational national debate to show proof that the United Nations treaty is really such a threat?
Temple riots
The Seafield temple riots – which are criminal acts and not a racial or religious conflict – concerns not just Indian Malaysians or Hindus, but all Malaysians, as there can be no 'New Malaysia' without the restoration of the rule of law and the enjoyment of freedom of religion as guaranteed in the Federal Constitution.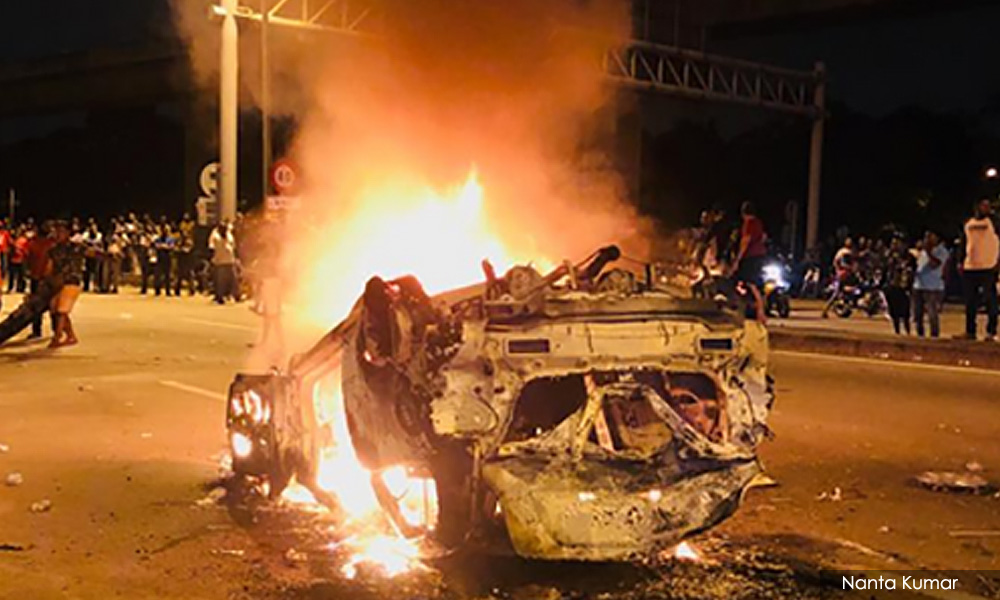 There is also the long-running daily saga and disaster of the 1MDB scandal, as represented by a few of the following headlines which had dominated the news in the past six days:
IPIC files lawsuit against Goldman Sachs, others over 1MDB case
Yes, Jho Low may have cheated us, says Najib
Ex-Goldman CEO had met Jho Low in 2012 – report
Utusan: 1MDB audit report amended on Najib's order
Edge boss: Najib kicked me out when told about Jho Low's scam
Auditor-general: Najib ordered tampering of 1MDB audit
Utusan: Najib, 'civil servants' traitors if 1MDB audit tampering claims true
Tampering of 1MDB audit report? Ask Najib, says Zahid
Opposition is like an 'ostrich' when it comes to 1MDB - Lim
All these issues have one common factor – they are a test of the 'New Malaysia' vision struggling to be born after the May 9 polls, which gave Malaysians an opportunity to save the country and reset nation-building policies after six decades.
Malaysians want a 'New Malaysia' which is united, democratic, just, progressive and prosperous, a top class nation which is capable of leveraging on the best of the diversity of cultures and languages so as to gain international respect and admiration as a nation which leads the world in integrity, and not scorned as a global kleptocracy, hurtling towards a failed state.
Let all Malaysians turn the multiple crises in nation building presently haunting the country into opportunities to build a 'New Malaysia' where all Malaysians, regardless of race, religion, politics or region, can feel proud to be citizens.
---
LIM KIT SIANG is the MP for Iskandar Puteri.
The views expressed here are those of the author/contributor and do not necessarily represent the views of Malaysiakini.