Former Umno Youth chief Khairy Jamaluddin has pressed for Ahmad Zahid Hamidi to step aside, as the Umno president shows no signs of yielding.
"Step aside, sir. It's time," Khairy said in a Twitter posting.
Khairy was responding to a report where Zahid defiantly said the only way to oust him was to call for an Umno general assembly.
Zahid had also highlighted the challenge of doing so, pointing out that over 146,000 delegates would need to be called to fulfil the two-thirds quorum.
---
KiniGuide: How to sack an Umno president
---
However, the estimated number of delegates who attended that Umno general assembly in late September was just 5,739.
In June, Khairy mounted an unsuccessful challenge against Zahid for the Umno presidency.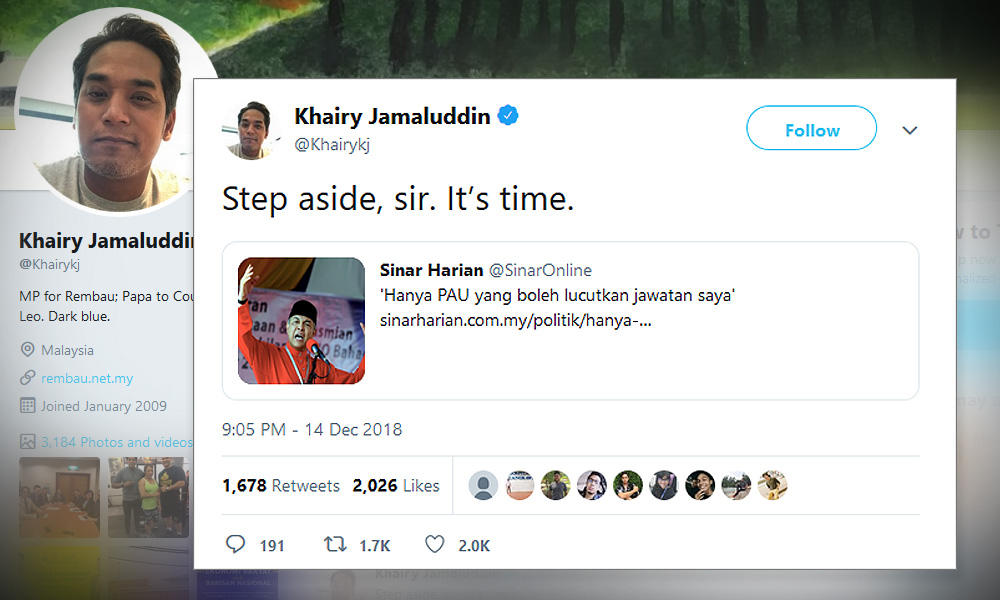 In the last six months, however, the latter presided over the implosion of Umno.
Umno was the largest party in the Dewan Rakyat with 54 MPs despite its defeat in the 14th general election.
As of today, it is down to 38 MPs, making it the third-largest party after PKR and DAP.
This is after another 10 MPs quit Umno since Thursday, blaming Zahid for failing to provide direction.
One of those who quit, Larut MP Hamzah Zainuddin, had warned that more will follow if Zahid did not resign.
However, Zahid had dismissed Hamzah Zainuddin's warning.
"Last time they demanded that I go on leave, now they are demanding that I resign.
"Okay... the only way is to sack me through the Umno general assembly. It must be attended by two-thirds of the delegates who attended the previous general assembly," he was quoted as saying by Sinar Harian.
---
RELATED REPORTS
Resign? Only the Umno general assembly can oust me, says defiant Zahid
Zahid-friendly NGOs tells him to crack down on those trying to oust him
Umno veterans to Zahid: Listen to the grassroots, take a break