PAS president Abdul Hadi Awang has so far refused to accept the fact that Malays make up the current majority of local councillors, according to Foreign Affairs Minister Saifuddin Abdullah.
Taking to Twitter, Saifuddin was responding to comments on Hadi's reported remarks in London, that local elections must be inclusive so that cities are not dominated by just one race. 
"The fact is Malays are the majority in most local councils. But he (Hadi) didn't want to believe it," said Saifuddin to a question on how would the local government results differ from the normal general elections in terms of ethnicity as Malays remained to be the majority population.
"We have to rebut him," the Indera Mahkota MP said to another comment on how Hadi was merely spreading disinformation in arguing against the call to reinstate local government elections.
On Christmas Eve, tempers flared at a dialogue session with Hadi in London, when an audience member asked why the former was being "racist" and against local council elections.
Hadi had warned about a possible repeat of the May 13 race riots if only one race was in power and this had incensed the audience member who first questioned him.
The man then responded by verbally abusing Hadi, claiming the latter's following of the Al Quran had caused his mind to be "stuck in 1969."
Faced with a barrage of expletives, Hadi (photo) reiterated his belief that local council elections must be inclusive, so that no one race controls the cities, as this can cause tension.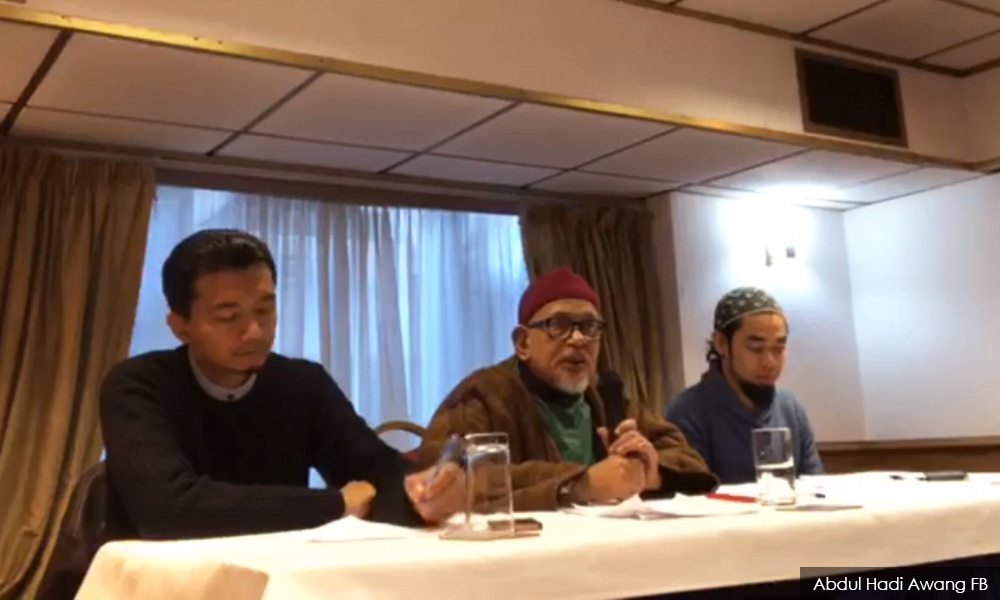 Meanwhile, DAP stalwart Lim Kit Siang said he was taken aback by Hadi's latest remark against local council elections as the same arguments on alleged dominance of one race had been countered since three years ago.
"In fact, the argument that the restoration of local council elections would benefit the Chinese at the expense of the Malays is even more untenable today," stressed the Iskandar Puteri MP.
Lim recalled how three years ago he had cited figures from the 2010 national census which showed that out of the 148 local authorities in Malaysia - comprising three city halls, nine city councils, 37 municipal councils and 99 district councils - only two percent or three of the local authorities have Chinese majorities, namely Sibu (Chinese 63.4 percent, Malay/bumiputera 35.7 percent, Indians 0.4 percent, others 0.5 percent); Kuching Selatan (Chinese 62.5 percent, Malay/bumiputera 36.4 percent, Indians 0.6 percent, others 0.5 percent) and Pulau Pinang (Chinese 56.4 percent, Malays 33.7 percent, Indians 9.5 percent, others 0.4 percent).
On the other hand, local authorities with Malay majorities of over 50 percent of the population numbered 132 or 89.2 percent of the 148 local authorities, with the balance of 13 having a plurality of races with seven Chinese dominant and six Malay dominant.
"In the 2020 Census to be held in about a year's time, there would be further changes in the racial composition of the demography of the local authorities in favour of the Malays, because of the higher birth rates among the Malays compared to the non-Malays," Lim further argued.
"Will the Hadi PAS leadership stop looking at local government elections from the lens of toxic and vicious politics of lies, hatred, fear, race and religion and from the point of view of local government democracy?
"Or are the thinking of the Hadi PAS leadership so fixed and frozen that they are immune to arguments, facts and truth as illustrated by PAS' continued opposition to local government elections...," he said.
Housing and Local Government Minister Zuraida Kamaruddin had previously said that Malaysia could see local elections within three years.
Prime Minister Dr Mahathir Mohamad had also voiced objections to local elections, citing the possibility of disproportionate representation among the races. 
However, Zuraida said she would continue to push for local elections and will take into account local factors.