De facto Deputy Law Minister Hanipa Maidin is puzzled by the fuss over chief justice Richard Malanjum, attorney-general Tommy Thomas and de facto law minister Liew Vui Keong dancing together.
"As far as I know, the legal fraternity has been consistently organising the dinner and dance almost every year. That has been part of its rich traditions.
"Such an event does not, in any circumstances, sacrifice its professionalism," he said in a statement last night.
Yesterday, a video surfaced of Malanjum, Thomas and Liew dancing onstage to Chubby Checker's "Let's Twist Again" at the opening of the Legal Year gala dinner in Kota Kinabalu on Friday night.
Critics said their fraternising had tarnished the image of the judiciary.
According to Hanipa, critics are entitled to express their opinions.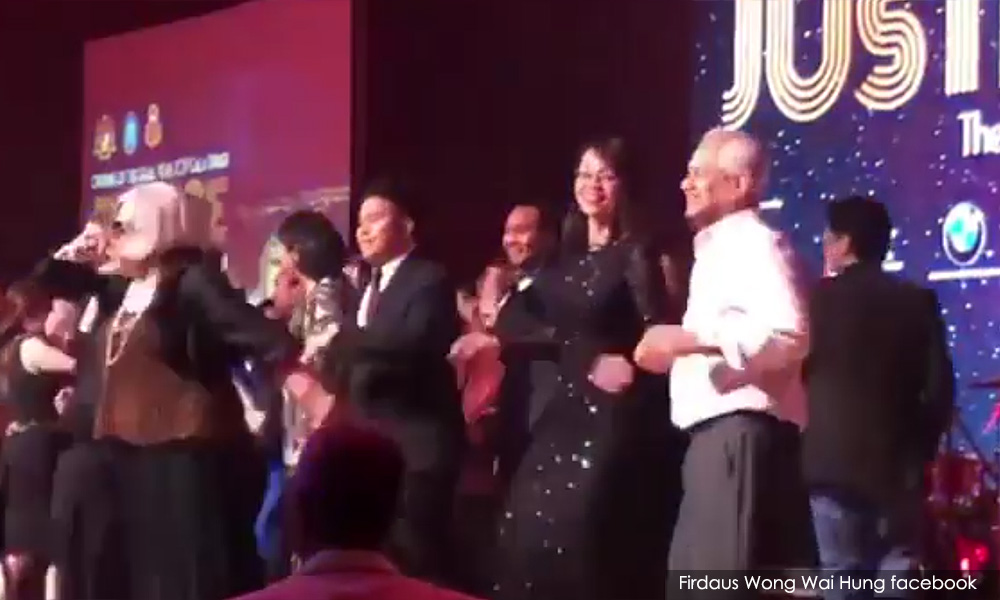 "This is called democracy and freedom of speech. In a new Malaysia, such freedom has fortunately blossomed," he said.
'Narrow-minded views'
Meanwhile, Judicial Appointments Committee (JAC) member Mah Weng Kwai told Malaysiakini that the gala dinner was merely a light-hearted social event.
According to Mah, the dinner was hosted by the Sabah Law Association, which followed what had been a "serious" opening ceremony of the legal year, that entailed speeches and an annual 1.6km procession on foot to the Kota Kinabalu court.
He said the dance was merely an expression of friendship and cordiality, and stressed that there is nothing wrong in the different branches of the legal fraternity having a good relationship.
"I think people who hold such views (that the chief justice and the attorney-general should not fraternise) are being very, very narrow-minded and unnecessarily ultra-conservative, because there is nothing unprofessional or unethical for people to have a happy moment together.
"This is a social event. As long as people know to draw a line between what is social, what is personal, and on the other hand, the discharge of their professional duties, and that is kept uppermost in mind, I think we are all in good hands," he said when contacted.
Apart from being a JAC member, Mah is also a member of the Human Rights Commission (Suhakam) and a former Court of Appeal judge.
He said he was present at the dinner, but did not participate in the dance.
The dinner, he explained, featured numerous singing and dance performances. Towards the end of the event, the emcee started urging the guests to come on stage.
"The (stage) was full of people and they just sort of moved to the music. I wouldn't call it dancing, they were just responding to the music. All in good fun. It was light hearted, nothing untoward.
"People who want to read more into this are politicising it unnecessarily," he told Malaysiakini.
'Stop the act'
In a separate statement this morning, Hanipa said he wished to drive home the point that the dinner and dance is very much a part of the traditions of the country's legal fraternity.
The Sepang MP cited many examples of such traditions – such as the 'call to bar ceremony' when a person is accepted as a lawyer after completing chambering or pupillage – which includes ceremonies and practices that are "not compulsory."
"When a lawyer is speaking (in court), the opposing lawyer cannot stand up at the same time. That is considered very rude... This is called judicial decorum. That is also a part of our 'rich tradition.'
"Lawyers are rich with many traditions that would appear unique, and only (practised) by the profession. Yes, I admit, at times they appear very English," he said, adding that certain "holy quarters (pihak-pihak suci)" view these practices as "not syariah-compliant."
"But, to me, supporting and giving life and oxygen to a kleptocratic regime at one time was also not very Islamic or very syariah-compliant.
"So please lah, stop acting," he said.
Meanwhile, Kinabatangan MP Bung Moktar Radin quipped that he too saw nothing wrong with the event.
"I feel like dancing too," he tweeted last night. His tweet was accompanied by the hashtags "#keepitup", "#maluapabossku", and "#FeelForeverYoung".
---
RELATED REPORTS
Dance controversy: Not morals, but of separation of powers, says KJ
Critics of dance at gala don't understand East Malaysia - S'wak law group
It was only one song, says minister on dancing video with CJ, AG