CAMERON POLLS DAY 14 | Today marks the last day of the 14-day campaigning period.
Prime Minister Dr Mahathir Mohamad will be spending the afternoon in the BN stronghold and Felda settlement of Sungai Koyan, Jelai.
Meanwhile, Umno Rembau MP and former youth and sports minister Khairy Jamaluddin is holding several events, also in Jelai.
Malaysiakini brings you live reports of the campaigning on the ground.
---
KEY HIGHLIGHTS
Umno Youth: Harapan inducing voters with hampers
KJ tells Orang Asli not to fear Kit Siang's 'threat'
EC chief: Shorter voting hours since BN days, why question it now?
Najib ex-aide: EC's explanation on shorter polling hours 'nonsensical'
Video shows me giving money to Penang floods victim - Muhyiddin
Harapan, BN canvass same market morning before polls
---
11.55pm: This concludes our live coverage today for the final day of the Cameron Highlands by-election campaign. Follow our live blog again tomorrow for polling day.
Money behind early Umno-PAS 'secret talks', says Mat Sabu
10:30pm - Kampung Kuala Medang, Jelai - At his final ceramah before campaigning ends, Amanah president Mohamad Sabu tells a small crowd in this BN stronghold how the present partnership between his old party PAS and Umno blossomed.
Being the PAS deputy president at the time, he said even he was oblivious of the initial "secret talks" between the two parties.
"If we could discuss and decide our partnership with DAP, with Semangat 46 and with PKR in a meeting, why was it done so secretively with Umno?
"[...] is it wrong to work together? No! The most important thing is we need to talk about things openly. Why do it so secretively?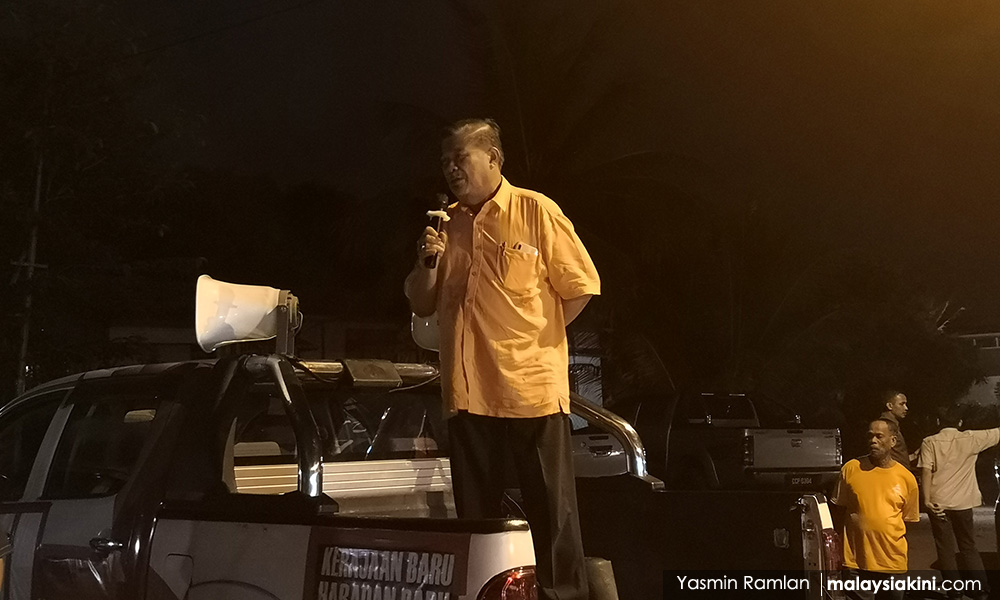 "Because it involved this, money! The grassroots don't know this!" he claims.
Mohamad explains that such secret talks eventually led to rifts within the Islamist party, resulting in the formation of Amanah.
He reminds his audience that Umno and PAS have resorted to racial politics because that is the only strategy they have left.
BN and PAS have been campaigning jointly in the Cameron Highlands by-election for BN candidate Ramli Mohd Nor. 
Umno Youth: Harapan inducing voters with hampers
11pm - Umno Youth chief Asyraf Wajdi Dusuki accuses Pakatan Harapan of handing out hampers the Orang Asli community in Kampung Terisu at the eve of voting.
He claims that his party members caught their Harapan counterparts in the act.
"We had expected such acts of corruption at the very last minute," write Asyraf on his Instagram page.
Asyraf also shares an image of the purported incident. 
---
KJ tells Orang Asli not to fear Kit Siang's 'threat' 
3.30pm: Kampung Pantos, Pos Lanai - Umno Rembau MP Khairy Jamaluddin urges the Orang Asli to vote for BN without fear as the Pahang state government will ensure their wellbeing.
Speaking at a campaign event in this BN stronghold, he points to an incident where tok batin (village chiefs) were told to support ruling coalition Pakatan Harapan or risk being fired.
"Don't worry, the Pahang menteri besar (Wan Rosdy Wan Ismail) who is from the blue BN will see that if any tok batin are fired, the state government will maintain them as tok batin," Khairy claims.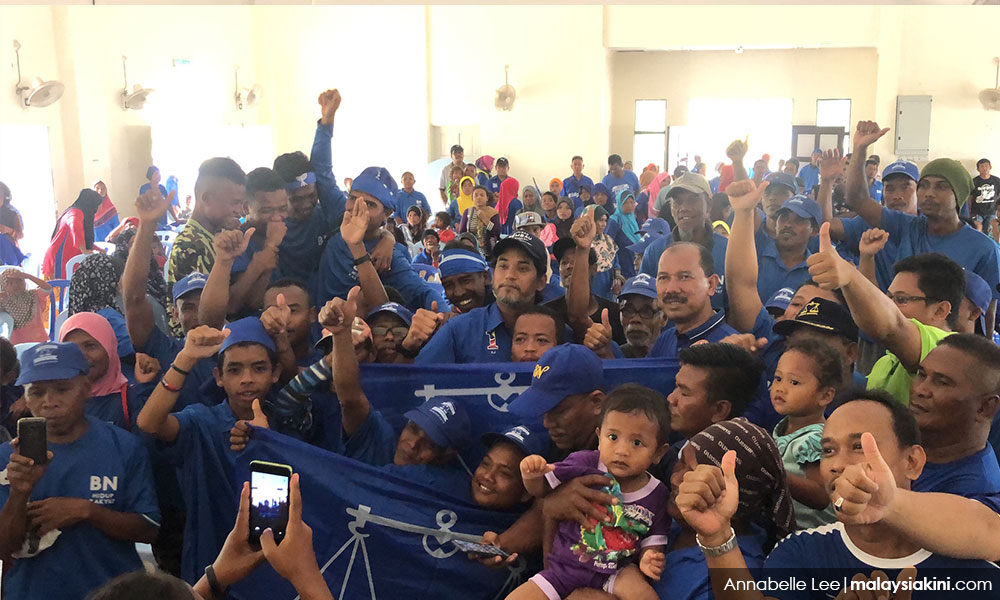 He further characterises DAP veteran Lim Kit Siang's promise of a development blueprint for the Orang Asli should Harapan win the by-election as a "threat".
"If they were sincere about developing Orang Asli areas, they would say they will do it whether or not they win the by-election," he says, adding that "BN will always be with the Orang Asli".
The 300-strong audience clap and cheer in response.
Onstage with Khairy are the six village chiefs from Pos Lanai, who are all dressed in blue.
In GE14, BN won more than 70 percent of the votes from this settlement while Harapan managed just three votes.
---
EC chief: Shorter voting hours since BN days, why question it now? 
1.30pm: SMK Sultan Ahmad Shah, Tanah Rata - Election Commission (EC) chairperson Azhar Azizan Harun has denied claims of conspiracy over the shorter voting hours at certain polling stations.
He explains that this has been a longstanding practice for rural polling stations to ensure vote counting can be carried out smoothly.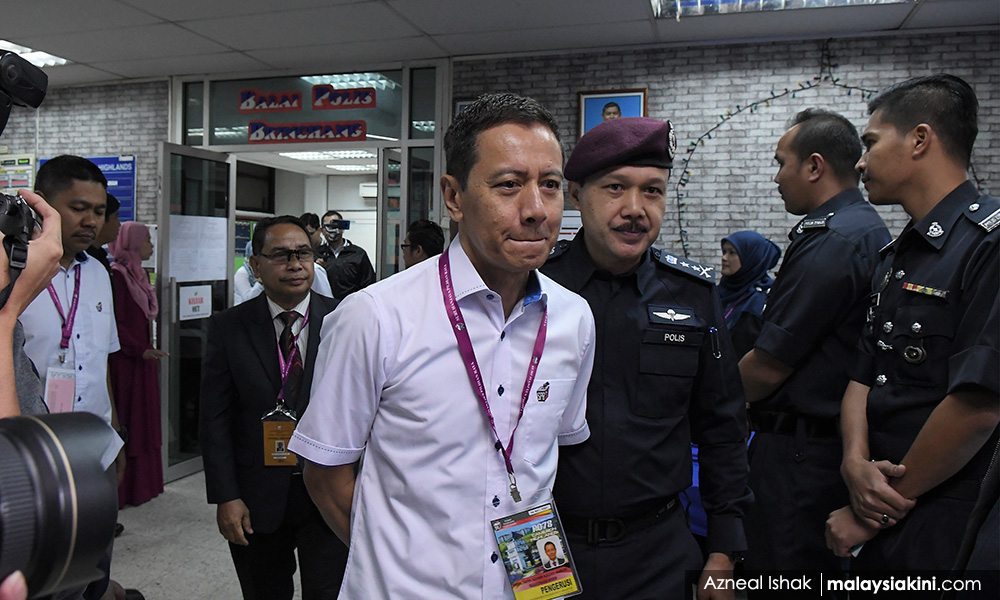 "Despite the shortened voting times, this time we have increased the number of polling streams to enhance the voting process.
"Voters won't have queue up or wait for long hours, this is a stark improvement from GE14," he tells a press conference.
"If this was not an issue during GE14, I am a little surprised as to why this has become an issue today," Azhar adds.
He estimates voter turnout to be 70 percent (about 22,224 voters) and says the EC aims to announce results for the by-election at 10pm tomorrow.
Twenty-nine police reports and eight MACC reports have been lodged so far throughout the campaigning period. 
---
Najib ex-aide: EC's explanation on shorter polling hours 'nonsensical'
1pm: Petaling Jaya - Pertubuhan Jalinan Sukarelawan Malaysia president Isham Jalil (photo) says the Election Commission's explanation regarding why polling hours at several rural polling stations will be shorter is "nonsensical".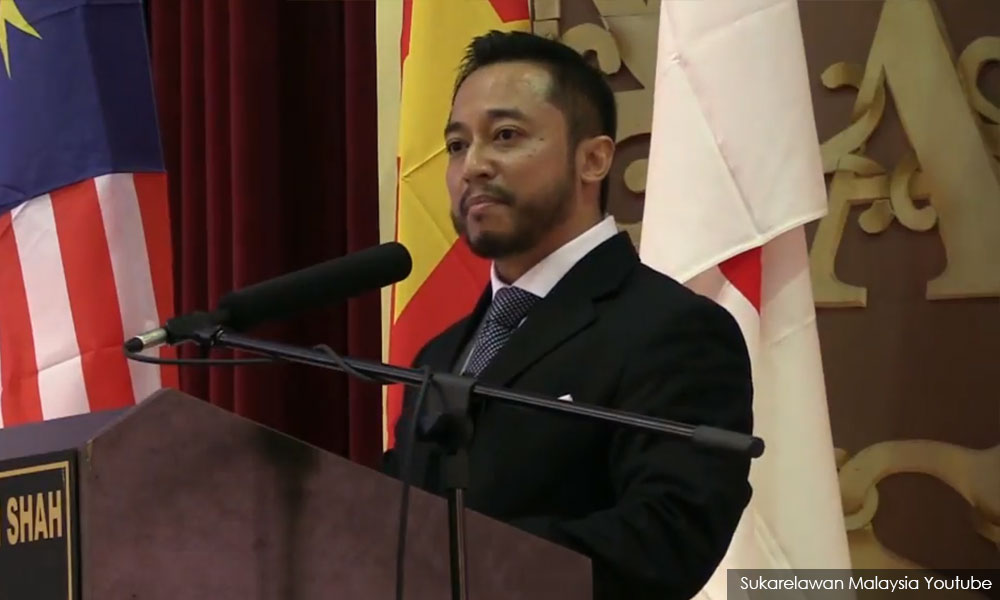 EC chief Azhar Azizan Harun had said in December last year that some rural polling centres for the Cameron Highlands by-election would have shorter polling hours.
This was due to the need to use a helicopter to bring in the ballot papers, and as such the EC needed "to close the centres earlier to ensure that vote counting and the announcement of results will be done smoothly."
According to the full list of polling centres, all centres will open at 8am tomorrow. However, all Jelai centres will close either at 2pm or 3pm, while centres in Tanah Rata will close at various hours between 1pm and 5.30pm.
In a statement, Isham, who was once former premier Najib Abdul Razak's special officer, says that although Tanah Rata has a higher number of voters compared to Jelai state constituency, Jelai was more spread out as it is an estimated six times bigger than Tanah Rata.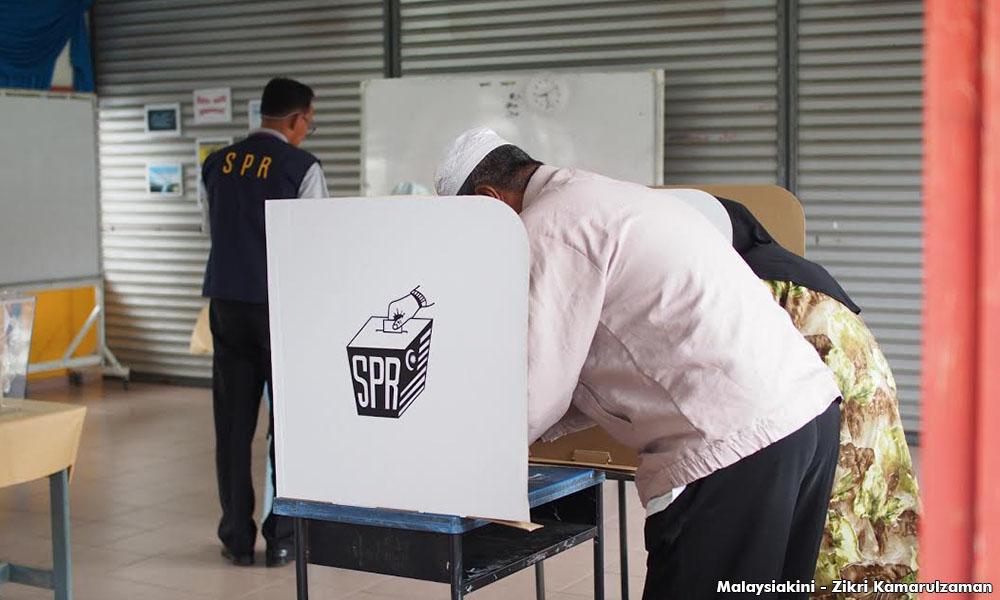 "The distance between one ballot box to another is further (in Jelai) compared to Tanah Rata.
"This means the voters in Jelai must travel further [...] and this eats up more time," he says and adds this only gives Pakatan Harapan an "undue advantage" as he alleged that Tanah Rata held more Harapan supporters.
Video shows me giving money to Penang floods victim - Muhyiddin
10.45am: Kampung Kuala Medang, Jelai - Bersatu president Muhyiddin Yassin dismisses claims that he handed a small sum of money to a woman during the Cameron Highlands by-election campaign.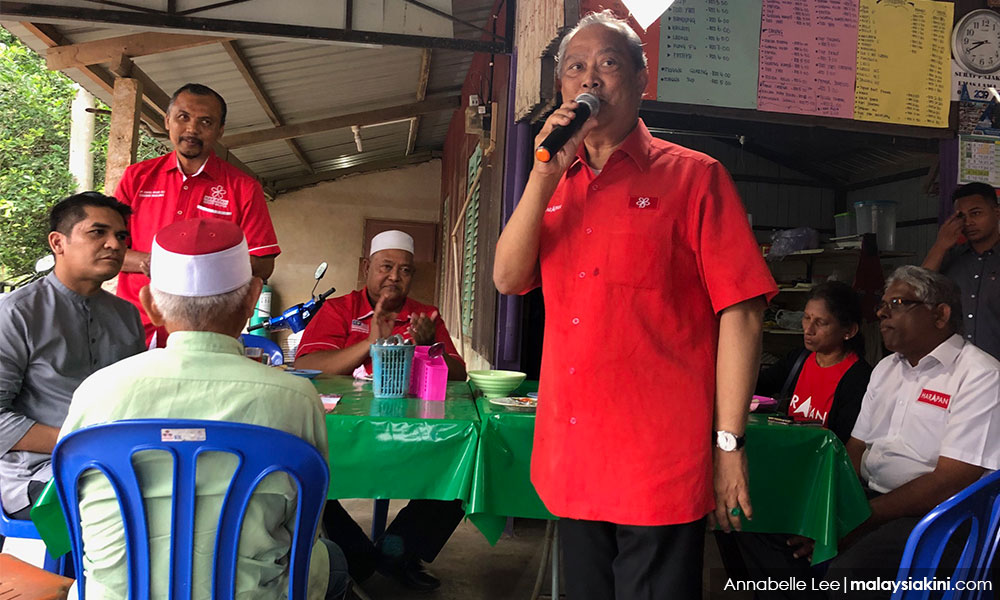 The incident is said to have been captured in a video clip.
When asked to comment on the allegation, Muhyiddin explains that the clip, which began circulating several days ago, actually took place during the 2017 floods in Penang.
"Today I want to explain that I just arrived here to campaign. The purported incident took place when I visited flood victims in Penang.
"I was touched when I listened to the victim's ordeal. I assisted in solving her problem. So I refute the (current) allegation, and it happened way back before the election, so it was not wrong," he says at a press conference in Bersatu's operations room. 
Harapan, BN canvass same market morning before polls
9am: Kampung Kuala Medang, Jelai - Both Pakatan Harapan and BN hold walkabouts at the same morning market in this BN stronghold on the last day of campaigning.
Harapan candidate M Manogaran is flanked by Bersatu president and Home Minister Muhyiddin Yassin, and Deputy Economic Affairs Minister Mohd Radzi Md Jidin.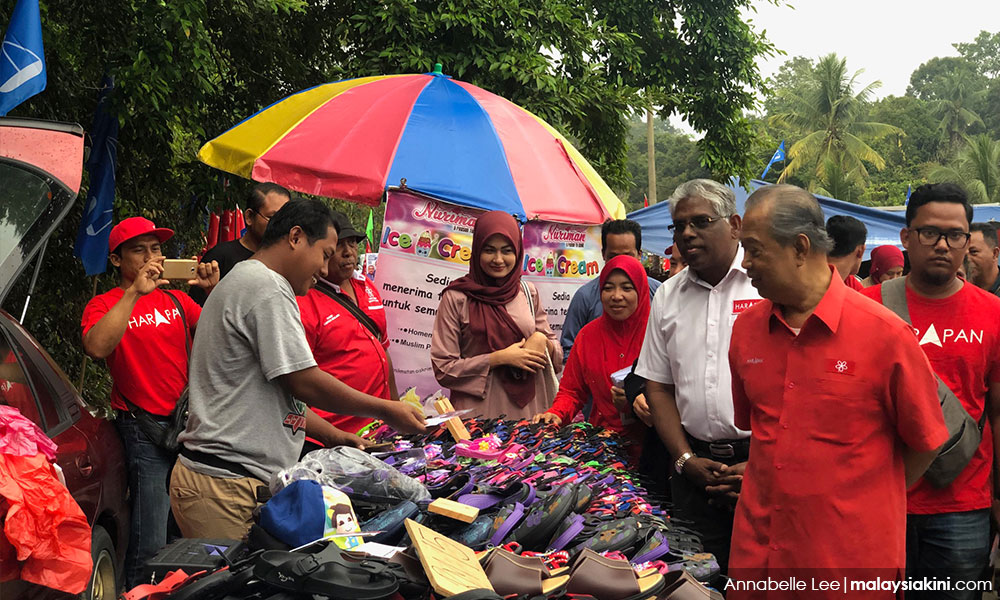 Meanwhile, BN candidate Ramli Mohd Nor is accompanied by Pahang Menteri Besar Wan Rosdy Wan Ismail and Umno Youth chief Asyraf Wajdi Dusuki.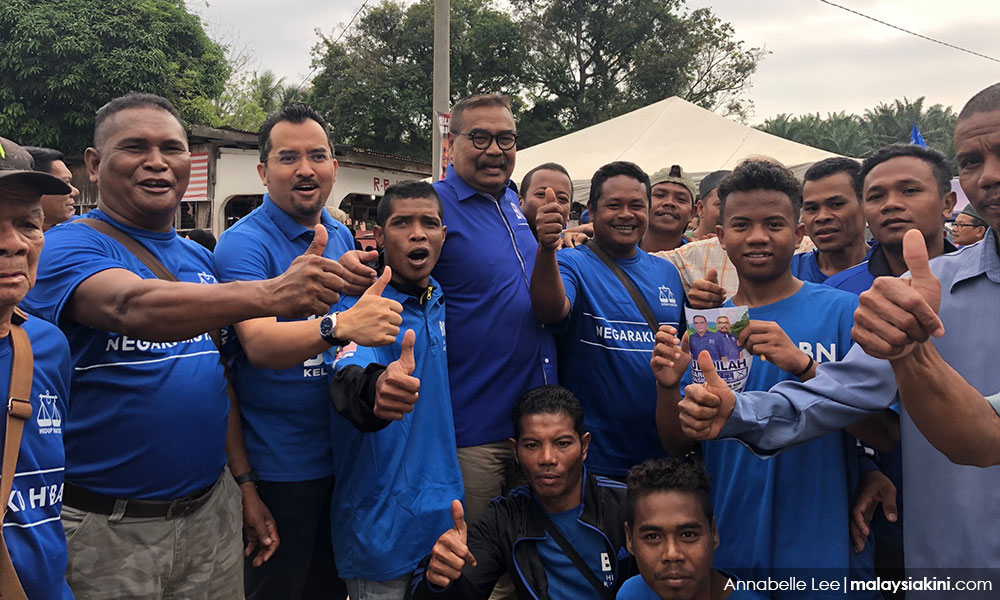 Muhyiddin and Wan Rosdy shake hands when they meet at a warung at the market.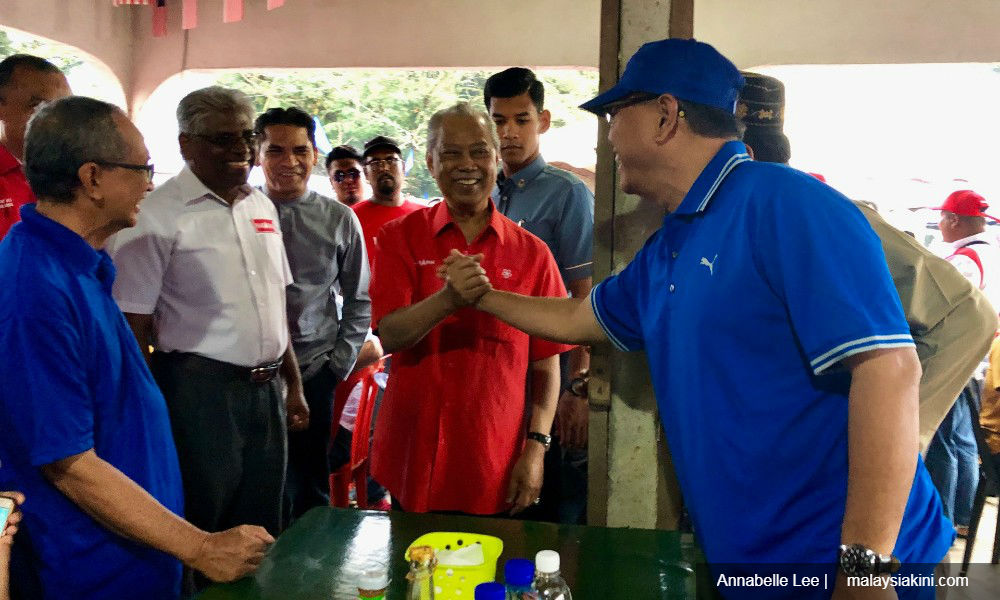 The former later tells a breakfast crowd that the Harapan government is aware of the rising cost of living and is studying ways to address it.
"The prime minister (Dr Mahathir Mohamad) raised this at our cabinet meeting yesterday. He has just returned from overseas, but he was not thinking about anything else.
"He was thinking about how to help reduce the burden of the rakyat," he says.
Muhyiddin adds that he has urged for the Bantuan Sara Hidup allocations, which are targeted at the B40 household income group, to be distributed as soon as possible.