BN component parties MCA and MIC have alluded that they will not attend the coalition's supreme council meeting scheduled for this Friday, as long as its secretary-general Nazri Aziz shows up.
This is because Nazri was illegitimately appointed to the position, MCA president Wee Ka Siong and MIC president SA Vigneswaran said in a joint statement today.
"MCA and MIC's joint meeting yesterday has decided that Nazri's appointment was not done according to BN's constitution.
"Clause 8.3 (D) of the BN constitution stipulates that the secretary-general must be appointed after deliberation in the supreme council, to hold the position for two years.
"Nazri's appointment as the BN secretary-general was never discussed, nor given official consent in the BN supreme council, although it was stated by BN chairperson Ahmad Zahid Hamidi while officiating the MIC annual general meeting at the Putra World Trade Centre on Oct 27, 2018," they pointed out.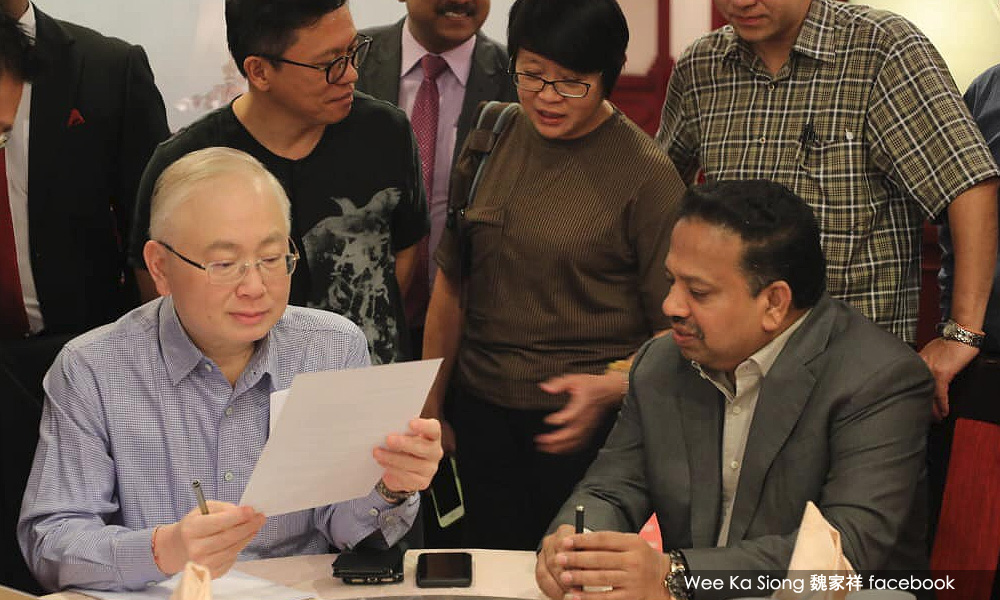 Both parties said yesterday they are "moving on" and exploring a new alliance due to Umno's continued silence on racial remarks by the party's leaders, including Nazri.
A high-ranking leader close to MCA and MIC's negotiations later told Malaysiakini that the parties are exploring the option of kicking Umno out of BN.
Nazri had laughed off the proposition, saying the two parties will not survive without Umno.
No locus standi
On Nazri's criticism of MCA and MIC's move, the parties said he has no locus standi to issue any statement in his capacity as the BN secretary-general.
"Both the parties have clearly stated to the BN secretariat that Nazri has no right to attend the BN supreme council meeting scheduled this Friday.
"If Nazri is still adamant and attends the meeting, then the validity of the meeting will be called into question.
"To avoid any legal disputes, MCA and MIC will only attend a legitimate BN supreme council meeting."
When questioned by reporters in Parliament today, Nazri said he was unaware of the claims made by Wee and Vigneswaran.
"I don't know anything. I was just in a meeting," he said before rushing off. Nazri was there attending a meeting of the parliamentary caucus for reforms and administration chaired by Port Dickson MP Anwar Ibrahim.
Tensions between MCA and Umno have been simmering since the former called for Nazri to be sacked as BN secretary-general, after he was alleged to have called for Chinese and Tamil schools to be closed.
Nazri has denied wanting vernacular schools to be closed, and accused the media of misquoting him.
---
RELATED REPORTS
'Umno-PAS tie-up good, BN-PAS tie-up even better'
Nazri to appear at BN meeting despite threats from MCA, MIC
Nazri: MCA, MIC attacking me over Umno-PAS talks
'Be a buffer zone, not a war zone' - Rahman Dahlan chides Nazri