LIVE | The rally to "defend Islam" organised by Gerakan Pembela Ummah (Ummah) group kicked off in Kuala Lumpur this afternoon.
The rally is expected to start in Masjid Jamek after the Zuhur prayers and will end in Sogo, where NGO and political leaders are slated to appear on the same stage.
Ummah, which is a coalition of Muslim NGOs, had last year organised a rally against the International Convention on the Elimination of All Forms of Racial Discrimination (Icerd).
The Dec 8 rally, formally backed by Umno and PAS leaders, was at the time announced as a protest against Icerd, but it later proceeded as a "thanksgiving rally" after Putrajaya backed down from its plans to ratify the UN human rights instrument.
---
3.40pm - Sogo - The peak crowd size of the rally today was at more than 1,000.
Police put the crowd estimate at between 3,000 to 3,500 people while organisers claim there were 10,000 people.
The size is still significantly smaller than the 80,000-strong Gerakan Pembela Ummah pulled during the previous anti-Icerd rally last year.
The rally is in part hampered by the beginning of the fasting month next week and heavy rain.
This concludes Malaysiakini's live coverage of the Ummah rally.
---
3.30pm: Sogo - PAS vice-president Idris Ahmad delivers a closing prayer in the heavy rain.
The organiser then announces that the rally has ended and urges them to disperse.
They are also asked to take their trash with them.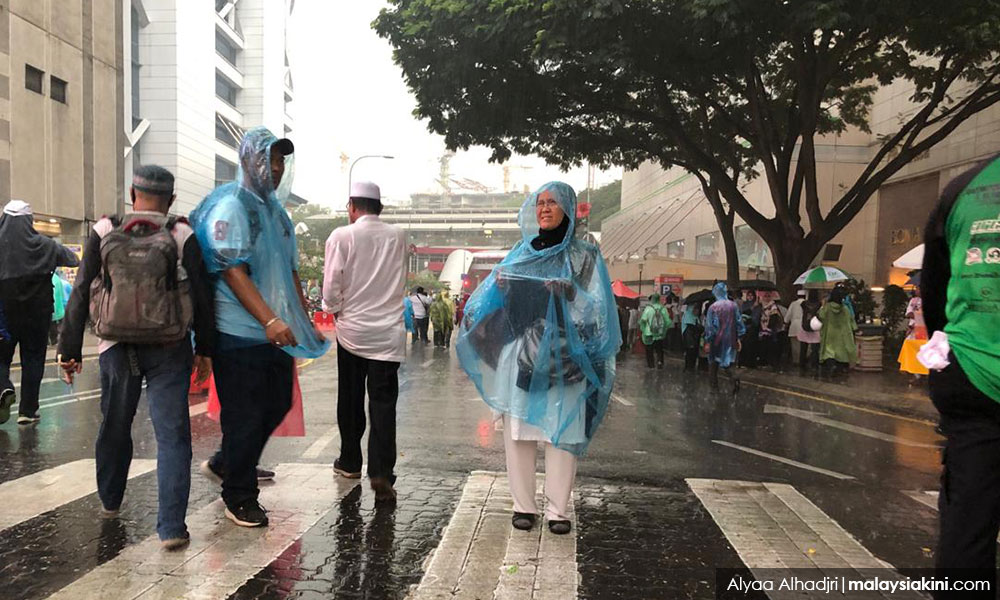 ---
3.15pm: Sogo - Umno Youth chief Asyraf Wajdi Dusuki proceeds with his speech despite the downpour.
He vows the rally today will be the first of many bigger ones.
He adds that people cannot accept the royal institutions being belittled.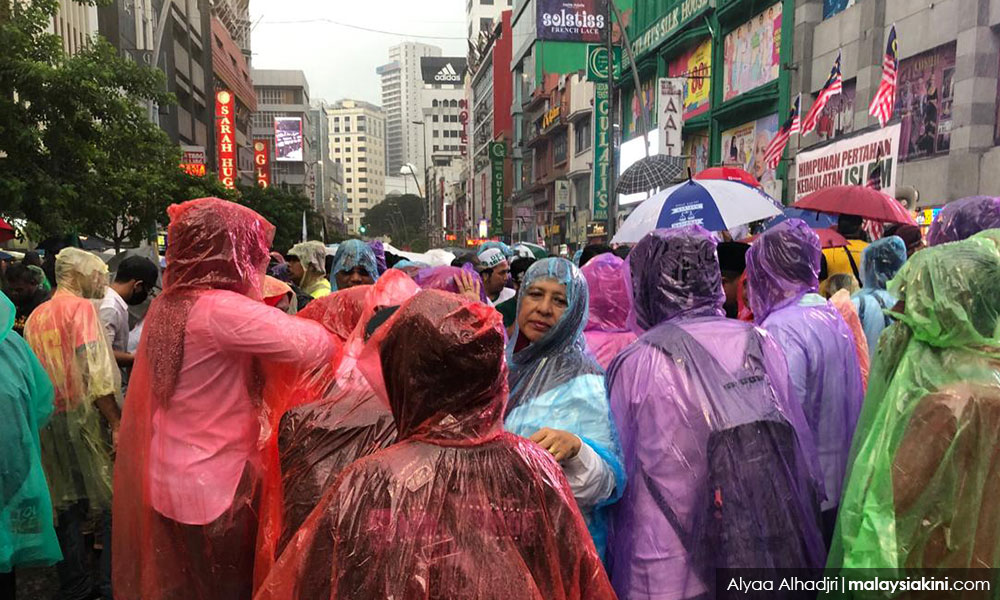 "Recently, there is a claim that (a) Malay ruler is a robber at a forum which was also attended by attorney-general Tommy Thomas.
"He is unworthy to be the attorney-general where he allowed the rulers to be insulted," he says.
As he concludes his speech, the rain becomes heavier.
Many scatter to seek shelter but others stay put under their umbrellas and in their ponchos.
Small businesses see a brisk sale for their ponchos.
---
3pm: Sogo - Heavy rain breaks up the Ummah rally, with a part of the crowd moving to seek shelter.
The speakers, however, continue with their speeches and those who remain put on raincoats or share umbrellas.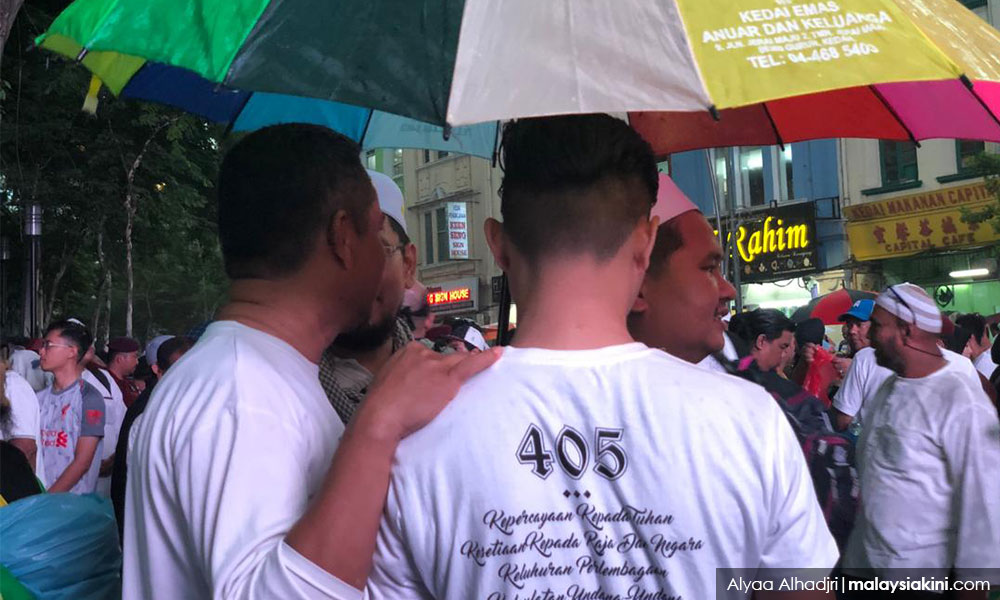 PAS deputy president Tuan Ibrahim Tuan Man takes to the stage in the rain.
The crowd size is beginning to dwindle.
---
2.45pm: Sogo - Akhmal Haris, 48, says he travelled from Jerlun, Kedah to join the rally.
He carries a placard that reads: "TMJ helps the people see the light about the Rome Statute."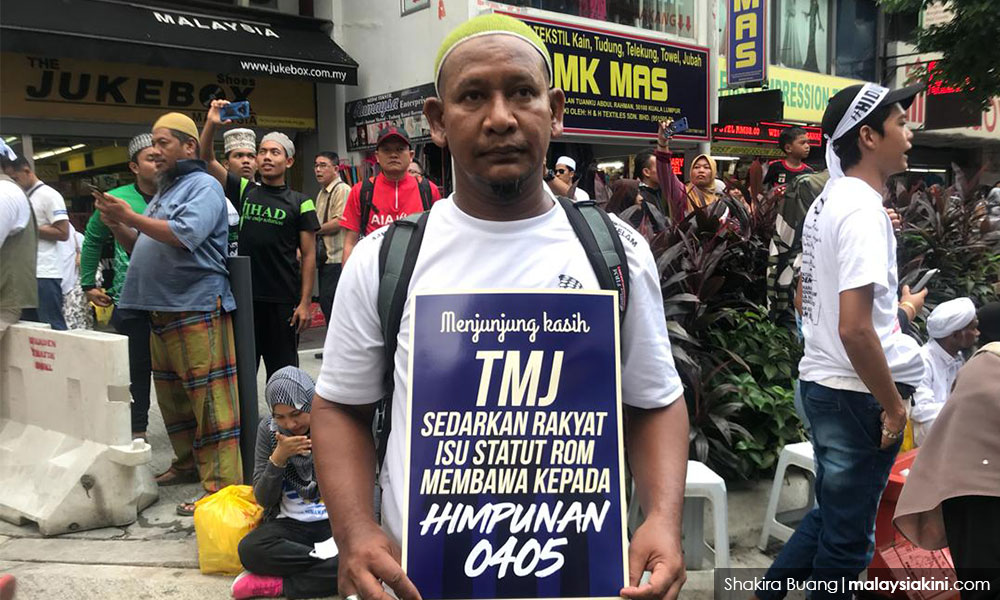 However, Akhmal says he didn't join the rally today because of the Rome Statute but more to his general dissatisfaction against the Pakatan Harapan government.
"I joined the rally today not because of the Rome Statute but due to my unhappiness at the government.
"The current government appears to be putting pressure on the people, not only on the Rome Statute but also on various other issues," he says.
---
Crowd swells to more than 1,000
2.10pm: Sogo - Chants of "Daulat Tuanku" and "Allahuakbar" ring out. Some 400 people, including from Umno and PAS, gather here.
Their numbers quickly swell to over 1,000 after the crowd from Masjid Jamek joins in.
Former Federal Territories Umno Youth chief Mohd Razlan Rafii addresses the crowd, stating that among the reasons they are gathering is that justice has yet to be served over the death of firefighter Muhammad Adib Mohd Kassim.
"Today is the world firefighter day... he died in vain. If we do not defend him, who will?" he says.
Muhammad Adib was injured and subsequently passed away during the Seafield Temple riots in Subang Jaya in November last year.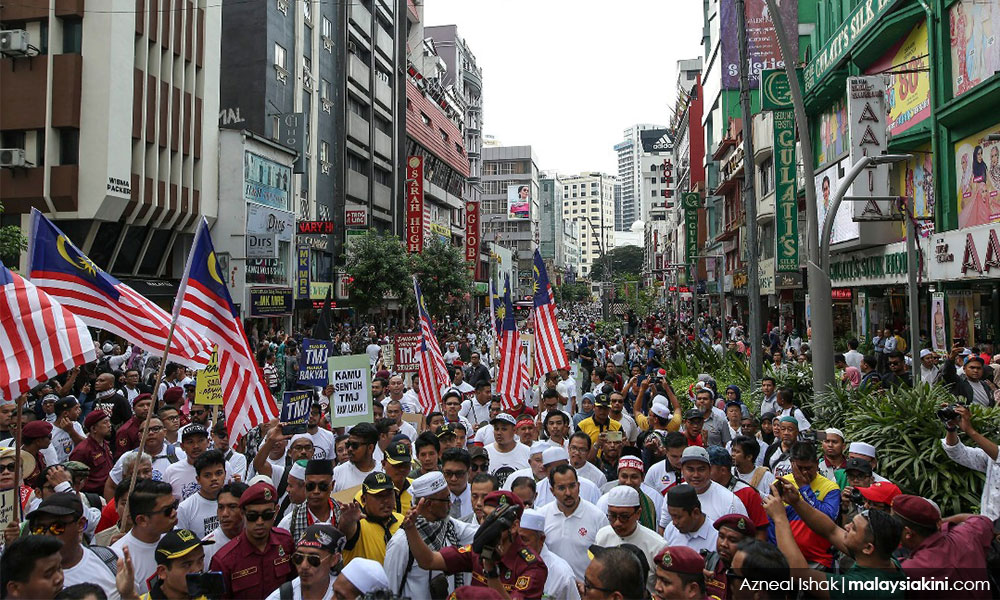 Some 30 traffic police officers are deployed to control the flow of traffic.
Around 60 police officers from district police headquarters in Sentul, Dang Wangi and Cheras are also maintaining order.
PAS, which is supporting the rally, has also deployed some 200 personnel from its Unit Amal volunteer corp
---
Protesters carry placards backing TMJ at KL rally
2.05pm: Jalan Tuanku Abdul Rahman - A protester is seen carrying a placard professing support for Johor crown prince Tunku Ismail Sultan Ibrahim.
The placard reads: "TMJ loved by the people, Mahathir loved by Saddiq".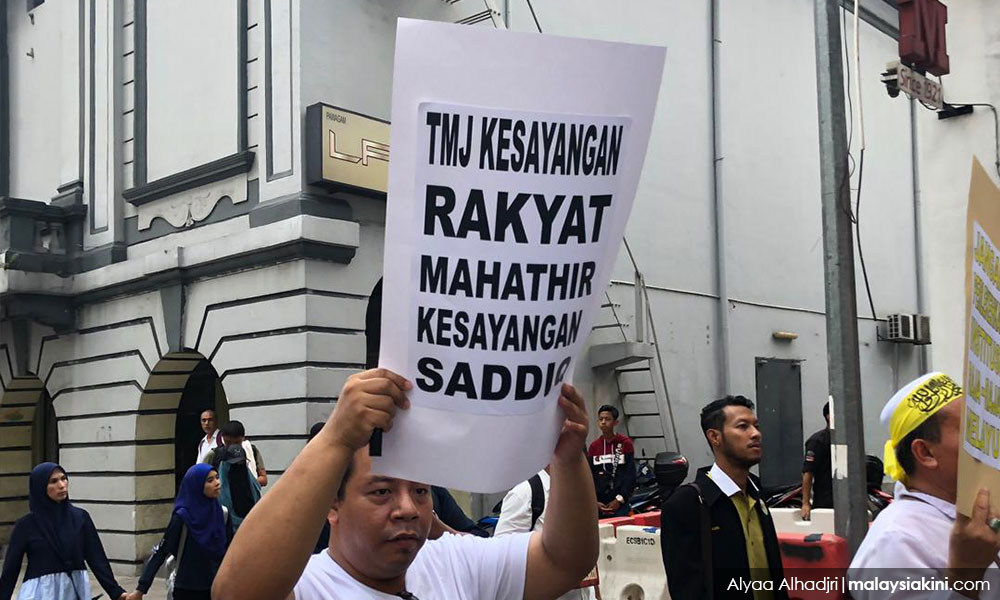 TMJ refers to the Johor crown prince while Dr Mahathir Mohamad and Syed Saddiq Abdul Rahman are the Bersatu chairperson and youth chief respectively.
Another protester carries the placard: "TMJ, continue with your struggle."
Other protesters also carry pictures of princes from the Johor royal household as they march from Masjid Jamek to Sogo.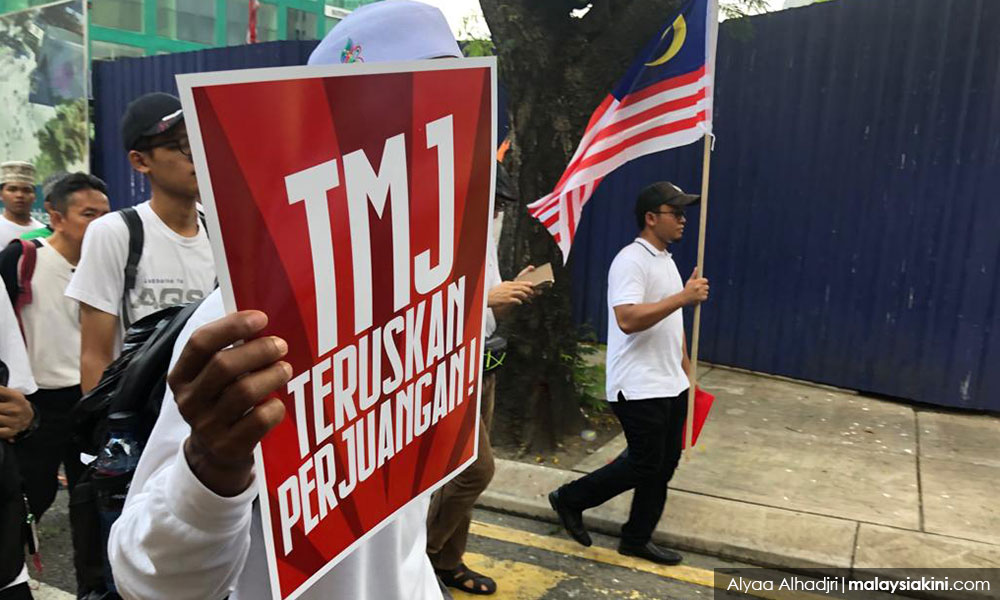 ---
PAS, Umno leaders in the frontline as crowd moves towards Sogo
1.50pm: Sogo - Top PAS and Umno leaders join a few hundred people moving from Masjid Jamek towards Sogo, chanting "Bangkit Ummah" and "Hidup Islam".
Also in the frontline are PAS deputy president Tuan Ibrahim Tuan Man and Umno Youth chief Ashraf Wajdi Dusuki.
Ummah deputy chairperson Kamaruzaman Mohamad earlier addresses the crowd, warning against any acts of provocation by the crowd.
He also notes the rally participants include those from Kelantan and Terengganu.
"Why does he sound like (PKR deputy president) Azmin (Ali)?" quipped a supporter before joining the surging crowd.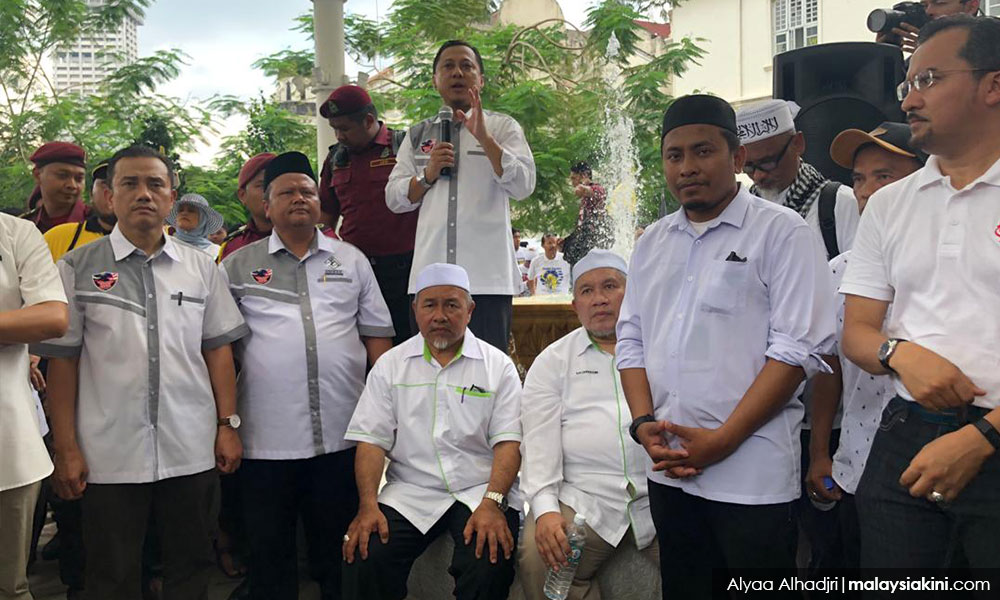 ---
More expected to attend
1.30pm: Sogo - Some 50 people gather here, which is as one of the gathering points for the rally.
Some of the participants are clad in T-shirts that read: "Daulat Tuanku, the people are with you". They also carry images of the Malay rulers.
Joining the group is Umno supreme council member Lokman Noor Adam. He expects more will turn up soon.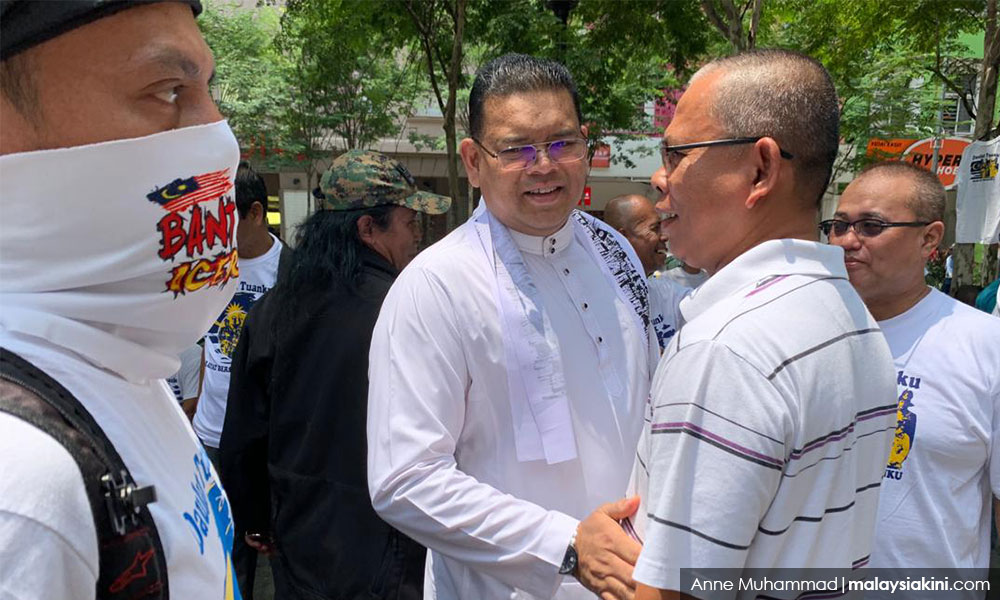 "We can't estimate how many will turn up, but the area will be filled up.
"We have made a nationwide call for people to turn up," he says.
Many participants also ask to take photographs with Lokman.
Along the sidelines, businesses have also set up stalls to sell T-shirts with the words 'Muslim Unity' (Penyatuan Ummah).
---
Ummah supporters start gathering opposite LRT station
1.15pm: Masjid Jamek - Rally organiser Ummah deputy chairperson Kamaruzaman Mohamad addresses the crowd of their movement plans.
"After this, we will all go inside the mosque and perform the Zuhur prayers together.
"After that, we will come out and gather here again, before we start moving to Sogo led by various NGO leaders," he says moments before the call to afternoon prayers rang from the nearby Masjid Jamek mosque.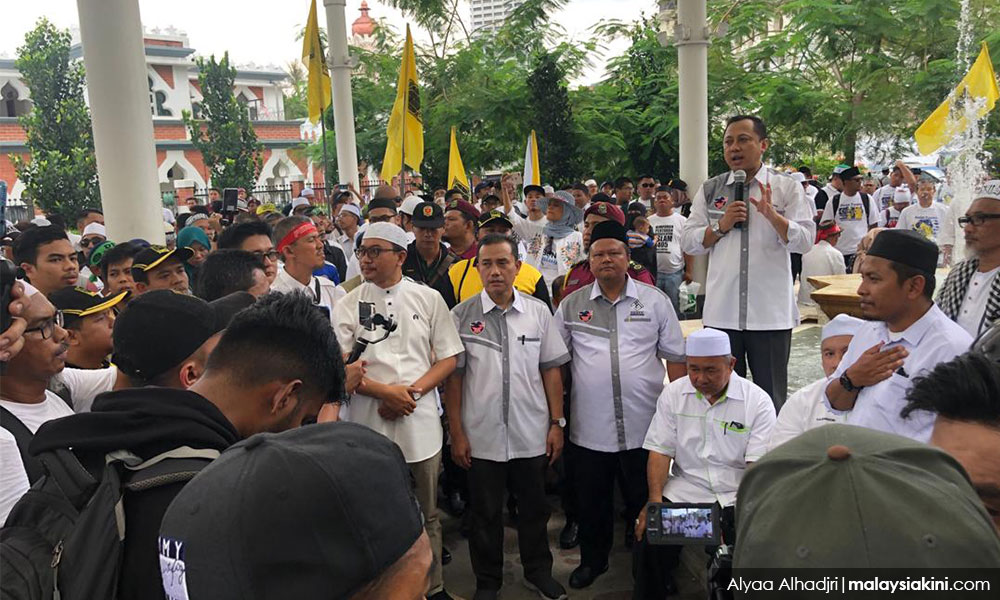 Among NGOs at the scene include Benar Malaysia, Sedar Malaysia, and other Malay-Muslim groups.
Meanwhile, Umno supreme council member Lokman Noor Adam arrives in Sogo, rather than joining the rally's procession.
---
1pm: Masjid Jamek LRT - Supporters of the Gerakan Pembela Ummah (Ummah) rally to "defend Islam" start gathering opposite the Masjid Jamek LRT station.
The initial crowd of around 100 people appears to comprise Umno and PAS supporters wearing their party colours, and others mostly in white or the rally's T-shirt. At least 10 traders are selling various designs of T-shirts and scarves.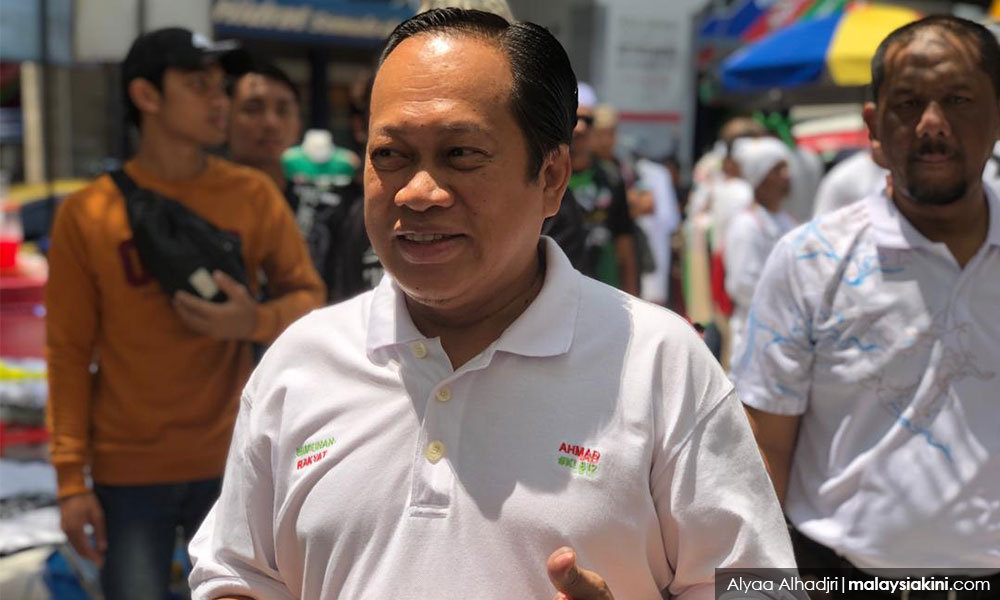 Shortly after, Umno's Pontian MP Ahmad Maslan arrives and greets the traders and supporters.
Also seen is a team from PAS Unit Amal, on duty for today's rally after Zuhur prayers and later moving towards Sogo.
---
Stern police action warned

To recap, Ummah deputy chairperson Kamaruzaman Mohamad had said today's rally will touch on current issues that have allegedly threatened the nation's sovereignty, such as the Rome Statute, the death of firefighter Muhammad Adib Mohd Kassim, and the United Examination Certificate (UEC).
The rally has been framed as a gathering to defend Islam, Malays and the royalty.
PAS has mobilised its members and supporters to join today's Ummah rally while Umno leaders including Lokman Noor Adam had pledged attendance.
In a media interview earlier this week, Home Minister Muhyiddin Yassin warned stern police action against those who insult any religion, describing the demonstration as a possible attempt to incite Muslims.
There have been a series of arrests and charges in recent months against individuals who allegedly insulted religions, with one of the latest cases involving 35-year-old preacher Muhammad Zamri Vinoth Kalimuthu, accused of insulting Hinduism in a sermon.