PKR has rejected a proposal from one of its senators for the enactment of a sexual harassment law to protect men from being "seduced" by women into committing crimes such as rape.
Party president Anwar Ibrahim said Mohd Imran Abd Hamid's proposal at the Dewan Negara yesterday was "unreasonable and insulting to women," and called on him to retract the proposal.
"The proposal gives the impression that men are immoral and easily seduced to the point of committing disgusting acts.
"It would be more appropriate to focus on the agenda of uplifting women by strengthening laws rejecting any form of sexual attacks against them," Anwar said.
Yesterday, Imran (photo) called for a law to "protect men" from being seduced by women's actions and dressing.
The retired navy admiral alleged these could cause men to commit crimes such as rape, incest, molestation and even watching pornography.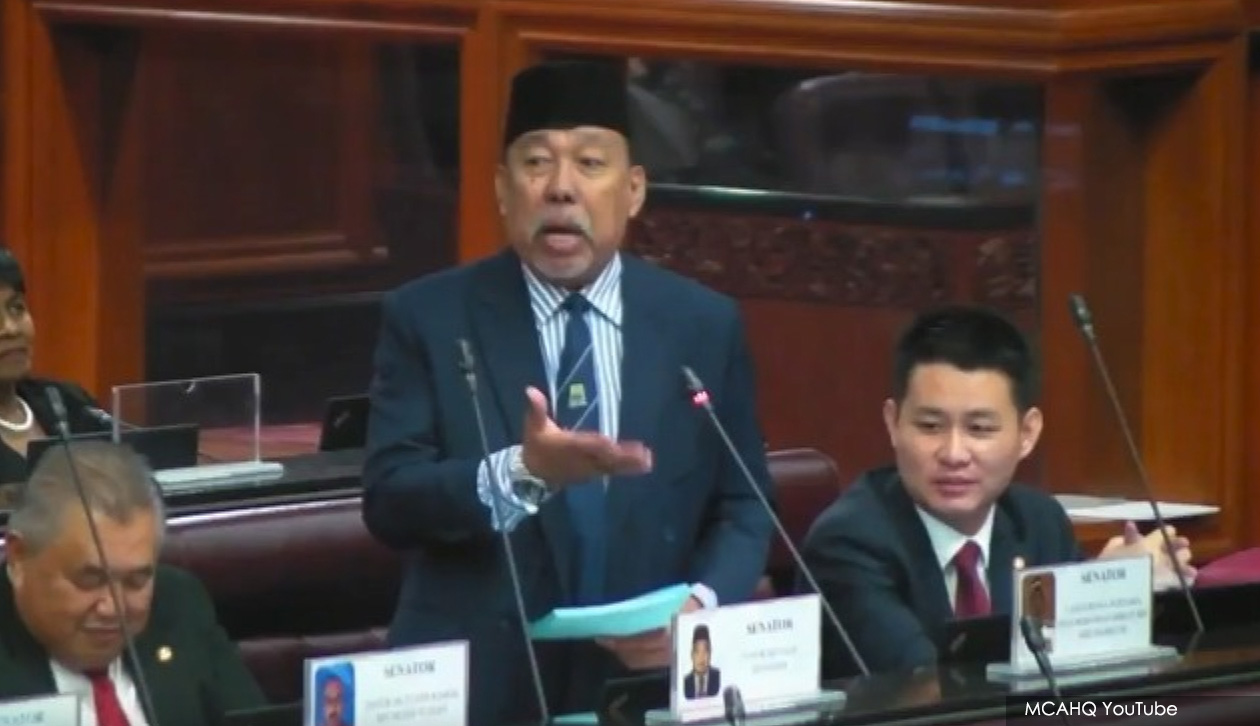 "This is important. We (men) need to be protected. The actions, clothing of women can seduce us into breaking the law and causing us to be charged (with a crime).
"I ask that the minister consider this so that the men in this country are safe, and the country is peaceful," he told the Dewan Negara.
Imran was addressing his proposal to de facto Islamic Affairs Minister Mujahid Yusof Rawa.
'Replace with someone more capable'
Meanwhile, Sabah PKR Wanita chief Rahimah Majid similarly condemned Imran for his "derogatory" suggestion.
In a statement today, she suggested that the senator be replaced with someone who was "more capable and of sound mind" as he had embarrassed not just the party, but also Parliament and the country.
"By now, his perverted thought of perceiving and portraying the womenfolk in the country as 'seducers and sinners' has become an international laughing stock.
"Please bear in mind that this is not the first time that he has made such an outrageously insulting remark against womenfolk," she said.
Imran, the former Lumut MP, said in 2015 that the "sexy attire" of athletes could lead to illicit sex.
His proposal yesterday received a thumbs up from Dewan Negara deputy president Abd Halim Abd Samad, who said it was a "good viewpoint."
However, it immediately drew the ire of other Pakatan Harapan politicians, women's groups and lawyers, who called it victim-blaming.
As Deputy Women, Family, and Community Development Minister Hannah Yeoh pointed out, even babies and young children, who were incapable of "seducing" anyone, have been victims of sexual crimes.
---
RELATED REPORTS
After senator's 'seduction' gaffe, DPM moots gender sensitivity training
Rape remark: 'Twisted' senator is repeat offender
'Men protection' law: PKR senator apologises, retracts proposal