Former finance minister Daim Zainuddin has voiced opposition to calls for Prime Minister Dr Mahathir Mohamad to join forces with PAS and Umno in the purported "Pakatan Nasional" coalition.
Daim (above), who serves as Mahathir's advisor, said voters had already given the present government the mandate and the priority now should be to restore public confidence in the government.
Speaking to Sin Chew Daily, Daim said what the public wanted was for their welfare to be looked after and that the government becomes stable and strong.
He believed that the public currently has low confidence in the government because it doesn't appear to be a coherent team.
Talk of a "Pakatan Nasional" coalition surfaced soon after it was revealed that Umno president Ahmad Zahid Hamidi was canvassing for support among party leaders to work with Mahathir.
Both Mahathir and PKR president Anwar Ibrahim have alluded that such a plot exist, where it was speculated that a group of PAS, Umno and PKR members are signing written pledges to back Mahathir as prime minister for a full term.
Meanwhile, Daim urged the government to stop blaming the previous administration over problems faced currently.
"We have to move forward and continuously develop the country. The government must solve problems that can be solved (now)," he said.
Cabinet ministers, he said, must show performance. He said he had received a lot of complaints that cabinet ministers are now arrogant and disregard the views of the public.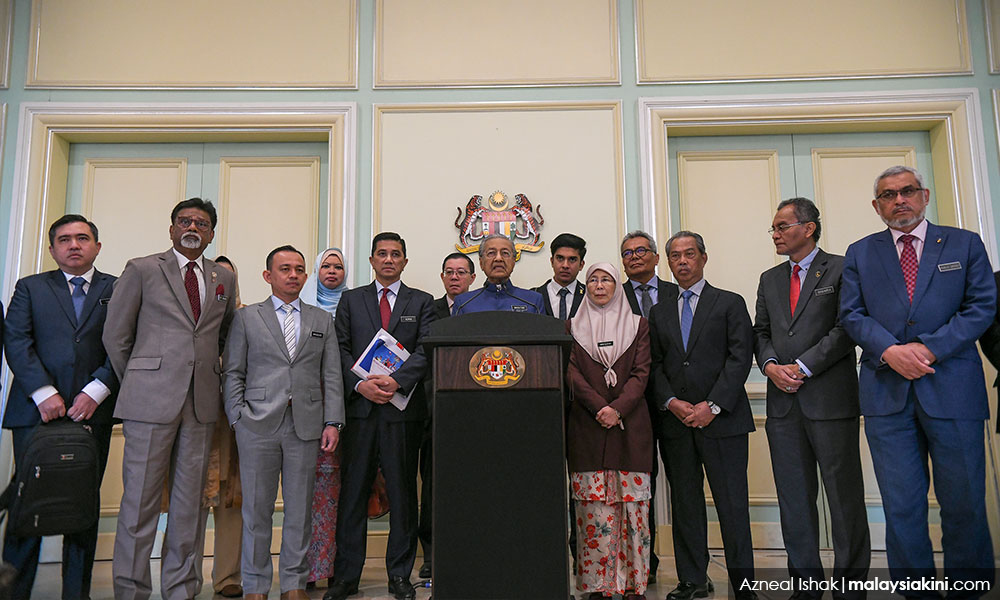 "I know they (the public) are not happy. They think some ministers have become arrogant and do not listen. To them, the same people were much more approachable when they were in the opposition. Why are they like this now?
"They never respond to letters and claim they are too busy. Yes, they have duties to fulfil, cabinet ministers can be busy, but they must not forget they are there to serve the public as they were chosen by the public," he said.
Meanwhile, Daim also urged the government to step up their public relations efforts to explain the many reforms that are taking place.
This is even more so for ongoing reforms that are taking longer or are more complex.
"Every minister has a press secretary. They need to explain what's going on to the press. The problem now is poor communication.
"People have told me that they are unhappy (with the lack of communication)," he said.