Hari Raya visits within the same state will be allowed with a maximum of 20 people in attendance at any one time, according to Prime Minister Muhyiddin Yassin.
However, Muhyiddin said interstate travel is still not allowed. The same applies for Hari Gawai and Hari Kaamatan.
"I apologise, but in the interest of safety and health, cross-state travel for 'balik kampung' (returning to hometown) won't be allowed.
"Visiting among neighbours and family members within the same state is allowed but with a maximum of 20 people at one time.
"There is no need to have an open house or big receptions," he said in a special addressed aired on television and social media.
Muhyiddin said this after announcing an extension of the conditional movement control order (MCO), which is to expire on May 12, to June 9.
He noted that three major celebrations will take place during this period, namely Hari Raya, Hari Gawai and Hari Kaamatan.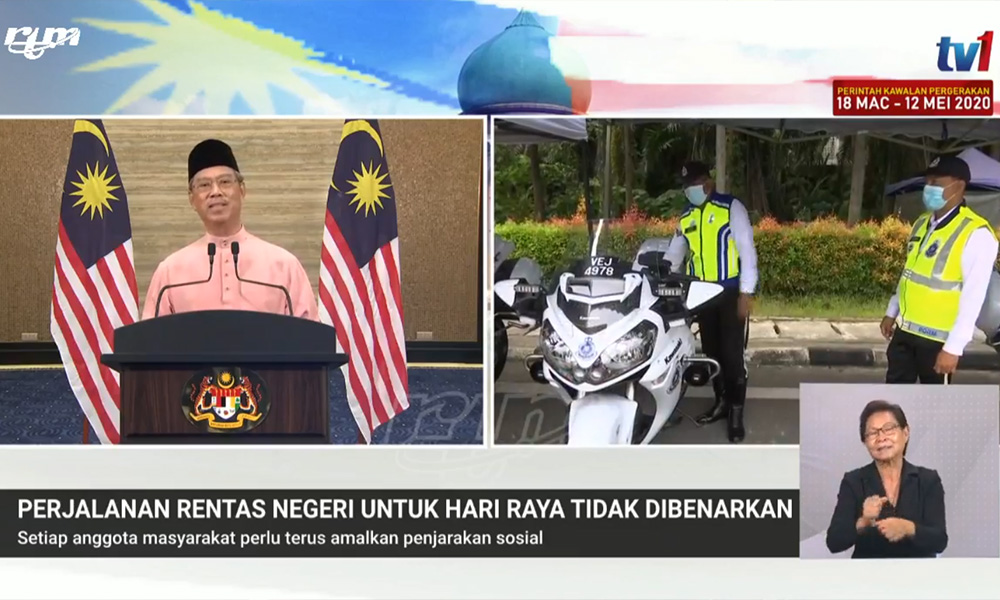 Muhyiddin said he shared the people's sadness that they cannot visit friends and family in another state.
He also reminded those who will be visiting within the same state during the coming festive period to observe social distancing, good hygiene and put on a face mask.
"Ensure your homes are clean. Wash the dishes before serving your guests," he said.
On religious gatherings, Muhyiddin said the rules are being fine-tuned and the government will make an announcement in the near future.
"On congregational prayers at mosques, including Friday prayers, the Islamic Development Department of Malaysia (Jakim) is fine-tuning certain standard operating procedure (SOP) for the congregation.
"God-willing, after the SOP is finalised and presented to the Yang di-Pertuan Agong and the rulers who are the head of Islam and at federal and state levels, as well as given royal assent, the government will announce permission to hold congregational prayers," he said.
Likewise, he said a similar SOP will be applied to other houses of worship including churches and temples.
"The government will also announce the SOP for non-Muslims to pray at their respective houses of worship," he said.
READ MORE
PM: Conditional MCO extended until June 9
Gov't to loosen interstate travel rule for working spouses to reunite with families
BPN aid appeal extended to May 31
Over 43pct returned to work under conditional MCO
---
Keep up with the latest information on the outbreak in the country with Malaysiakini's free Covid-19 tracker.
Malaysiakini is providing free access to the most important updates on the coronavirus pandemic. You can find them here.
Help keep independent media alive - subscribe to Malaysiakini.