Water supply has been restored to 73 percent of the 1,292 areas in the Klang Valley that were affected by the recent disruption, but a handful of areas where their supply are supposed to be restored by today are facing delays.
According to Air Selangor Sdn Bhd, the delay is due to consumers continuing to store water excessively even though supply has been reconnected at their areas.
In a statement, the water company said that a total of 948 areas have had their supply restored as at 6.30am today, while 344 others are still in the process.
"For Group 1 areas, where supply should have been fully restored at midnight on Sept 7 (last night), 71 areas have yet to get their water supply fully restored due to excessive water collecting activities by consumers who have started receiving water.
"Air Selangor is taking measures to stabilise the distribution system to restore the supply to these areas," said the statement released by Air Selangor corporate communications chief Elina Baseri.
A schedule issued by the company on Saturday said that water supply process are divided into three groups, where they expect that full supply can be restored in three days, with Group 1 that consists of 667 areas by yesterday midnight, Group 2 (469 areas) by this midnight, and the rest in Group 3 by 6am Wednesday.
According to the statement, from the eight districts that were affected by the disruption, Hulu Selangor has had 100 percent of its supply restored, while the supply for Kuala Selangor is almost fully restored (99.25 percent).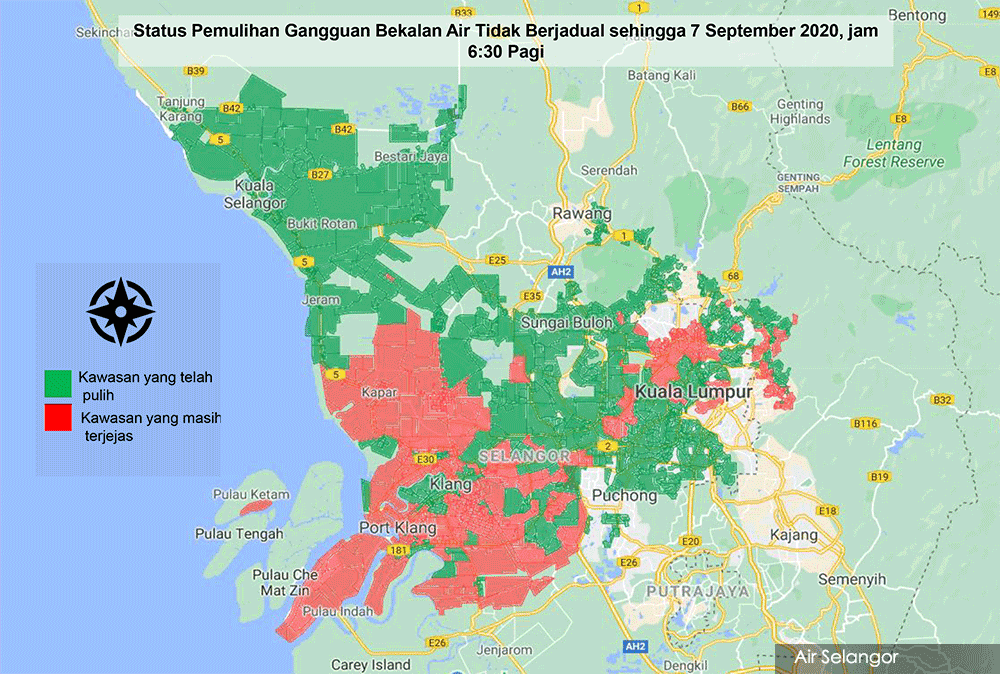 Petaling district's supply is at 91.78 percent, Gombak (72.99 percent), Kuala Langat (50 percent), Kuala Lumpur (47.37 percent), and Klang/Shah Alam (38.42 percent).
A total of 1,292 areas in the eight districts were affected by unscheduled water cuts since Thursday when four water treatment plants ceased operation after pollutants were detected in the river.

The affected water treatment plants are the Sungai Selangor Phase 1, Phase 2, Phase 3 treatment plants and the Rantau Panjang plant.
The water cut involved nearly 1.2 million consumer accounts.
The authorities have since shut down a factory in Rawang, which they suspect is responsible for the pollution, and arrested four men.
The pollutants were released into Sungai Gong, which flows into Sungai Sembah and in turn feeds off Sungai Selangor.