UPDATED 1.30AM | The government has gazetted orders extending Covid-19-related restrictions.
The government has extended the regulations underpinning movement control order restrictions until Mar 31, 2021, after the previous order lapsed at the end of 2020.
Among others, the regulations allow the director-general of health to issue directions regarding gatherings, public transport, and quarantine.
Activities such as international tourism, pubs and night clubs (apart from restaurant business at such venues), and activities where physical distancing is difficult are expressly prohibited.
An authorised officer may also issue directions regarding the movement and activities of any person in an area that has been subject to a conditional movement control order (MCO).
Those who breach the regulations are liable to a fine of up to RM1,000, imprisonment of up to six months, or both.
The regulations are titled "Prevention and Control of Infectious Diseases (Measures within Infected Local Areas) (No 9) Regulations 2020".
It was signed into law by Health Minister Dr Adham Baba in a gazette dated Dec 31, 2020, and was disseminated by the National Security Council at 12.27am on Jan 1, 2021.
During his new year address last night, Prime Minister Muhyiddin Yassin spoke on various issues relating to the government's Covid-19 response but was silent on any extension of Covid-19 restrictions.
This was despite the recovery MCO imposed in certain parts of the country being set to lapse within hours of his speech at the stroke of midnight.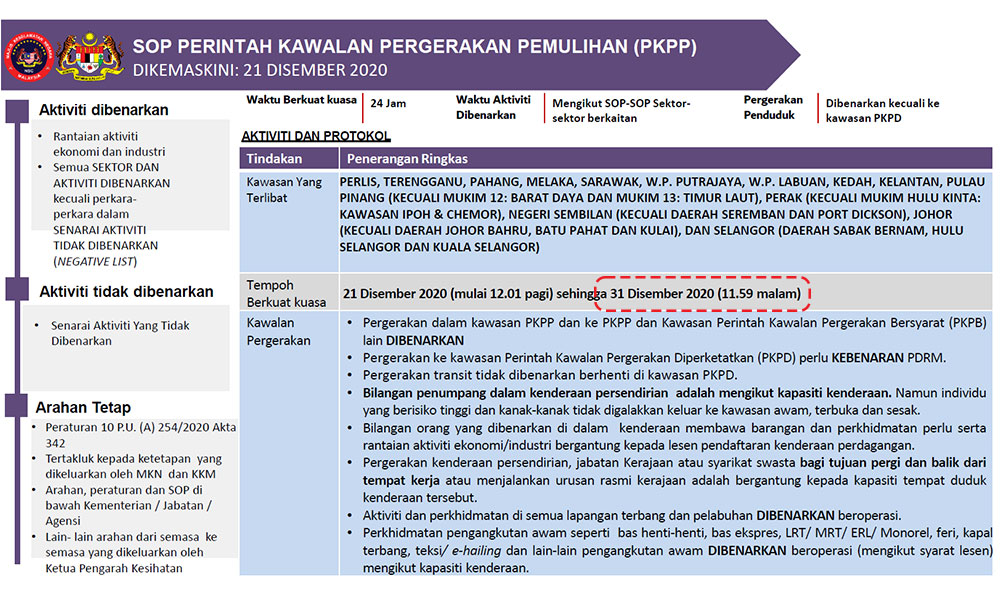 However, Defence Minister Ismail Sabri Yaakob is expected to make an announcement on New Years' Day.
This development comes as Malaysia broke several unenviable national records in relation to the Covid-19 pandemic yesterday.
New infections were at a record-high of 2,525 new cases in a single day, while the number of active cases broke records for the sixth consecutive day with 23,598 cases.
The number of patients being treated in intensive care units, meanwhile, were unchanged from the previous day's record-high of 131.
According to the Health Ministry's website, the Covid-19 infectivity (Rt) as of Dec 30 is 1.05, which indicates an outbreak that is still growing slowly.
The ministry had hoped the bring the figure down to 0.50, which would mean a shrinking outbreak where every 100 patients would go on to infect only 50 more people.
The recovery MCO is in effect in Perlis, Terengganu, Pahang, Malacca, Sarawak, Putrajaya, Labuan, Kedah, and Kelantan.
It is also in effect in certain districts of Penang, Perak, Negeri Sembilan, Johor, and Selangor.
Previously, the government had extended the conditional MCO in several places to Jan 14. The rules are stricter than the recovery MCO and apply to areas with a higher number of Covid-19 cases.
This includes the entirety of Kuala Lumpur and Sabah, as well as certain parts of Selangor, Penang, Perak, Negeri Sembilan, and Johor.
However, it should be noted that there is no restriction on travelling between areas under recovery MCO and conditional MCO.