Acting Foreign Minister Hamzah Zainuddin reportedly told China ambassador to Malaysia Huang Huikang that Wisma Putra never called him in.
He said this during a ninety-minute meeting with the diplomat at the domestic trade, co-operatives and consumerism ministry, Huang told Sin Chew Daily.
Huang said reports that he was called in by Wisma Putra was just speculation.
This despite Wisma Putra issuing a press statement on Sept 26 saying it called in the ambassador over his remarks at Petaling Street on Sept 25.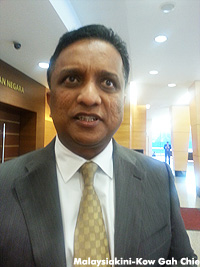 Deputy Foreign Minister Reezal Merican also said the move to call in the diplomat was endorsed by Foreign Minister Anifah Aman, who is now in New York for the United Nations General Assembly.
"Hamzah and I are good friends. We discussed other matters today, but I did not come here after being called in by Wisma Putra.
"I told him that I had not received any call in letter, and only learnt about it through the media."
"Both countries have very smooth communications. There are many ways to call in an ambassador. Since the acting minister has clarified there is no such thing, let the matter rest."
Huang had visited Petaling Street on the eve of a later-cancelled rally by Malay groups.
This followed Sept 16 rally, where a handful protestors who gathered to "defend Malay dignity" tried to storm the traditional ethnic Chinese trading area, in retaliation to the Bersih 4 rally in August.
The Bersih 4 rally was to call for Prime Minister Najib Abdul Razak's resignation.
Reezal was among those who attended the Sept 16 rally , which attracted about 45,000 people.
Huang had during his Petaling Street visit on Sept 25 said China hopes Malaysia will remain stable.
He said while China does not intervene in domestic affairs, it will not sit idly if China's interests are affected.
This was seen by Umno Youth and Perkasa as meddling in domestic affairs .
Today, he said there is " no issue " and hopes his visit and remarks are not misinterpreted.
Related reports
No protest at China embassy, says Muslim NGO
Envoy Huang meets with acting foreign minister
Nazri: Reezal didn't follow protocol when envoy called up
Envoy: I learned of Wisma Putra call from papers
Wisma Putra cancels call for meeting with Chinese envoy
Ambassador Huang's behaviour is unacceptable
Are Chinese wrong to see racist streak in red shirts?