Najib Abdul Razak's in-law Maira Nazarbayeva allegedly threatened to hurt a businesswoman by citing her relationship with the Malaysian prime minister, according to the New York Post .
Quoting a Manhattan federal lawsuit, the report said Maira had been accused of taking a dozen Hermes handbags worth US$400,000 (RM1.7mil) without paying.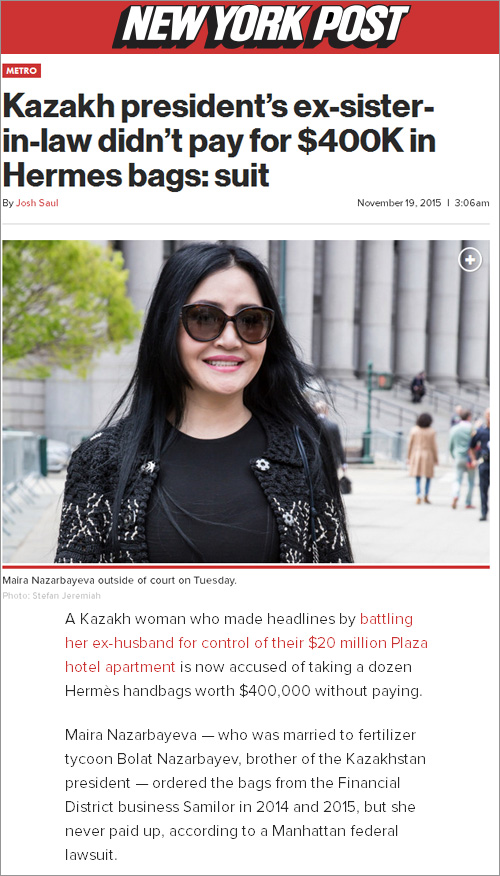 The Kazakh woman reportedly ordered the bags from the Financial District business Samilor in 2014 and 2015.
When Samilor president Bella Belkin threatened to initiate legal action, Maria allegedly threatened to hurt the corporate figure and her family.
"You know who my son is! He is son-in-law of the prime minister of Malaysia. I will hurt you and your family if you sue me!" she allegedly said.
The New York Post said a lawyer for Maira did not respond to messages seeking comment on the issue.
Maira is the ex-wife of fertiliser tycoon Bolat Nazarbayev, who is the brother of Kazakhstan President Nursultan Nazarbayev.
Her son, Daniyar Kessikbayev, is married to Najib's daughter Nooryana Najwa.
Bolat has also sued Maira and her son in a Manhattan court, reportedly claiming they are both international "serial swindlers who stole a $20 million condo at the Plaza Hotel" from him.
Malaysiakini has contacted Rizal Mansor, the aide of Najib's wife Rosmah Mansor, for comment and is awaiting his response.
Rizal Mansor, an aide to the prime minister's wife Rosmah Mansor, said Maira should be heard before judgment on her is passed.
"We are unsure about it, so we need to wait (for Maira's lawyer to respond) as it is a one-sided claim from Bella.
"We have to wait for the other side to respond, therefore we (the PMO) cannot make any comments," Rizal said.
Malaysiakini has contacted Maira's publicist and is awaiting response.
PMO aide: Maira's use of Najib's name a one-sided claim
No mercy from me, Najib's in-law told terrified Hermes bag seller
'Unpaid Hermes bags gifts at Daniyar-Nooryana wedding'
RELATED STORIES
Aide: PM didn't fly guests to Kazakhstan
US jeweller says RM24mil ring isn't Rosmah's
Ex-PM questions Najib's 'wedding of the century'
Actor impressed with PM's future son-in-law
PM's aide: Groom's side paid for KLCC bash
Gov't blames VIP jet's Kazakh pitstop on weather