Court documents filed with Southern District of New York claim that the expensive Hermes bags, bought by Daniyar Kessikbayev and his mother and not paid for, were used as gifts at Daniyar's wedding.
Daniyar married Nooryana Najwa, daughter of Prime Minister Najib Abdul Razak, and held at least three receptions - in Kuala Lumpur on March 28, in Pekan, Pahang on April 4 and in Almaty, Kazakhstan, on April 18.
The civil suit, filed on Nov 18 by Samilor Enterprise president Bella Belkin against Daniyar and his mother Maira Nazarbayeva, states that they purchased seven Hermes bags but refused to pay for them.
The court documents obtained by Malaysiakini state: "Upon information and belief, the defendants, (Maira and Daniyar) used the goods listed in the agreement for their own personal purposes.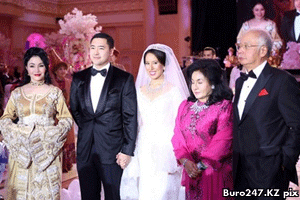 "Specifically, they kept some of the goods for their personal use and gave others away as gifts during Daniyar's wedding."
By doing this without paying, the court document adds, the defendants had unjustly enriched themselves at the expense of the plaintiff, Bella.
As such, Bella is seeking compensation against "unjust enrichment" by the defendants. This is one of four damages Bella is seeking against Maira and Daniyar.
The other damages being sought include breach of contract by not paying for the Hermes bags, and also for settlement of the outstanding amount totalling US$401,912.50 (RM1.72 million) for the seven Hermes bags.
'Infliction of emotional stress'
The last cause of action Bella is seeking is specifically against Maira alone, for intentional infliction of emotional distress.
This is in reference to the three threats Maira allegedly issued against Bella and her husband, Edward Belkin, since June 2015 when refusing to pay for the luxury handbags.
The court documents say Maira's threats were "extreme and outrageous" and intended to cause the Belikin couple severe emotional distress.
Among the threats allegedly issued by Maira included dropping Najib's name.
"You know who my son is! He is son-in-law of the prime minister of Malaysia.
"Do you know what we can do to you and your family? I will hurt you. I will hurt you and your family if you sue me.
"You know what I can do to you and what I am capable of. You know what I did in Kazakhstan and I will do it here to you," Maira is alleged to have said.
In total, Bella is seeking no less than US$1.7 million (RM7.25 million) in damages. On Wednesday, she also filed a civil suit against both Maira and Daniyar.
Rizal Mansor, an aide to the prime minister's wife Rosmah Mansor, said Maira should be heard before judgment on her is passed.
"We are unsure about it, so we need to wait (for Maira's lawyer to respond) as it is a one-sided claim from Bella.
"We have to wait for the other side to respond, therefore we (the PMO) cannot make any comments," Rizal said.
Malaysiakini has contacted Maira's publicist and is awaiting response.
PMO aide: Maira's use of Najib's name a one-sided claim
No mercy from me, Najib's in-law told terrified Hermes bag seller
Report: In-law allegedly drops Najib's name over handbag threat
RELATED STORIES
Aide: PM didn't fly guests to Kazakhstan
US jeweller says RM24mil ring isn't Rosmah's
Ex-PM questions Najib's 'wedding of the century'
Actor impressed with PM's future son-in-law
PM's aide: Groom's side paid for KLCC bash
Gov't blames VIP jet's Kazakh pitstop on weather