Allegations that Maira Nazarbayeva used the name of her in-law Prime Minister Najib Abdul Razak to threaten a businesswoman is merely a one-sided claim, an officer with the Prime Minister's Office (PMO) said.
The claim, first reported by The New York Post , is contained in a civil suit by Samilor Enterprises president Bella Belkin against Maira for allegedly refusing to pay for US$400,000 (RM1.7 million) worth of Hermes handbags and subsequently issuing threats when payment was demanded.
Rizal Mansor, an aide to the prime minister's wife Rosmah Mansor, said Maira should be heard before judgment on her is passed.
"We are unsure about it, so we need to wait (for Maira's lawyer to respond) as it is a one-sided claim from Bella.
"We have to wait for the other side to respond, therefore we (the PMO) cannot make any comments," Rizal said.
Malaysiakini has contacted Maira's publicist and is awaiting a response.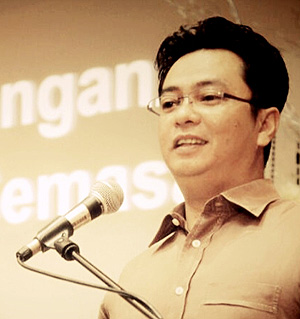 Rizal ( photo ) refused to comment further, stating that the incident had nothing to do with the PMO.
"We can't give any comments, unless it involves the prime minister or Rosmah. Then I can comment," he said.
According to court documents filed with the Southern District of New York, copies of which have been obtained by Malaysiakini , it is claimed that Maira threatened Bella and her family on three occasions.
The first threat, where Najib's name was allegedly used, is said to have taken place during a telephone conversation on June 16 this year.
The document claims that Maira said: "You know who my son is! He is son-in-law of the prime minister of Malaysia.
"Do you know what we can do to you and your family? I will hurt you. I will hurt you and your family if you sue me.
"You know what I can do to you and what I am capable of. You know what I did in Kazakhstan and I will do it here to you."
Maira's son, Daniyar Kessikbayev, is married to Nooryana Najwa, the daughter of Najib and Rosmah.
No mercy from me, Najib's in-law told terrified Hermes bag seller
Report: In-law allegedly drops Najib's name over handbag threat
'Unpaid Hermes bags gifts at Daniyar-Nooryana wedding'
RELATED STORIES
Aide: PM didn't fly guests to Kazakhstan
US jeweller says RM24mil ring isn't Rosmah's
Ex-PM questions Najib's 'wedding of the century'
Actor impressed with PM's future son-in-law
PM's aide: Groom's side paid for KLCC bash
Gov't blames VIP jet's Kazakh pitstop on weather