Editor's note: This story was first published in November, 2015, and is now going viral again.
Bella Belkin, the businesswoman who was trying to recover payment for Hermes bags bought by Maira Nazarbayeva and her son, was terrified when the latter dropped Prime Minister Najib Abdul Razak's name and threatened to harm her.
Bella's family was threatened by Maira at least three times since June this year, according to court documents obtained by Malaysiakini .
"As a result of Maira's repeated threats to both Bella and (husband) Edward Belkin, the Belkins feared for their safety and for the safety of their children," it said.
According to the documents filed with the Southern District of New York, the first threat, where Najib's name was used, happened during a telephone conversation on June 16 this year.
The document claimed Maira said: "You know who my son is! He is son-in-law of the prime minister of Malaysia.
"Do you know what we can do to you and your family? I will hurt you. I will hurt you and your family if you sue me.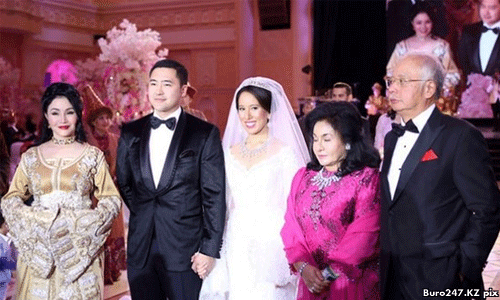 "You know what I can do to you and what I am capable of. You know what I did in Kazakhstan and I will do it here to you."
Maira's son, Daniyar Kessikbayev, is married to Najib's daughter Nooryana Najwa.
Bella, who is Samilor Enterprises president, was trying to recover payment for seven Hermes bags worth US$401,912.50 (RM1.72 million) bought on Sept 15, 2014 and Jan 20, 2015.
'Real possibly of threats being carried out'
The court filing, made through law firm Lark B Stumer & Associates, said Bella believed Maira's threats were real due to the latter's track record.
"This threat terrified Bella because at that time Bella recently learned what Maira was capable of and was already accused of doing in Kazakhstan.
"By way of pertinent background, upon information and belief, Maira is currently or was an international fugitive wanted by the Kazakhstan police and Interpol for various crimes, including kidnapping, use of threats of physical harm to extract funds from business associates and using threat to force another person to transfer real property to the name of a family associate.
"Numerous articles written about Maira reveal that she has ability and propensity to carry out her threats of physical harm against Bella and her family," it said.
Three months later, Bella's husband Edward contacted Maira by telephone to try to defuse the tension.
Edward then met Maira and Daniyar on Sept 30 at their home in Alpine, New Jersey.
"During the meeting, Edward asked Maira if she was able to pay the outstanding balance and Maira immediately threatened, 'I am not paying you anything. You know what I can do. You know what I did in Kazakhstan. I will hurt you and your family'," read the document.
'You don't bother me and I won't bother you'
The court filing said Maira issued a third threat against the Belkins in a series of text messages on Oct 27 after she found out that they intended to sue her.
One of the text messages read: "You don't bother me and I won't bother you, now I am quiet, but you will not calm down, don't expect mercy from me, it will cost you a lot."
The court document further states: "For the purpose of clarity, 'it will cost you a lot' is a Russian expression that is a threat of physical harm and death.
"It does not pertain to a monetary or financial cost like it does in English."
Following these threats, the Belkins filed a criminal complaint with the local police and the Federal Bureau of Investigation (FBI).
Bella also filed a civil suit against both Maira and Daniyar on Wednesday.
Rizal Mansor, an aide to the prime minister's wife Rosmah Mansor, said Maira should be heard before judgment on her is passed.
"We are unsure about it, so we need to wait (for Maira's lawyer to respond) as it is a one-sided claim from Bella.
"We have to wait for the other side to respond, therefore we (the PMO) cannot make any comments," Rizal said.
Malaysiakini has contacted Maira's publicist and is awaiting response.
PMO aide: Maira's use of Najib's name a one-sided claim
Report: In-law allegedly drops Najib's name over handbag threat
'Unpaid Hermes bags gifts at Daniyar-Nooryana wedding'
RELATED STORIES
Aide: PM didn't fly guests to Kazakhstan
US jeweller says RM24mil ring isn't Rosmah's
Ex-PM questions Najib's 'wedding of the century'
Actor impressed with PM's future son-in-law
PM's aide: Groom's side paid for KLCC bash
Gov't blames VIP jet's Kazakh pitstop on weather