MALAYSIANS KINI | At 21, one would expect Ahmad Musa al-Nuwayri Kamaruzaman to be a typical college student.
Although he is, indeed, studying in university, not many 21-year-olds can boast about the fact that he or she founded an NGO that has reached out to more than 10,000 families.
Contrast that with the Malaysian government's move to host 3,000 Syrian refugees.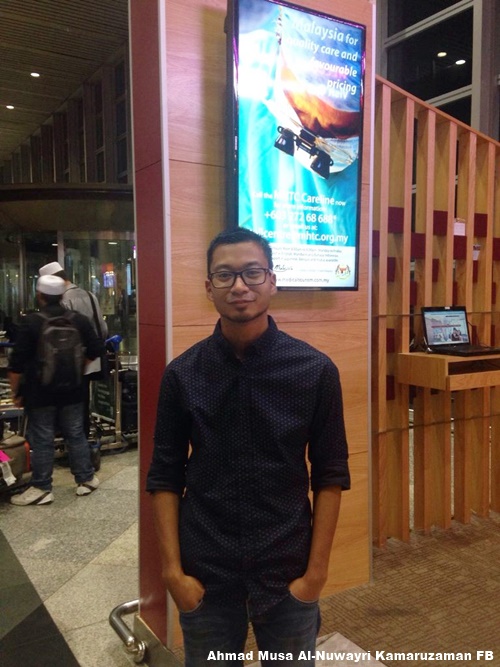 And surely, not many 21-year-olds can boast having published a book.
His book - ' Lelaki Terakhir Menangis di Bumi (The Last Man Crying on Earth) - was published just last week by independent publisher DuBook Press.
The book details how the idea to help Syrian refugees was born and both the good and bad times he has had since forming the NGO nearly three years ago.
Musa's NGO ' Tangisan Syria di Bumi Jordan ' was established with two friends - fellow students in Jordan - where he is currently studying Islamic law at the al-Bayt University.
The Scotland-born but Bangi-raised student formed the NGO on May 15, 2013, and the NGO's school has been its biggest and most successful project to date.
Speaking to Malaysiakini , Musa said over 10,000 families have received aid from the NGO and at one point in time, 250 students had attended its school.
Musa conceived the idea to form the NGO during his first week in Jordan back in 2012 itself.
Here is Musa's story behind the setting up the NGO and his views on the war in Syria, in his own words:
I SAW HOW SYRIAN REFUGEES HAD TO RESORT TO BEGGING . I was brought to the city by a senior and I saw how children of Syrian refugees resorted to begging. They even ransacked the garbage in search of a morsel of food.
During the journey back to my university, we passed by a desert dotted with camps full of Syrian refugees.
Only one thing crossed my mind then - why were so many children ignored and how could humans live in camps in the sweltering desert.
I told myself that they must be helped.
After forming the NGO, goods were bought by volunteers consisting of Malaysian students in Jordan.
The items were sent straight to the Syrian refugees at the camps after their information was obtained.
MY NGO USED TO COLLABORATE WITH AN ARAB COUNTERPART. We collaborated with an NGO called Khalid al-Walid.
Things were good in the first year until one day, a teacher from our school complained that he was only paid JOD150 when the money given to the NGO for the teacher was JOD200.
We stopped the collaboration immediately.
WE FACED MANY PROBLEMS AND WERE THREATENED but we handled them accordingly and the case is still in the process of being sorted out assisted by lawyers.
Several other NGOs were then established, among them, I4s Jordan, Haluan Siswa Jordan, Malaysian Arabian Cultural Society (MACS), Teach For The Needs (TFTN).
We are the only Malaysian NGO to assist Syrians in Mafraq (80km north of Amman, the capital of Jordan). The other NGOs are all based in other districts.
WE WERE DISTURBED ONCE BY THE AUTHORITIES. This occurred during the visit of famous vlogger Mat Luthfi, TV station al-Hijrah strongman Syirfan Indra, and CEO and founder of iluvislam.com, Imran Koyube, to Jordan.
I was summoned to the Jordanian Special Branch headquarters after bumping into them when we were at the Syrian refugee camp.
I was questioned for around 20 minutes before I was released. Ever since then, I have never been disturbed.
HOW PEOPLE SPEND THEIR FREE TIME DIFFER FROM PERSON TO PERSON. Some spend their time reading, playing games, or engaging in sports. For me, it's doing volunteer work.
Thankfully, students in Jordan are not too constrained when it comes to time. Classes are only for a few hours and beyond that, we are free to do anything.
THE BIGGEST PROBLEM WITH SYRIAN REFUGEES is they believe war will end soon. They believe that this will happen and that they will return to Syria.
I'm not saying it cannot happen, especially since the nature of war is not something anyone can predict. But Syria still needs decades to recover.
SYRIAN REFUGEES SHOULD MOVE ON and learn to start anew in other countries without continuing to depend on aid to keep on living.
The situation is the same as the one experienced by Palestinian refugees when war first broke out.
They thought they will be home soon but war in Palestine is still ongoing today, forcing them to start new lives by looking for jobs and marrying locals to obtain citizenship.
War in Syria started in 2011 and there is no sign that it will stop. Coupled with the arrival of superpower Russia recently, this would only prolong the war and strengthen the army of Syrian president Bashar al-Assad.
THE DEATH COUNT IS NOT DECREASING . I think the war in Syria will continue and we can only pray that victory will be with those who are in the right and that the killing of innocent people would stop.
---
MALAYSIANS KINI is a series on Malaysians you should know about.
Previously featured:
'Cat-man' quits day job to save 80 feline friends
Engineer, activist, kampung rebel - Yati starts her 50th year anew
Meet the 20-year-old who's getting an award from Queen E
What if Hang Jebat never stood up to the sultan?
Snubbed by Masterchef, M'sian youth wins over refugees in Greece
The radicalisation of Mandeep Singh - from suits to streets
Razlan Rafii - Umno 'thug' or misunderstood modern man?
Saving Pekan Ampang, the small town in a big city
How the Malay indie publishing mafia sparked a reading renaissance
'Subversive' book club thrives in Shah Alam and beyond
'It's not just punk rock, it's punk ideology'
Paramedic goes 'white to black' to lead medic team at Bersih 4