No charges will be brought against Prime Minister Najib Abdul Razak based on the investigations carried out by the Malaysian Anti-Corruption Commission (MACC).
Attorney-general Mohamed Apandi Ali said he has studied the investigation papers and was satisfied that there are no grounds for action.
"Based on the facts and evidence as a whole, I, as the public prosecutor, am satisfied that no criminal offence has been committed by the prime minister in relation to the three investigation papers.
"I will return the relevant investigation papers to MACC today, with the instruction to close the three investigation papers," he told a press conference in Putrajaya this morning.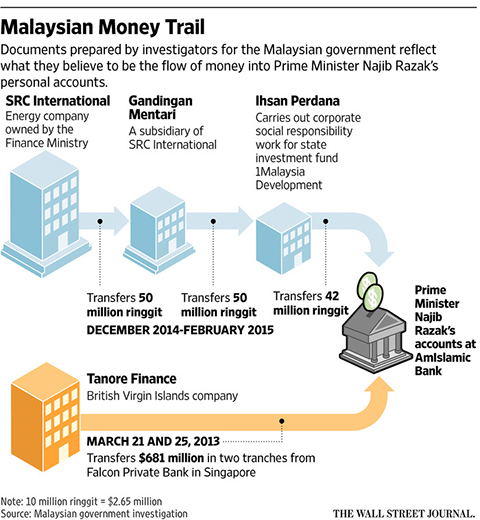 Apandi was referring to the investigations concerning the RM2.6 billion political donation and RM42 million from SRC International transferred into Najib's personal bank accounts.
SRC is the former subsidiary of the prime minister's debt-laden brainchild 1MDB.
The transfers were first disclosed by the Wall Street Journal and whistleblower website Sarawak Report last July 3 based on leaked documents from Malaysian investigators.
Twenty-five days later, Apandi's predecessor Abdul Gani Patail was removed on health grounds, sparking off speculation it could be related to the investigations.
Following this, Najib dropped his deputy Muhyiddin Yassin and another minister Shafie Apdal from the cabinet.
The police also embarked on a hunt for those who leaked the investigation documents, prompting MACC to hold special prayers to seek divine protection.
Najib's detractors, such as former premier Dr Mahathir Mohamad, were not convinced that the RM2.6 billion, transferred in two batches ahead of the last general election in 2013, was a donation from a Middle Eastern source.
Meanwhile, Apandi revealed today Najib had returned RM2.03 billion to the Saudi royal family, two months after the May general election.
The prime minister, on the other hand, denied abusing public funds for personal gain and claimed that there is a conspiracy to topple him.
Related reports
PM had no knowledge SRC funds went into his account
'Najib returned RM2.03b to Saudi royal family'
PM did not abuse power in KWAP's RM4b loan to SRC