KINIGUIDE | In the 40 years since they first moved to Kampung Gatco, villagers claim they have been repeatedly arrested, mistreated and flashed at - all after they were swindled by the very people who had promised them a bright future.
Grassroots organisations and Parti Sosialis Malaysia (PSM) have since taken on their case but recently even the Prime Minister Najib Abdul Razak was challenged to intervene on their behalf, to prove his commitment towards helping disenfranchised Indians like he promised in the Malaysian Indian Blueprint (MIB).
Malaysiakini takes you back to 1977 when the Kampung Gatco dispute first began.
Where does the word Gatco come from?
Gatco is the acronym for the Great Alonioners Trading Corporation Bhd, a company incorporated in 1977 by the National Union of Plantation Workers (NUPW) to facilitate a land development scheme for its members.
This came after the Negeri Sembilan State Economic Development Corporation (SEDC) awarded it a 99-year lease for 4,700 acres of land.
To take part in the scheme, non-bumiputera NUPW members were required to pay an RM7,600 deposit while bumiputera members were required to pay RM4,000. Each family was promised one acre of land for housing and ten acres for planting sugar cane.
Eventually, 430 families moved in - 280 Indians, 120 Malays and 30 Chinese, forming Kampung Gatco, or Kampung Serampang Indah as it is also called.
Where is Kampung Gatco?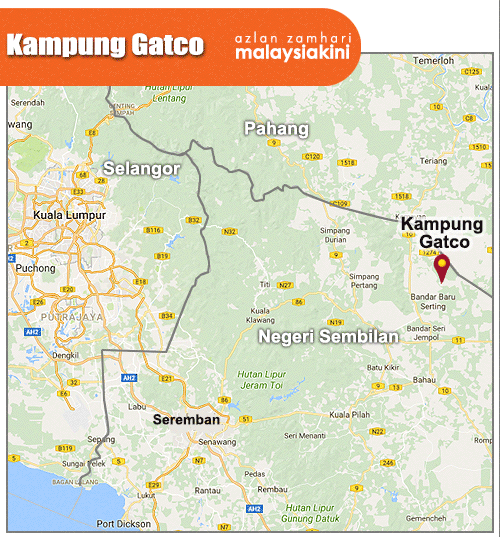 Kampung Gatco is located in Jempol, Negeri Sembilan.
Forty kilometres north of the city of Bahau and 60 kilometres south of the Pahang border town of Triang, it is right at the heart of rubber plantations.
What happened to the Gatco scheme?
The plan was to roll out the scheme in two phases - firstly providing housing and then providing a 10-acre plot for each family. The first hint of trouble came when Gatco slashed that promise to eight acres and opted to plant rubber trees instead of sugar cane.
Then in 1983, before the second phase commenced, Gatco was declared bankrupt.
Funds had allegedly been mismanaged and commodity prices had fallen, causing the company to default on its loans from the Bank of Commerce (now called CIMB). The land was surrendered to Pengurusan Danaharta Nasional Berhad (Danaharta) before liquidators Jayapalasingam Kandiah and Yong Yoon Shing took over.
The liquidators later offered to sell the land to villagers for RM16 million. In 2004, when negotiations were still under way, the land was abruptly sold to Thamarai Holdings Sdn Bhd, a subsidiary of the diverse Lotus group of companies.
The villagers were enraged - plantation land promised to them had been sold right under their noses. They later discovered that the one-acre land their houses were built on had been mortgaged to Danaharta, sans their knowledge. Each villager was now RM50,000-RM60,000 in debt.
Penang deputy chief minister II P Ramasamy, a close observer of the Kampung Gatco case since the 1970s, called this an act of "betrayal" by Gatco.
How did this dispute get the villagers arrested?
The authorities have branded the villagers, many in their 60s and 70s, "gangsters" for causing a ruckus on government land; while villagers say they are defending their rights as bona fide (authorised) settlers of the estate.
They have been repeatedly arrested for blocking lorries from transporting rubber logs from the rubber estate. Heavy police presence has become a recurring motif at these human blockades, leading to accusations that the authorities are in cahoots with Thamarai.
In March 2015, 30 villagers were arrested after participating in a sit-in against Thamarai bulldozers who had entered the plantation without a court order. Three Pakatan Rakyat assemblypersons were also arrested. Photographs of the incident show residents being carried away and thrown onto the back of police trucks but the police denied being harsh with the villagers.
Two months later, villagers claimed a policeman had flashed his private parts at several Kampung Gatco womenfolk. He later denied ever doing so, counter-claiming instead that one of the village women had slapped him.
Just last week, 28 villagers were arrested after they attempted to block lorries from "stealing" logs from their estate. More than 60 police officers were deployed to the scene, who insisted they were merely carrying out their duty to allow the lorries to pass through a public road.
Air Hitam police station officers had applied for a three-day remand order for the detainees but the order was later overturned by the Seremban High Court. Judge Siti Mariam Othman ruled that there were insufficient grounds for the remand and expressed her concern over the health of the 14 women detained, most of them senior citizens.
On Monday, three days after Siti Mariam's ruling, thirty Kampung Gatco villagers were arrested for the same reason. This time, they were released on the same day on police bail but will need to present themselves at 5 am on Aug 1.
Have the villagers taken this up to court?
Yes, they have.
In 2013, 140 villagers sued both Thamarai and two liquidators involved in dealings, with hopes of declaring the sale null and void. Their leave application at the Kuala Lumpur High Court was initially refused, but they were eventually successful at the Court of Appeal and Federal Court. The case will next be heard at the Putrajaya Court of Appeal on Sept 14.
They have also sought an order to stop Thamarai from entering the estate. Bulldozers showed up (in March 2015) despite a pending court decision. Their stay application hearing is fixed for Aug 15 at the KL High Court.
What has the Negeri Sembilan government done about this dispute?
In 2015, it was reported that 170 villagers had received land titles from Negeri Sembilan Menteri Besar Mohamad Hasan after the state government managed to "convince" Thamarai to portion 1186 acres to the Kampung Gatco folk.
Each villager received 4 acres of land, half of what they were initially promised by Gatco.
The titles would be in effect till 2074 and rubber saplings would be planted for them on their land, courtesy of the Rubber Industry Smallholders Development Authority (Risda), the menteri besar added.
More than a hundred other villagers had refused to accept the offer.
Just two days ago, the menteri besar warned Kampung Gatco villagers that the state government was running out of patience with their antics and vowed development at the estate would proceed.
---
This KiniGuide was compiled by Annabelle Lee.