UPDATED 8.15AM| Scores of police officers from Bukit Aman's federal commercial crimes department conducted a search at former premier Najib Abdul Razak's residence in Jalan Langgak Duta, Kuala Lumpur, which lasted into the wee hours of the morning.
The police team had arrived in more than a dozen cars as well as a Black Maria truck often used to transport detainees at about 10.15pm.
The marathon session is believed to have ended close to 5am. However, at the time of writing, the police were still present at the scene at 8.15am, 10 hours later.
At 3.50am, the Black Maria truck was reversed to the front gates of the bungalow and officers loaded several boxes into the back of the vehicle.
Najib's lawyer Harpal Singh Grewal later told reporters waiting outside that the police seized three to four boxes of handbags and personal belongings.
He also believes that the former premier is being investigated for money laundering.
Harpal (right in photo) said the operation took several hours because of the size of the bungalow and the officers had checked all the rooms.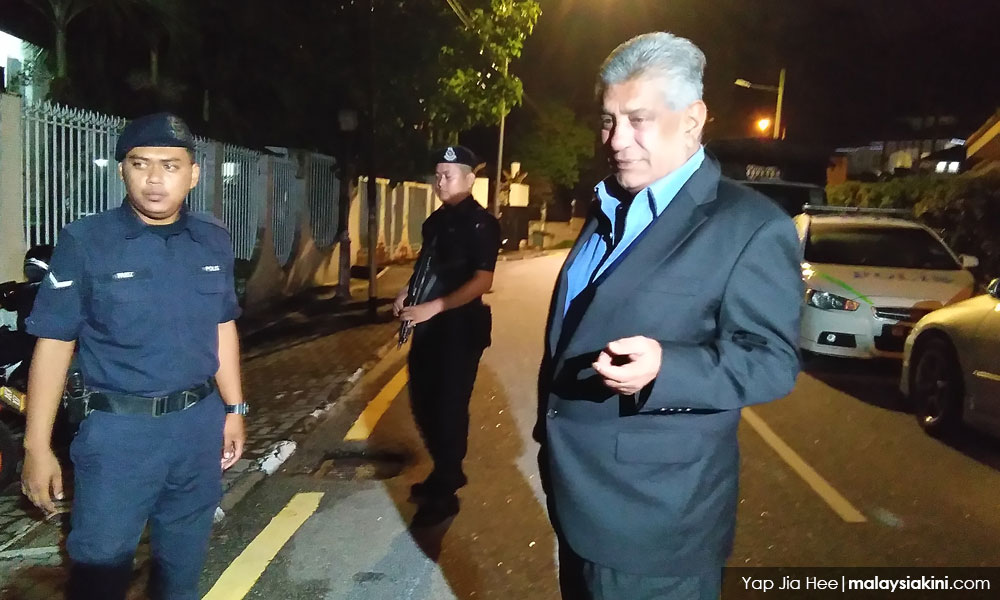 Earlier, a source close to Najib had criticised the marathon operation and shared a photograph with Malaysiakini showing the former premier asleep on a sofa as police officers combed the house.
Star Online had quoted commercial crimes investigation department director Amar Singh Ishar Singh as stating that the police were searching five locations. This included the upscale Pavilion Residences in Kuala Lumpur and the Prime Minister's Office in Putrajaya.
He also insisted that it was not a raid.
At about 11am, Harpal had arrived at the house followed by Najib's press aide Tengku Shariffuddin Tengku Ahmad some 20 minutes later.
Sentul district deputy police chief Mohamed Rafiq Mohamed Mustafa was also spotted at the scene.
As he left the scene around 11.40pm, the senior police officer told the media "wait and see" when quizzed on the police presence.
As news of the operation spread, scores of journalists, photographers, and curious onlookers gathered outside the house. This led the police to cordon off the area with yellow tape.
On Sunday, the police disclosed that CCTV footage of the Pavilion Residences was reviewed after a report was lodged.
The report had alleged that a government vehicle delivered dozens of boxes of designer handbags and other items to the condominium for Najib's wife, Rosmah Mansor.
Last night, Najib tweeted that he was performing his Terawih prayers at the Kampung Baru Mosque in conjunction with the month of Ramadhan.
Yesterday, Prime Minister Dr Mahathir Mohamad said Najib might be charged soon with regard to the 1MDB scandal and ruled out the possibility of striking a deal with his predecessor.
Hadis Riwayat Bukhari, "Sesiapa yang menghidupkan malam Ramadan dengan penuh keimanan dan mengharapkan ganjaran dari Allah, diampunkan dosa-dosanya yang lalu." Alhamdulillah malam ini dapat solat sunat terawih di Masjid Kg Baru. Semoga kita semua sentiasa diberkati Allah SWT. pic.twitter.com/3hb2Be6EHB

— Mohd Najib Tun Razak (@NajibRazak) May 16, 2018
Raid on Najib's house
Lawyer: Handbags and personal items seized from Najib's house
This is uncalled for! Source close to Najib slams police action
Police conduct marathon search at Najib's bungalow, all rooms inspected