This is the third article in a series to explain why the Penang state government should get an independent review of the Penang Transport Master Plan (PTMP).
ANALYSIS | Malaysia's new federal government is now reviewing all megaprojects with dubious economic benefits and highly inflated costs.
Prime Minister Dr Mahathir Mohamad and Finance Minister Lim Guan Eng have reiterated that projects not based on an open competitive tender system are vulnerable to abuse and corruption, and hence must be reviewed.
Our question that lingers is whether the request for proposal (RFP) method used by Penang to award mega infrastructure projects, such as the Penang Transport Master Plan (PMTP), as well as the undersea tunnel and three paired highways to Consortium Zenith Construction Sdn Bhd, count as open tender.
The selection of SRS Consortium - the joint-venture between Gamuda Bhd and local real estate development firms – as the project delivery partner for PMTP was made through an RFP.
An apt answer to this may come from none other than Gamuda founder Koon Yew Yin himself. According to Koon, the best way to evaluate open tenders is for a government to follow the guidelines established by the World Bank.
"Firstly, the government must engage a reputable engineering consulting firm which has experience with similar projects to put up a proposal and to open the project bidding to all contractors to tender.
"All the contractors must be pre-qualified, based on both their technical and financial ability. All contractors must submit tenders conforming to the original design so that the cheapest tender can be selected. If all the contractors are prequalified, the government tender board has only to look at the tendered price.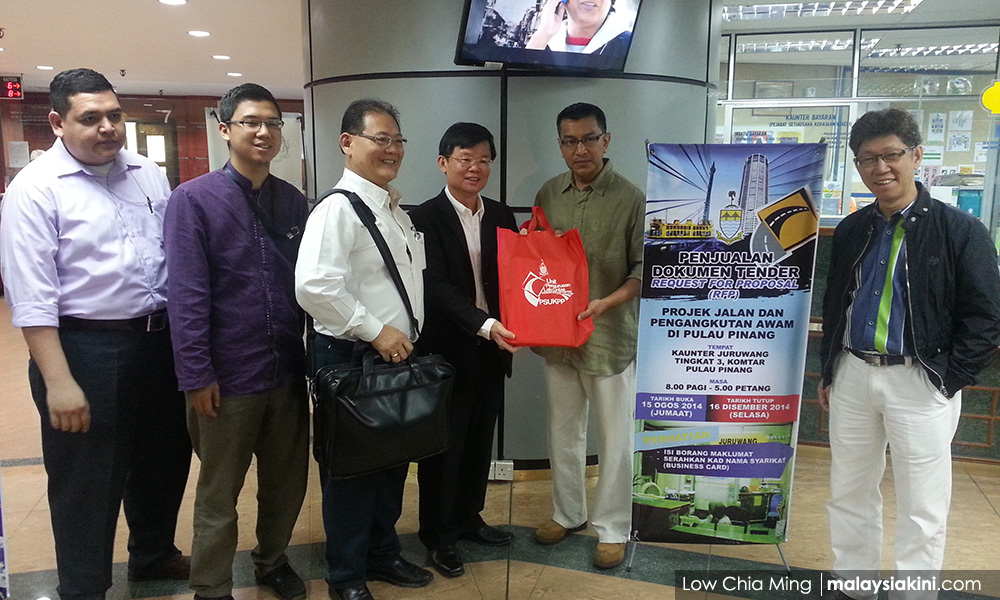 "Always award the contract to the contractor who submits the cheapest tender, assuming that all the other criteria are met. It is important not to allow anybody from the government to negotiate with any contractor to avoid corruption," Koon says.
RFP is not open tender
Some state governments have awarded mega projects based on RFP and claimed that they are open tenders. We need to distinguish clearly between the two, as they are not the same or even equivalent. The two terms should not be used interchangeably.
In open tenders, all parties bid based on the same specifications provided by a client. The award is given to the bidder with the lowest price, with everything else being equal.
However, in an RFP, a client does not provide a standard detailed plan nor technical specifications for a project for parties to bid on. Often, the client only has an approximate idea of a project they desire.
They then call for a tender in the form of an RFP, leaving bidders to submit different proposals for the client to select. No two proposals submitted under an RFP are similar. Hence, there is no standard yardstick to evaluate the different proposals.
At best, a ranking system is used, but the client has absolute discretion to choose the one it desires. The weightage to rank a certain sector in the proposal is subjective, such that this form of procurement maybe prone to rigging or abuse. A favoured proposal may be selected without clear and transparent justification.
In RFP, bidders are not placed on a level playing field. The criteria for bidding under the RFP are not transparent or necessarily consistent. Clearly, RFPs are not open tenders, and will not give taxpayers value for their money.
Infrastructure projects should be awarded by open tender. The RFP should only be used when the government would like to invite creative solutions to a problem. Creative financing solutions should be avoided as it brings other problems with it.
There is a special need for an independent review of the PTMP, because through the RFP process, not only does the SRS Consortium plan deviate substantially from the Halcrow Plan, the costs ballooned from RM27 billion to RM46 billion.
We, therefore, call for reviews on all large projects that have not been awarded based on open tenders. The public needs to be assured that projects proposed for their future good have been awarded to the rightful and deserving contractors.
READ MORE
Part 1: Relooking the Penang Transport Master Plan
Part 2: How SRS' Penang Transport Master Plan deviates from the original
Part 3: Was the Penang Transport Master Plan awarded with open tender?
Part 4: Why bulldoze through Penang undersea tunnel project?
---
AHMAD HILMY is an associate professor at Universiti Sains Malaysia, while LIM MAH HUI is a former professor, international banker and Penang city councillor.
The views expressed here are those of the author/contributor and do not necessarily represent the views of Malaysiakini.