PD POLLS | After two weeks of intense campaigning, it's finally polling day for the Port Dickson by-election.
Malaysiakini brings you live reports on the ground today.
---
KEY HIGHLIGHTS
Saiful's prediction – 55 percent voter turnout
Anwar wants EC to prove free food at polling centre
Candidates appeal for voters to come out early, as voter turnout 'uninspiring'
Harapan leaders condemn vote-fishing activities, but say up to EC to act
Negeri Sembilan MB targets 30k-vote majority win for Anwar
EC says 50m ruling only applies to either side of school, but says supporters can't cross road
Anwar says all election regulations must be followed
EC chief instructs officers to disperse supporters from polling stations
PAS, Harapan supporters contravene EC's 50m rule
Fear that drizzle could dampen voter turnout
---
5.30pm: This wraps up Malaysiakini's final daily blog on the Port Dickson by-election. Join us at 6pm for our live coverage of the vote-tallying process.
4pm voter turnout rate at 54 percent
4.20pm: The EC announces that the voter turnout rate is at 54 percent as of 4pm. It later says that final turnout is 58.3 percent, putting the threshold for victory at 21,925 votes.
3.20pm: As of 3pm, the EC says the voter turnout rate for the Port Dickson by-election is at 50 percent. This means that 37,606 voters have cast their ballots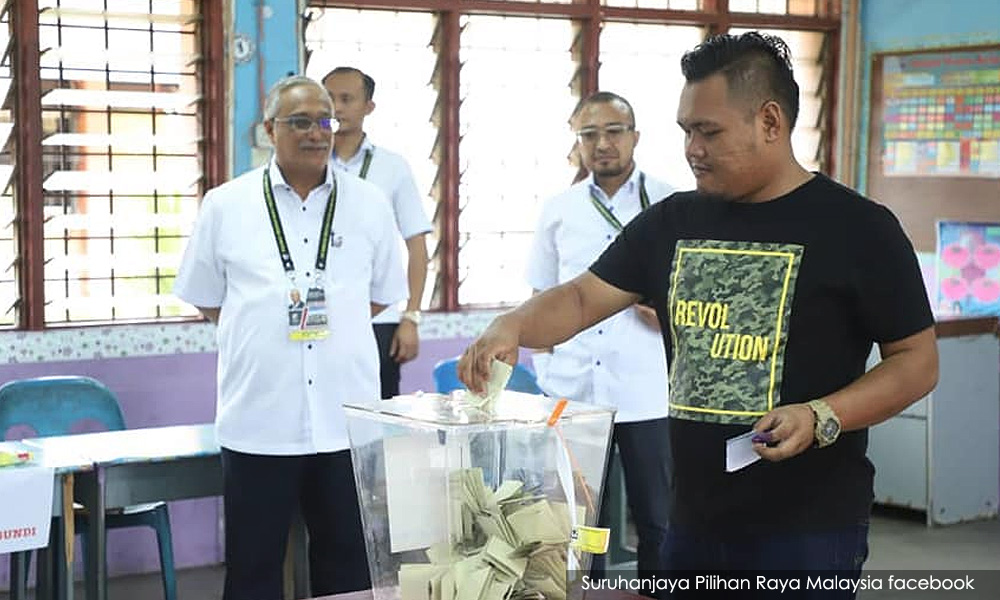 ---
Saiful's prediction – 55 percent voter turnout
3pm: SK Intan Perdana - Independent candidate Mohd Saiful Bukhari Azlan believes that the voter turnout can reach 55 percent.
"I do hope voters will participate in this democratic process whether they agree with the by-election or not, please translate (your stand) into the ballot box," he says.
Earlier, Saiful visited five polling stations.
---
2.55pm: Port Dickson - EC announces that the voter turnout as of 2pm is at 44 percent.
---
1.30pm - EC announces that the voter turnout rate as of 1pm is 40 percent.
---
1pm, SK Telok Kemang: Pakatan Harapan candidate Anwar Ibrahim and independent candidate Mohd Saiful Bukhari Azlan visit the same polling centre, reports The Star.
However, the duo do not cross paths.
Anwar's supporters who are waiting outside the polling centre reportedly jeer at Saiful.
---
PKR hoping for 70pct voter turnout
1.15pm: PD Waterfront - PKR communications director Fahmi Fadzil says they are hoping to achieve the 70 percent estimated voter turnout through a "second big wave" of voters at polling centres throughout Port Dickson.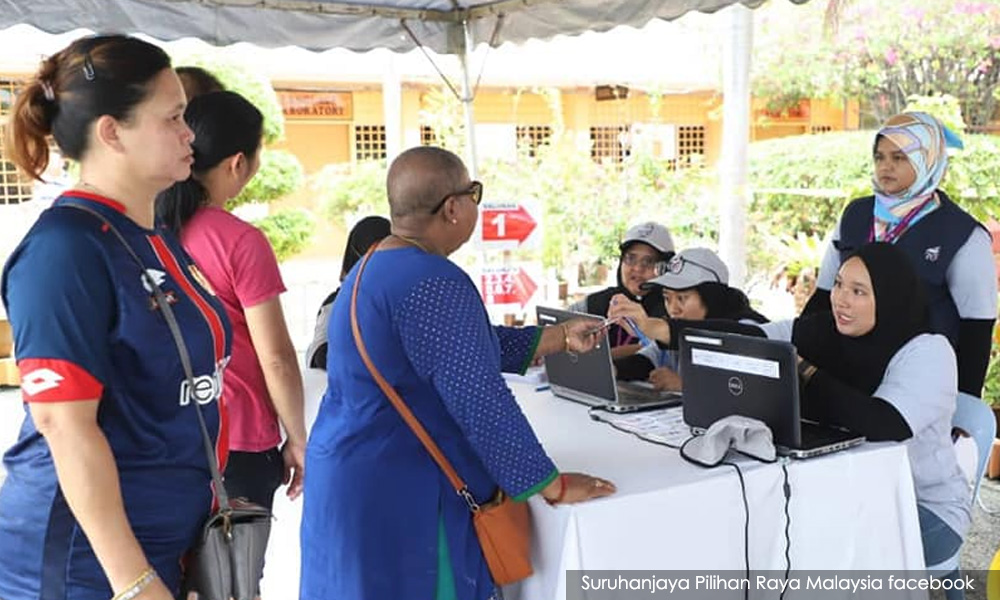 "For us to reach that level (70 percent), we have to wait (to see) whether there is a second wave of big (voter) turnout," he says during a press conference at the Pakatan Harapan operations room here.
PKR information chief Syed Ibrahim Syed Noh also says that the turnout of 34 percent as of 12pm is an unsatisfactory number.
"This rate is not good enough...There are efforts now to get voters to come out to vote," he states.
---
'Probe food giveaway' - Anwar tells EC
12.45pm: SK Linggi - Pakatan Harapan candidate Anwar Ibrahim calls on the EC to probe claims that a candidate is hanging out free food to voters.
Anwar, who is also Harapan de facto leader and PKR president-elect says the election body must take action if the allegation is found to be true as it is a clear violation of the Election Offences Act 1954.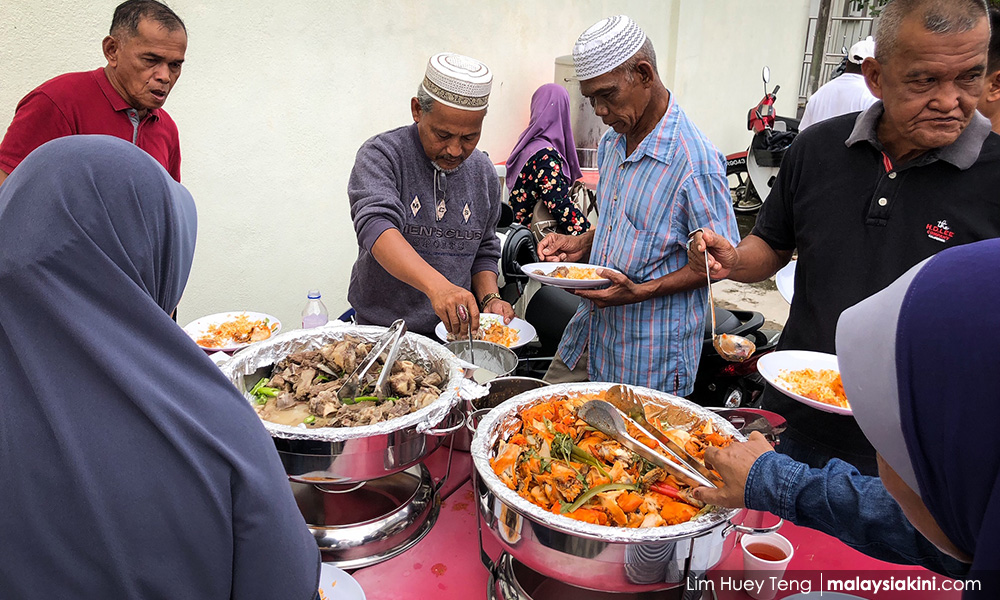 "Let the EC investigate," he tells reporters after visiting the polling centre here.
This comes after pictures began circulating online today at Linggi of voters being treated to free food, with claims the food was sponsored by one of the candidates.
It is claimed that the food is being served at SJKC Sungai Panjang earlier in the afternoon.
Meanwhile, Anwar appeals for more voters to come out as the percentage of voter turnout thus far is not encouraging.
At 12pm, only 34 percent of voters have cast their ballots.
Read more: Voters treated to free meal of 'Nasi Arab Damsyik'
---
'Large or small majority, a win is a win' - Isa
12.40pm: SK Linggi - Independent candidate Mohd Isa Abdul Samad says he isn't perturbed by the prospects of winning with a minuscule majority, as long as he wins.
"If I am fated, I can win the Port Dickson by-election. Large or small majority (doesn't matter) as long as I win.
"(In sports) If you win by a penalty or by a goal kick, you still win. A 1,000-vote majority is still a win," he says to reporters in the vicinity of the polling centre here.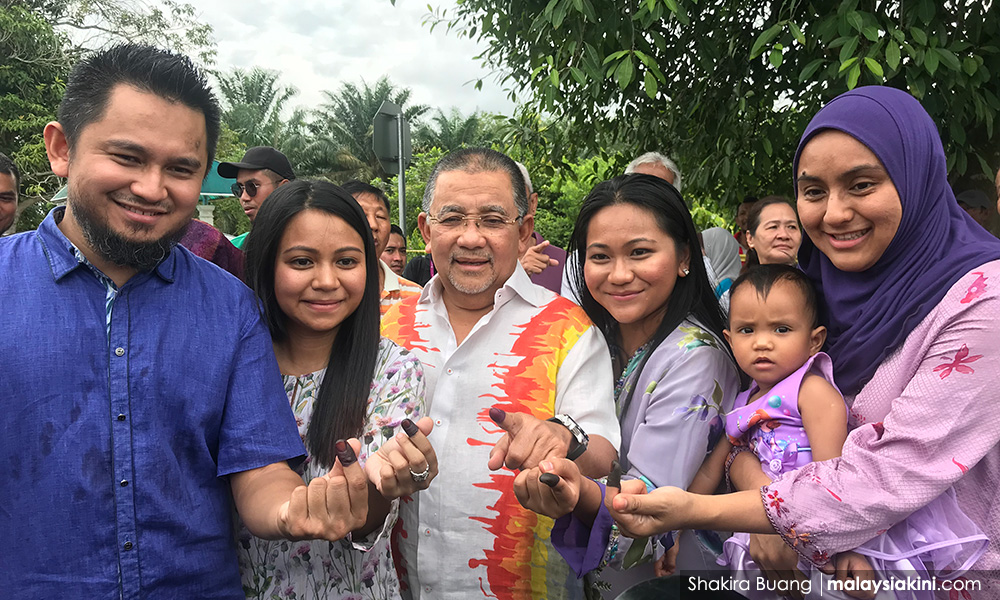 Isa (centre in photo) adds that he is lucky as he is the only candidate in this polls who is able to cast a ballot for himself, as the other six hopefuls are not registered voters here.
"Usually we vote for others but today I am happy and very lucky to be able to vote (for myself) with my children, although they all are registered voters at different polling centres," he says, adding that as such, he is already ahead of the other candidates by five votes as of this morning.
He attributes the relatively lower voter turnout to election fatigue.
What if he loses? Isa remains optimistic, saying his election track record will still hold even with this one lost, against previous nine wins.
"I can still be considered defending champion."
---
12pm: Port Dickson - According to the EC, voter turnout is at 34 percent.
12pm: SK Telok Kemang - Pakatan Harapan leaders condemn the earlier action by a group of supporters fishing votes outside a polling station this morning.
PKR Lembah Pantai MP Fahmi Fadzil tells Malaysiakini that the party supporters should not be campaigning today.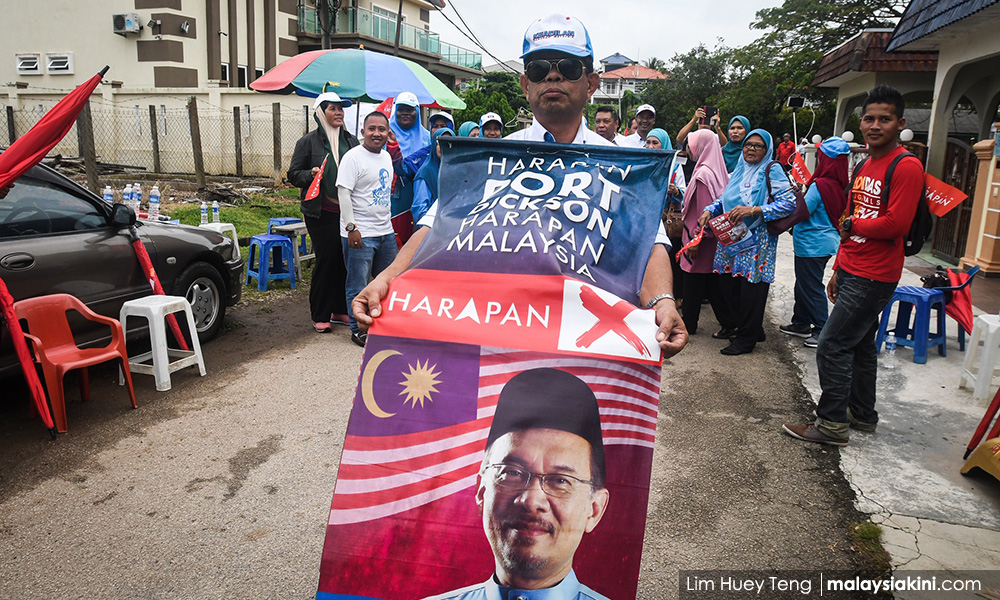 He stresses: "They should not be there, especially not within the 50m area. There can be no campaigning today."
Former Port Dickson incumbent MP Danyal Balagopal, who vacated the seat for Anwar to contest, says while the actions of the group are not acceptable, he claims he saw supporters of various candidates doing the same thing in several polling stations across the constituency.
This, he says, includes polling stations in Sri Tanjung and Bagan Pinang which he visited earlier in the day.
"The rules say that it should be no campaigning after 12am this morning. But, I have seen this everywhere this morning.
"It is up to the election commission to take action," he says.
---
Family affair: Isa, children cast ballots
11.35am: SK Linggi - Independent candidate Mohd Isa Abdul Samad arrives to cast his ballot.
His arrival is greeted by cries of "hidup Tan Sri (long live Tan Sri)" by his supporters.
Accompanying him are his four children - Mohamad Najib, Megawati, Lelawati, dan Juhaida.
The four, however, are registered voters at other polling centres, with the eldest, Mohamad Najib, having voted at Pengkalan Durian, Megawati and Lelawati at SK Kampung Baru, and Juhaida at SK Port Dickson.
The three centres are located within the Linggi state constituency.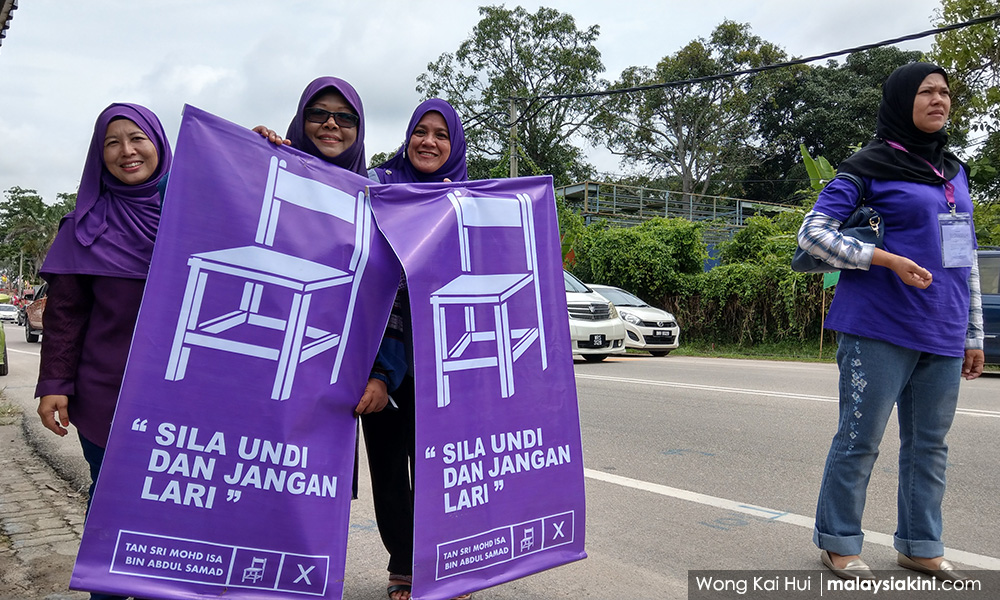 Purple Isa supporters join the fray
11.35am: SK Telok Kemang - Joining PAS and Pakatan Harapan supporters not far from the polling station here is a small group of five women in purple.
The five are supporters of independent candidate Mohd Isa Abdul Samad are standing at a bus station nearby, holding two purple banners featuring the chair logo, used by Mohd Isa in this polls.
The banners are also accompanied by the words: "Sila undi dan jangan lari" (please vote, and don't run)
---
Negeri Sembilan MB: We want 30,000-vote majority for Anwar
11.15am: SK Kampung Baru Si Rusa - Negeri Sembilan Menteri Besar Aminuddin Harun hopes Anwar Ibrahim can win with a huge majority of 30,000 votes in the seven-corner fight for Port Dickson.
"I feel we can have over 60 percent voter turnout and with this turnout, we hope Anwar can get a 30,000-vote majority," he says to the media.
He adds: "Our target is (for Anwar) to secure 35,000-majority votes but this will need 70 percent voter turnout."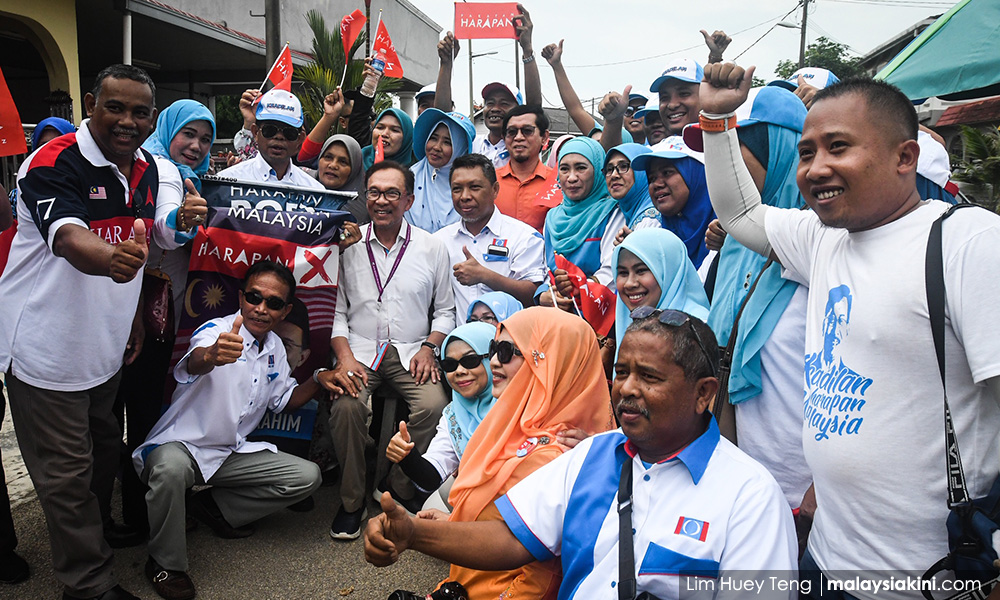 Aminuddin, who is also Pakatan Harapan's campaign director for the Port Dickson by-election, hopes voters will come out early to vote as they need not queue up for long.
---
Supporters told to stay on the other side of the road
11.05am: SK Telok Kemang - An official from the Election Campaign Enforcement Team Rozi Ithnin tells the press that party supporters can remain across the road from the polling station.
He says the 50 meters-ruling depends on the topography of the polling station, and that the distance restriction, in this case, applies to either side of the school, but not across the road.
However, he stresses that they cannot cross the road.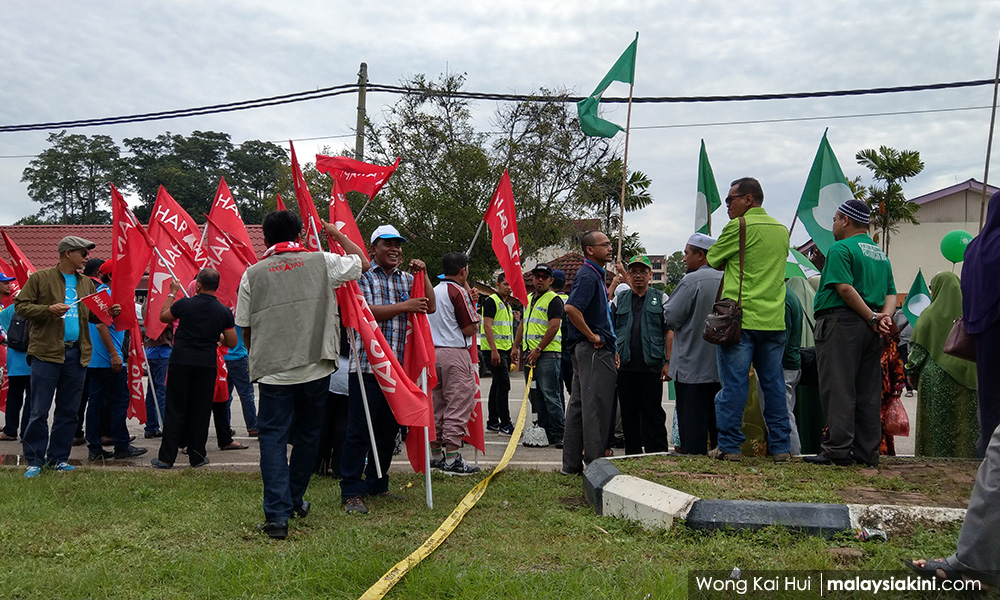 In the meantime, a tape now separates the PAS and Pakatan Harapan supporters to prevent any quarrel, while another tape is drawn across to prevent them from crossing the road.
"So, only this side is counted. We only regulate this side (of the road).
"We will only take action if they create disruption," Rozi says.
Meanwhile, candidates Anwar Ibrahim and Mohd Nazari Mokhtar arrive here.
---
11am: Port Dickson - The Election Commission (EC) says voter turnout is at 24 percent.
Pressmen await candidate Isa, sole registered PD voter
11.00am: SK Linggi - The press gather at this polling station as they await the arrival of independent candidate Mohd Isa Abdul Samad.
Mohd Isa, the former menteri besar for Negeri Sembilan, is the sole registered Port Dickson voter among all the candidates.
He's initially slated to have arrived at 10am to cast his ballot, but the timing is moved to 11.30am instead.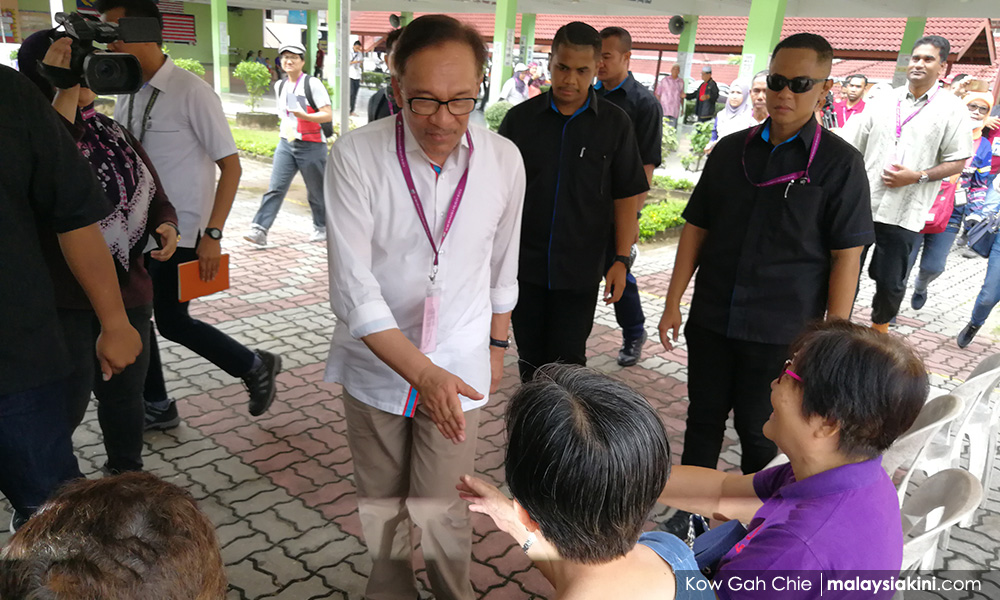 EC chief directs officers to ensure 50m rule at polling station
11am: Port Dickson - Election Commission chief Azhar Azizan Harun directs the Election Campaign Enforcement Team to disperse the crowd of PAS, Pakatan Harapan supporters earlier seen canvassing for votes outside SK Tanjong Kemang, a polling station.
"I have directed our Election Campaign Enforcement Team to ask them to move more than 50 metres away from polling station entrance.
"They (supporters) are not allowed to campaign or fish for votes," he tells Malaysiakini when alerted to actions of the two groups.
The two groups, numbering over 50 in all, are less than 30m from the school and are dressed in party colours and waving party flags, while addressing voters.
---
Read more: EC nixes PAS, Harapan vote-fishing outside polling station
---
Anwar urges party members to abide by EC ruling
10.40am: SK Kampung Baru Si Rusa - Pakatan Harapan candidate Anwar Ibrahim says all party members must observe election regulations.
He, however, says he is unaware of this morning's incident in which several Pakatan Harapan supporters are seen gathered less than 30m away from the SK Tanjong Kemang polling station, waving the coalition banner and attempting to canvass votes.
"I don't know know, (I) am not aware (of the supporters' actions.
"Nobody should go against the stipulated Election Commission (EC) rules," he says to a question on the matter.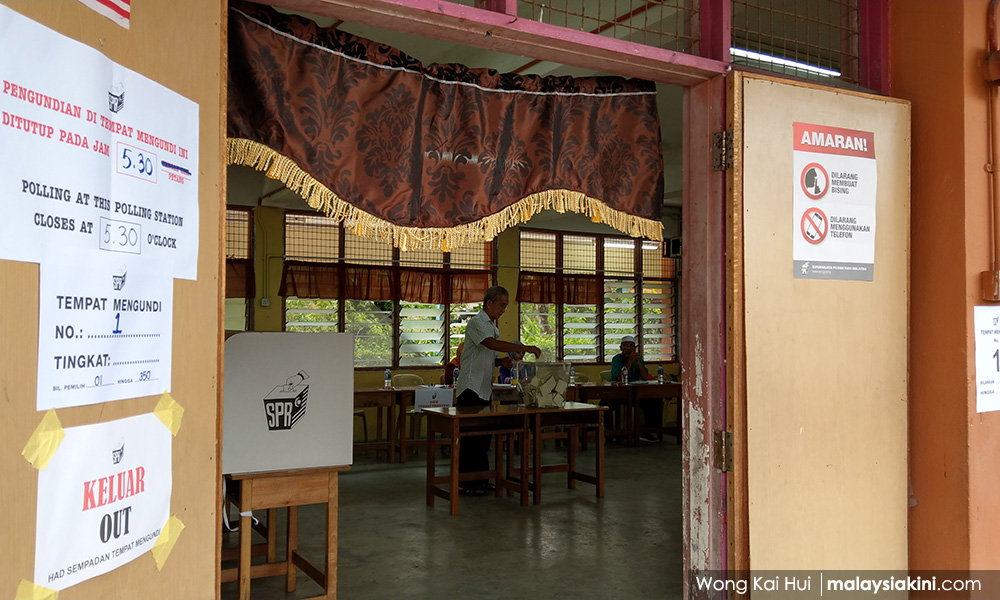 On the voter turnout today, the PKR president-elect says he is encouraged by the number of voters who have come out to vote in the morning.
"I am quite happy with the progress this morning, although in some areas it is still slow. I think we have to encourage more people to come out early," he says.
SK Kampung Baru Si Rusa is the polling station that was won by Barisan National in the 14th general election.
Yet, during his 10 minutes stop here, Anwar is received warmly by the voters, with some of the latter even chanting "Reformasi".
Others shake his hand and some seek a selfie with him.
---
PAS veep: Win will be with a small majority
10.30am: SK Linggi - PAS vice-president Mohd Amar Nik Abdullah makes an appearance at the polling station here in a show of support for PAS candidate Mohd Nazari Mokhtar and to boost the spirit of party workers there.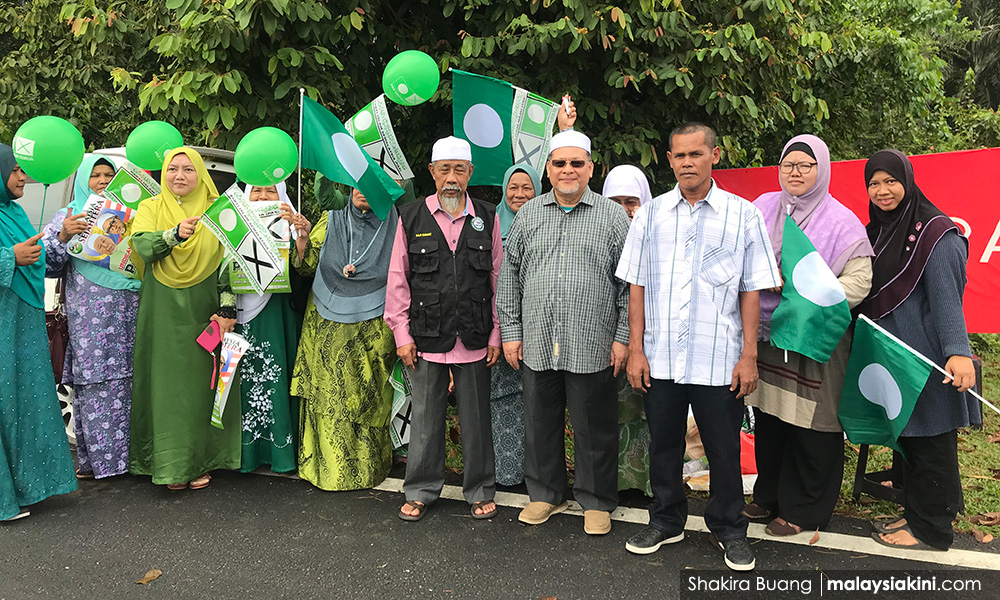 Commenting on the lacklustre "mood" of voters in the past several by-elections, Nik Amar opines that whoever wins would do so by a small margin of victory.
"All candidates have a chance... and the deciding factor is in the hands of the voters. In my opinion, it is hard to read the voters.
"So it is hard to call it, so whoever wins will do so with a slim majority, judging from the mood of voters from the past by-elections," he tells Malaysiakini.
9am: Port Dickson - Voter turnout so far is at 9 percent, according to the Election Commission
---
PAS, Harapan supporters not adhering to 50m rule
8.40am: SK Telok Kemang - A group of about 30 PAS supporters in green shirt wave gather here, waving party flags and holding signs painted with the party logo.
They appeal to passing voters to vote for PAS' candidate Mohd Nazari Mohktar, by chanting "Sokong Bulan!", "Undi PAS!" and "Undi Hijau!" (Vote the moon, vote PAS, vote green). The white full moon against a green backdrop is the party logo.
Not far away is a group of about 20 Pakatan Harapan supporters holding the coalition flags. Some are wearing red T-shirts bearing the Harapan logo, while some wear uniforms with the PKR logo.
Both parties are less than 30m away from the school.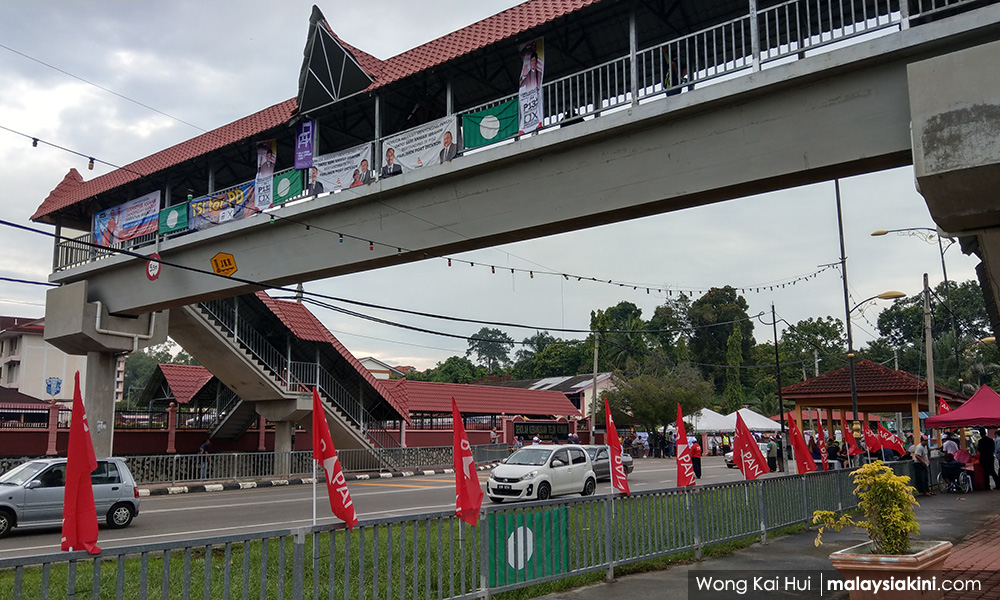 Campaigning on polling day goes against election regulations while supporters are to keep a distance of at least 50m from polling stations.
---
PKR assemblyperson: Rain could dissuade voters
8.30am: SK Kampung Sawah - It's drizzling at Kampung Sawah and the slight shower seems to dampen voter turnout.
This is enough to get Chuah assemblyperson Michael Yek concerned.
"I am worried because I want our candidate (Anwar Ibrahim) to win with a convincing majority," he says.
Meanwhile, Anwar is yet to arrive here despite the itinerary sent out to the media group earlier which lists SK Sungai Sawah as his first pit stop.
A party worker here then shares another list with the waiting media. This one states Anwar is supposed to be at another polling station, 30 minutes away.
Calls to that polling station also reveal no signs of Anwar.
The confusion leaves the media personnel confused and angry.
---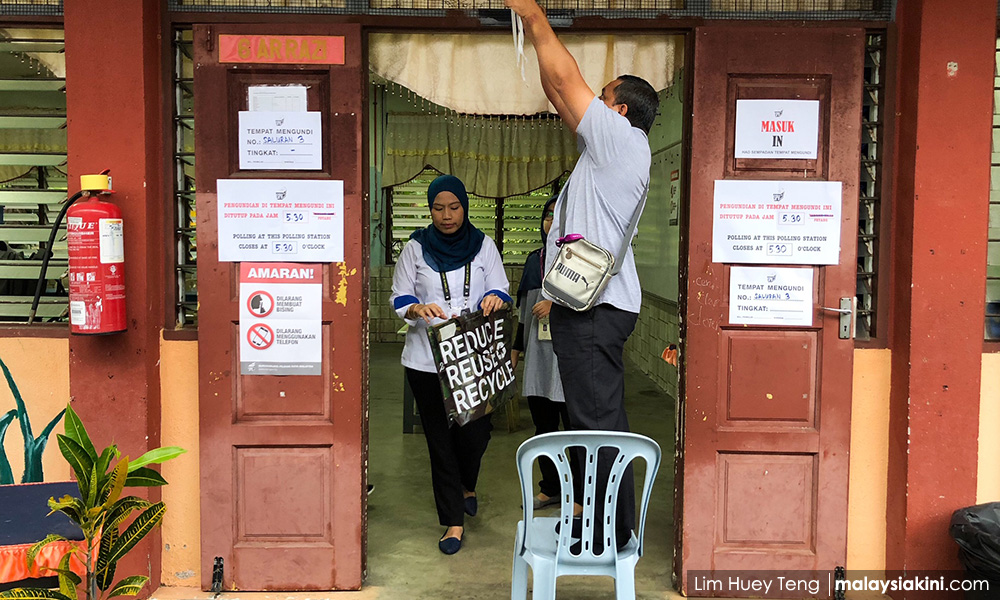 7am: Port Dickson - The Election Commission (EC) expects a 70 percent voter turnout today.
Up to 32 polling stations with 154 polling streams will be open from 8am to 5.30pm.
Meanwhile, over 1,403 EC staff and 800 police personnel are deployed to ensure a smooth voting process.
The EC advises voters to check their polling information via MySPR Semak or on the EC portal. They can also call 03-88927018 or send an SMS to 15888.
Results are expected to be announced by 10pm at the Port Dickson Municipal Council hall here.
---
6.30am: Port Dickson - A strong win for Pakatan Harapan's candidate Anwar Ibrahim today will ensure the former's comeback into Parliament and a solid mandate as the prime minister-in-waiting.
The PKR president-elect is, however, up against his former aide Mohd Saiful Bukhari Azlan and former Negeri Sembilan MB Mohd Isa Abdul Samad, both running as independents.
The remaining candidates are PAS' Mohd Nazari Mokhtar and independents Stevie Chan, Lau Seck Yan and Kan Chee Yuen.
Port Dickson has 75,212 voters, with an ethnic breakdown of 43 percent Malays, 33 percent Chinese and 22 percent Indians.
Early voting, involving over 7,000 voters, took place on Oct 9.
Today's polls was triggered by the controversial 'PD move', in which incumbent MP PKR's Danyal Balagopal Abdullah vacated the seat to facilitate Anwar's return to active politics.
Danyal had won the seat with a comfortable 17,710-vote majority, or 59 percent of the total votes cast, against MIC's V Mogan and PAS' Mahfuz Roslan.