The Port Dickson parliamentary seat has been vacated to pave the way for a by-election to be contested by PKR president-elect Anwar Ibrahim.
Incumbent MP Danyal Balagopal Abdullah announced his intention to vacate the seat at a press conference in Petaling Jaya today.
During the May 9 elections, Danyal secured the Port Dickson seat by securing 59 percent of the total votes cast.
"I feel called to contribute to a smooth transition of the office of the seventh prime minister (Dr Mahathir Mohamad) to the eighth prime minister (Anwar), in accordance with the agreement between Pakatan Harapan coalition members.
"Last night I was informed by Rafizi Ramli that after having discussed with the party leadership, Anwar had decided on accept my offer, and choose Port Dickson as the constituency where he would like to stand as a candidate.
"I am confident Anwar will win the seat hands down and proceed to become the next Port Dickson MP and InsyaAllah, eventually become our nation's eighth prime minister," Danyal (below, right) said at the PKR headquarters.
The outgoing Port Dickson MP also said he would still serve the constituency as Anwar's "eyes and ears."
He also said that with Anwar in the seat, he could do more for the people of Port Dickson who were "elated that the prime minister-in-waiting was coming to their area."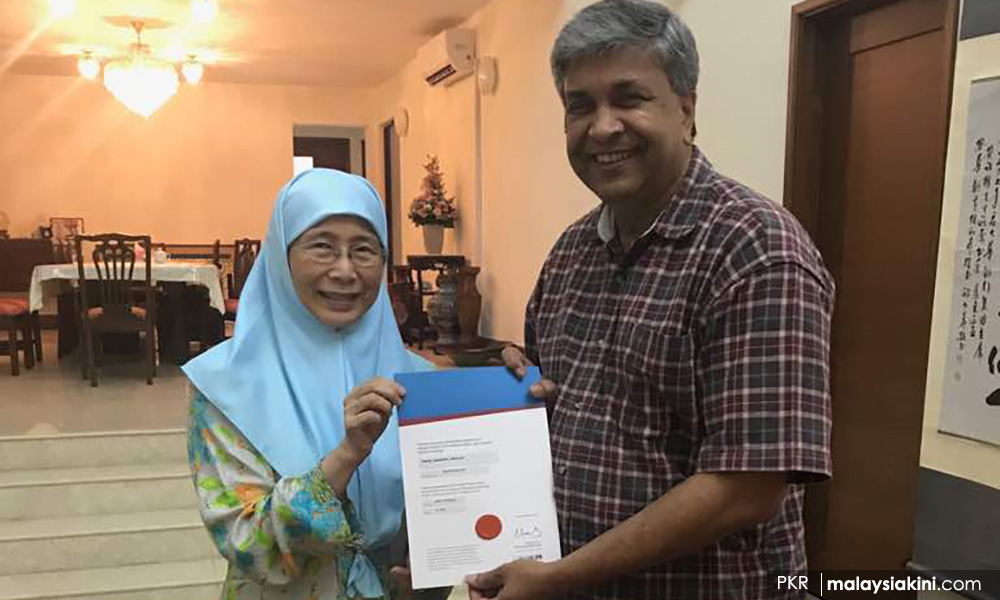 PKR secretary-general Saifuddin Nasution Ismail said there was no inducement for Danyal to vacate the seat.
Rafizi, who was also present at the press conference, denied that engineering a by-election was a betrayal of voters, saying that having Anwar in Parliament would further strengthen the people's mandate by helping to enact national-level reforms.
PKR stronghold
Saifuddin also reiterated Anwar's stance that the PKR president-elect would not be seeking any government posts and would fully support the Mahathir administration.
No timeline has also been put in place for the transfer of power from Mahathir to Anwar.
Saifuddin also said that DAP secretary-general Lim Guan Eng, Bersatu president Muhyiddin Yassin and Amanah president Mohamad Sabu had been informed of PKR's plans, and have pledged to help campaign for Anwar.
Meanwhile, responding to a question about whether those aligned with incumbent PKR deputy president Mohamed Azmin Ali had been left out of the seat talks, Saifuddin said there is only "team Anwar."
"When people offer up their seats, we don't ask which camp you're from," he said.
Incumbent PKR vice-president Dr Xavier Jayakumar, who is aligned with Azmin, was also present at the press conference.
PKR has had a hold on Port Dickson, or Teluk Kemang as it was known prior to GE14, since 2008.
---
RELATED REPORTS
Anwar explains reason behind 'PD move'
Zuraida hopes Anwar explains stand on 'PD Move'
PAS, MIC to hold party meetings over Port Dickson seat
'PD Move': PKR optimistic despite possibility of low turnout
KJ suggests BN fields Linggi lawmaker against Anwar