KINIGUIDE | The presence of LGBT participants at yesterday's Women's March in Kuala Lumpur has courted swift and growing backlash from both sides of the political divide.
De facto Islamic Affairs Minister Mujahid Yusof Rawa slammed the defence of LGBT rights at the march as an abuse of democratic space, as he said it was against Islamic teachings.
Bersatu supreme council member Wan Saiful Wan Jan, meanwhile, criticised the participants for "polluting" the march and destabilising the country, while Wanita Umno chief Noraini Ahmad claimed that advocating LGBT rights would lead to "great destruction to social institutions."
At least three police reports are expected to be lodged against the march organised by Penang Pakatan Harapan Youth, Selangor Bersatu Youth and a group calling themselves Gerakan Srikandi Malaysia.
But what was the march about? What did LGBT participants do and demand for?
Here, Malaysiakini recaptures what happened on the ground yesterday.
What was the march about?
The march was held in conjunction with International Women's Day, and its main theme was "Hentikan Keganasan, Hormati Perempuan" (Stop violence, respect women).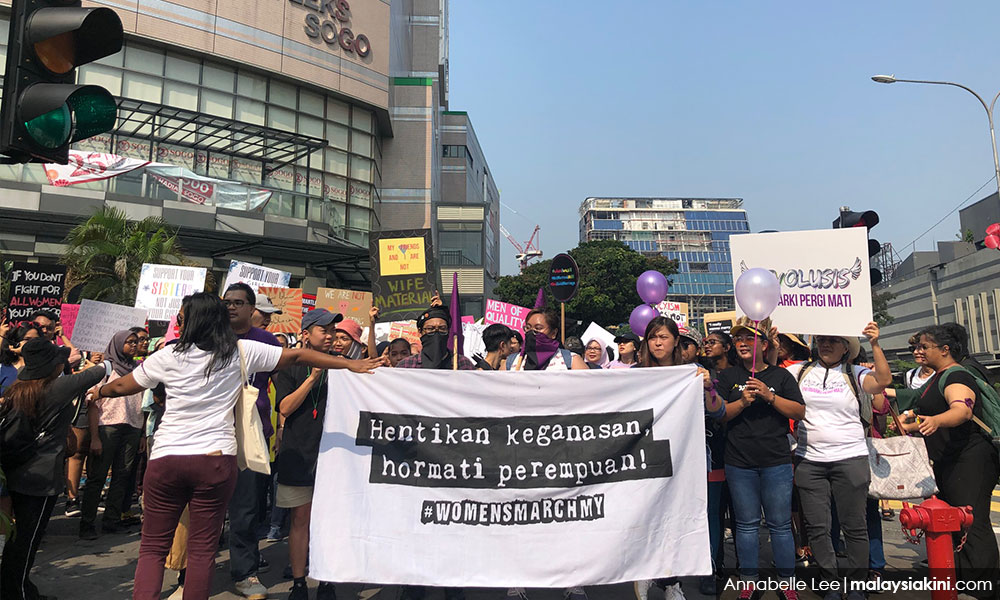 It focused on five demands:
Ending all violence based on gender and sexual orientation;
Banning all child marriages;
Ensuring women's rights and freedoms to make choices over their own bodies and lives;
Ensuring a dignified minimum wage of RM1,800; and
Destroying patriarchy and building genuine democracy at all levels of society.
Throughout the march, these demands were written on a large banner and repeatedly emphasised in the chants.
Were LGBT participants present at the march?
Among the 300 or so people present, some were seen holding rainbow flags, a popular symbol of solidarity for the LGBT community.
Some were also seen holding placards advocating just treatment of LGBT people, among them "People of quality do not fear equality" and "We exist."
Is it true there were 'Hidup LGBT' chants?
Yes. Shouts of "Jangan kacau LGBT (Leave the LGBT community alone)" and "Hidup LGBT (Long live LGBT)" were heard during the march.
The majority of the chants, however, called for an end to violence against women, rape culture, sexual harassment, child marriage and patriarchy.
Were there demands for 'LGBT rights' at the march?
One speech by a self-identified transwoman highlighted the recent killings of those from the community, and called for an end to gender-based violence and discrimination.
She also stressed that transgender people were equal citizens who were protected by the Federal Constitution.
She repeatedly denied that they sought any "special rights" or special treatment.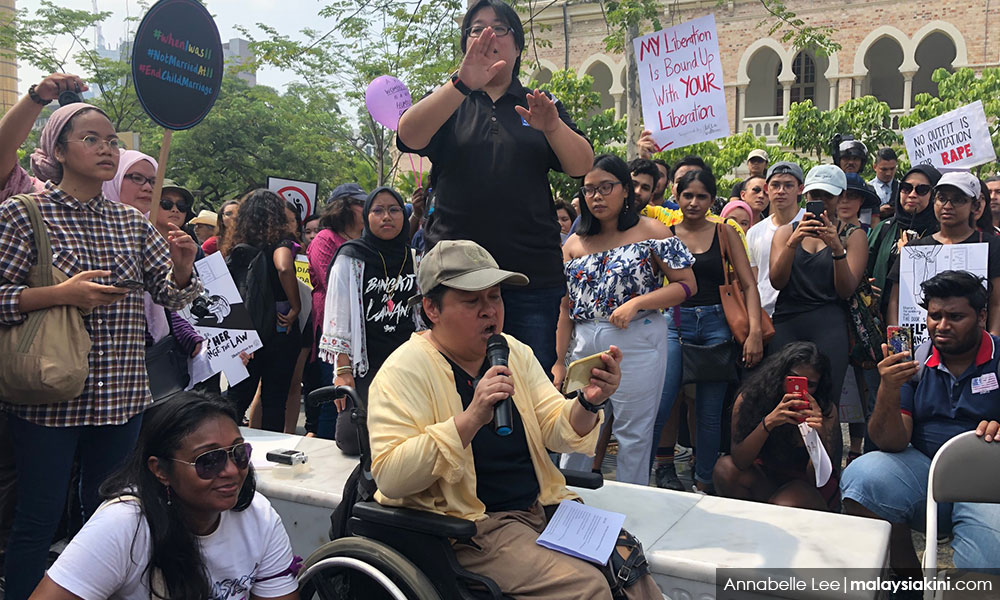 The other speeches had called for an immediate ban on child marriages and advocated the rights of Orang Asli women, disabled women, female university students, refugee women and female domestic workers.
Critics have listed SIS and WAO as the organisers of the march. Is this true?
No. According to the Women's March's website, it was coordinated by a "loose coalition comprising various actors including collectives, non-governmental organisations and individuals."
The Sisters in Islam and the Women's Aid Organisation clarified to Malaysiakini that none of their members was on the organising committee.
However, both groups stressed they were in full support of the march.
What about reports that the march did not receive a police permit?
The Peaceful Assembly Act 2012 stipulates that organisers need to notify the police 10 days before a march or assembly is held, but makes no mention of a permit.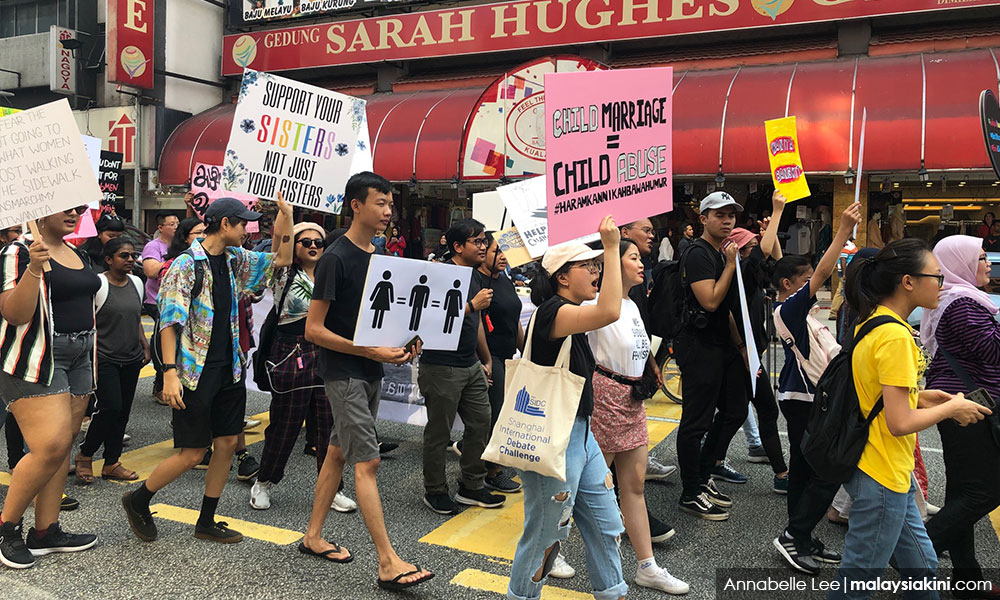 In a statement to Malaysiakini, the organising committee stated that it had notified Dang Wangi police on Feb 25, 10 days before the march.
Despite meeting with the police to inform them of the names of the organisers and the proposed route, they said they did not receive "further communication or objection" from the police before the march.
Throughout the two-and-a-half hour march, at least one police car and several police outriders were observed monitoring traffic conditions and participants.
How have the organisers responded to the backlash?
The organisers have condemned the singling out of LGBT participants at the march.
"This borders on incitement to hatred and violence towards a section of Malaysian society who are already at risk and facing multiple forms of discrimination.
"We strongly reject such a move, and the continued escalation of this hostile and aggressive treatment.
"A healthy democracy rests on the full and equal participation by all levels of society," read an excerpt.
For this, they attributed blame on the media as well as the "political opportunism by individuals in positions of authority."
---
This instalment of KiniGuide is compiled by ANNABELLE LEE.