MP SPEAKS | PAS President Hadi Awang's foray into Sarawak politics is motivated by hate and deeply-entrenched resentment.
What has turned a person who once expressed gratitude to DAP for standing by PAS' side when the Kelantan government fell in 1977 into a spiteful personality who indulges in fake news and hate speech like what he said in Bintulu on Malaysia Day?
In Bintulu, Hadi perpetrated the fake news that DAP wanted to give control of the state and its wealth to the Chinese and the hate speech to create alarm, fear and hate among Malays and Muslims that the DAP was "the biggest leader" in the Pakatan Harapan government in Putrajaya to ensure that "the wealth for Chinese only, not for all people; other people are left behind" when such allegations were downright lies and pure hate speech.
Is Hadi taking his revenge and falsely accusing DAP as anti-Malay and anti-Islam because DAP did not support his ambition to become the prime minister-designate under Pakatan Rakyat in 2013?
As I revealed in January this year, the move for Hadi to be the prime ministerial candidate for Pakatan Rakyat during the 13th General Election (GE13) was a very smooth and slick operation, without any names being mentioned.
Before GE13, Hadi through the PAS leadership had approached me to broach the subject of a prime minister-designate because Anwar Ibrahim was not a suitable.
PAS leaders were quite astute as not to directly suggest that Hadi should be the prime ministerial candidate for Pakatan Rakyat and diplomatically suggested that their proposal for a suitable prime ministerial candidate was veteran Umno politician Tengku Razaleigh Hamzah.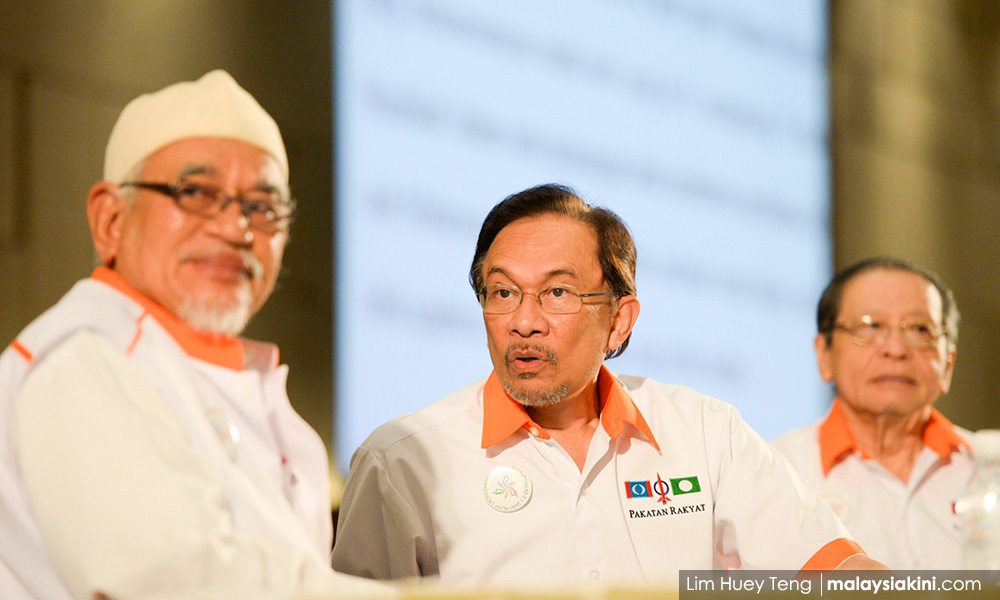 When DAP leaders dissented and held to their view that Anwar should continue to be the prime ministerial candidate for Pakatan Rakyat, and we made no suggestion that Hadi should instead be considered as the prime ministerial candidate, the PAS leaders knew that the DAP would not support Hadi as the prime minister-designate and the proposal to replace Anwar as the prime ministerial candidate was not further pursued.
What would have happened if Pakatan Rakyat had won with a slim majority in GE with PAS having the parliamentary numbers to decide whether Anwar or the then incumbent Najib Abdul Razak should be prime minister is anybody's guess.
I said in January that Hadi had a very serious character flaw revolving around the question of trust as a Malaysian political leader unlike other PAS leaders like Fadzil Noor or Nik Aziz.
This was why DAP could accept Fadzil Noor and Nik Aziz as prime minister-designate for Malaysia but not Hadi Awang.
This has been illustrated by Hadi's spiteful speech at Bintulu just to pave the way for PAS' foray into Sarawak. Here was a person who could once express his gratitude to DAP for defending PAS when it was down and out, could turn around to tell fake news and express hate speech about DAP.
I am sure neither Fadzil Noor nor Nik Aziz would have done such a despicable thing.
PAS fielded 11 candidates in the 11th Sarawak state general elections in 2016, and all 11 PAS candidates lost badly. Over 60 percent of PAS candidates lost their deposits.
I commend Serian DAP Youth chief Brolin Nicholsion, a Bidayuh, who chastised Hadi for his hate speech in Bintulu and said that such sentiments and speech were not welcomed in Sarawak and could only further divide Malaysians.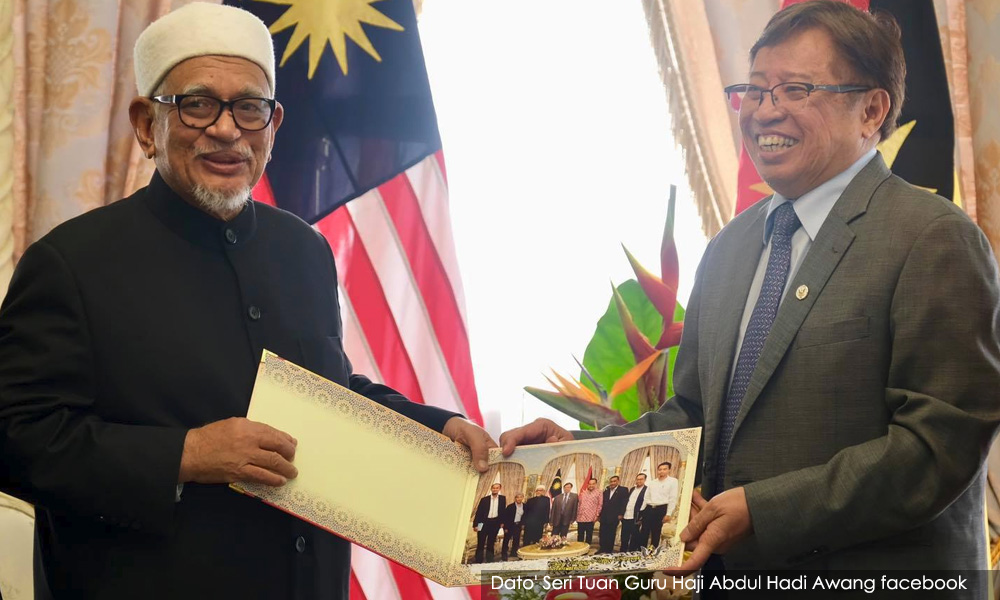 Yesterday, Hadi met the Sarawak Chief Minister Abang Johari Openg (photo, right) as part of the PAS foray into Sarawak.
Is his hate speech in Bintulu making baseless allegations against DAP meant to pave the way for PAS to team up with GPS in Sarawak after his alliance with Umno?
Hadi took advantage of Barisan Nasional's victory in the Sarawak state general election in May 2016 to secure the agreement of the then prime minister to prioritise his hudud private member's bill motion in parliament. What tactics is Hadi up to this time?
Brolin said Sarawak Pakatan Harapan had agreed that the post of Sarawak chief minister would be given to a Dayak if Harapan formed the government in Sarawak. Would Hadi agree to the appointment of a Dayak as Sarawak chief minister?
Let me remind Hadi of what I said after the DAP's electoral setback in the 2016 Sarawak state general election:
"DAP must not be afraid to lose in elections as we must learn from the crushing defeat in the Sarawak state elections yesterday so that we can become stronger to fight for justice, freedom and human empowerment for all Sarawakians and Malaysians another day.
"The test of a political movement dedicated to the higher ideals of justice, freedom and human empowerment is the ability not to be crushed by a 'crushing defeat' but the ability to rise from a 'crushing defeat' to be stronger and more committed to our cause to fight another day.
I further added:
"The problem in life's struggle is not falling down but the ability to stand up after a fall, however big the fall, and to continue the battle for justice, freedom and human empowerment.
"Despite our disappointment and setbacks, DAP will not be deflected from our objective to elect a full slate of Chinese, Dayak and Malay state assembly representatives in the Sarawak State Assembly.
"It has taken DAP Sarawak 18 long years to be elected into the Sarawak State Assembly, and DAP Sarawak is prepared for the long haul together with like-minded Sarawakians to achieve the next target, to elect a new state government in Sarawak which will give top priority to the needs and rights of the people of Sarawak instead of just to the cronies of the powers-that-be."
---
LIM KIT SIANG is MP for Iskandar Puteri.
The views expressed here are those of the author/contributor and do not necessarily represent the views of Malaysiakini.