The number of flood victims in Kelantan rose to 1,504 from 403 families as at 1pm today compared to 389 this morning when the floods have started to affect Kota Bharu, Bachok and Pasir Puteh.
According to the InfoBencanaJKM application, all evacuees were taking shelter at 28 relief centres in six districts.
Pasir Mas had the most number of evacuees at 665 from 182 families who were housed at 11 relief centres, namely Sekolah Kebangsaan (SK) Bukit Jarum (107), Putat Tujoh (39), Sekolah Menengah Kebangsaan Agama (SMKA) Lati (231), SK Kampung Baru (20) and SK Sri Kiambang (seven).
Others were at SK Bakong (six), SK Lubok Stol (six), Sekolah Menengah (SM) Perempuan Pasir Mas (55), SM Agama Qariah Banggol Stol (five), SK Kubang Kual (183) and Madrasah Tasek Bakong (six).
In Kota Bharu, 278 people from 72 families had been evacuated to four relief centres, namely SK Sri Ketereh (117), SK Buloh Poh (69), Islamic Outreach ABIM Kok Lanas (50) and SK Melor (42).
In Tanah Merah, 186 evacuees from 49 families were housed at six relief centres namely SK Kelewek (39), SK Bukit Panau (two), SK Alor Pasir (40), SK Kulim (17), Kampung Padang Kijang multipurpose hall (41) and Masjid Mukim Kuala Kepok (47).
In Pasir Puteh, 337 victims from 89 families were also moved to six relief centres, namely Kompleks Dewan Kamil (151), SK Changgai (52), SK Bukit Jawa 2 (14), SK Sungai Petai (seven), SK Kamil 1 (77) and SK Wakaf Raja (36).
Some 45 evacuees from 17 families were housed at two relief centres in Machang, namely SK Pak Roman (37) and SK Mata Air (eight) while in Bachok, 106 people from 21 families were being accommodated at SMK Jelawat.
Meanwhile, according to the Drainage and Irrigation Department website, the level of Sungai Golok in Rantau Panjang is at 10.35m, continued to be above the danger point of nine metres while Sungai Golok in Kuala Jambu, Tumpat measured at 2.23m (warning level 2.15m).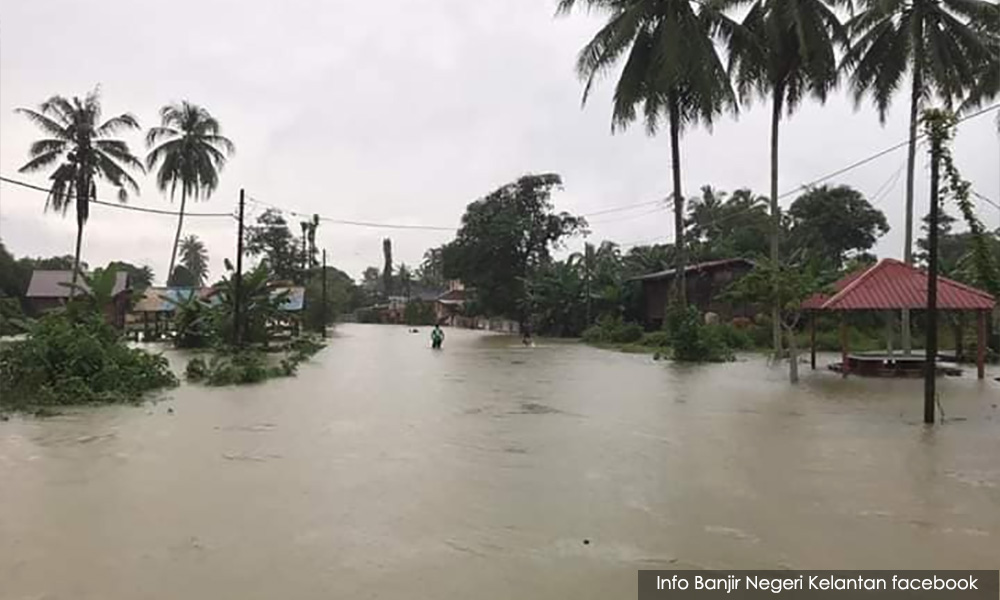 Four rivers were above the alert level namely Sungai Lebir in Tualang, Kuala Krai at 30.91m (alert level 27m), Sungai Kelantan in Kuala Krai at 22.47m (20m), Sungai Kelantan in Kusial, Tanah Merah at 13.79m (12m) and Sungai Golok in Jenob, Tanah Merah at 22.26m (21.5m).
Meanwhile, five more flood relief centres were opened in stages in Terengganu since early today to accommodate evacuees in Besut and Setiu following heavy rain in both the districts.
This brings to 39 the number of flood relief centres that were opened since floods hit the state three days ago.
However, based on the Social Welfare Department's InfoBencana, the number of flood evacuees has dropped to 1,413 people (360 families), from 1,436 people (402 families) this morning.
In Setiu pula, 88 people (32 families) have been evacuated to eight relief centres, from only 62 people (22 families) earlier.
In Dungun, there are still 281 people (78 families) still at three flood relief centres in the district.
In Hulu Terengganu, the number of flood victims has dropped to only 50 people (10 families), from 187 people (74 families) earlier today.
The reading at Sungai Chalok at Jambatan Chalok is 8.77m, which is above the danger level of 8.40m, Sungai Nerus in Kampung Langkap is 21.52m (danger level is 21m) and Sungai Setiu in Kampung Besut is 17.72m (danger level is 17.5m).
Several roads linking Jerteh to Hulu Besut are affected by the floods and have been closed to all traffic. Motorists are advised to use alternative routes to get to their destinations.
- Bernama