UPDATED 7:15pm with the Ministry of Health Singapore's statement that the Malaysian man had been at Grand Hyatt Hotel, Singapore. 
CORONAVIRUS | A 41-year-old bachelor from Selangor has become the first Malaysian to test positive for coronavirus (2019-nCoV).
This was announced by Health Minister Dr Dzulkefly Ahmad (above) in a press conference at the Kuala Lumpur International Airport today.
According to the minister, the man had returned from Singapore after being there from Jan 16 to 23 on a business trip.
While in Singapore, he had been in meetings that were attended by "international delegates", including those from China. Singapore's Ministry of Health said in a statement that he had been at the Grand Hyatt Hotel, located near Orchard Road, for those meetings.
Noting the possibility of "limited local transmission", Singapore advised against alarm.
"Though this cluster (of cases including the Malaysian man's) constitutes limited local transmission, there is as yet no evidence of widespread sustained community transmission," it said.  
Six days later on Jan 29, Dzulkefly said the man sought medical treatment for fever and cough from a private medical facility in Selangor.
On Feb 2, he was referred to Hospital Sungai Buloh and placed in an isolation ward. He tested positive for 2019-nCoV yesterday (Feb 3).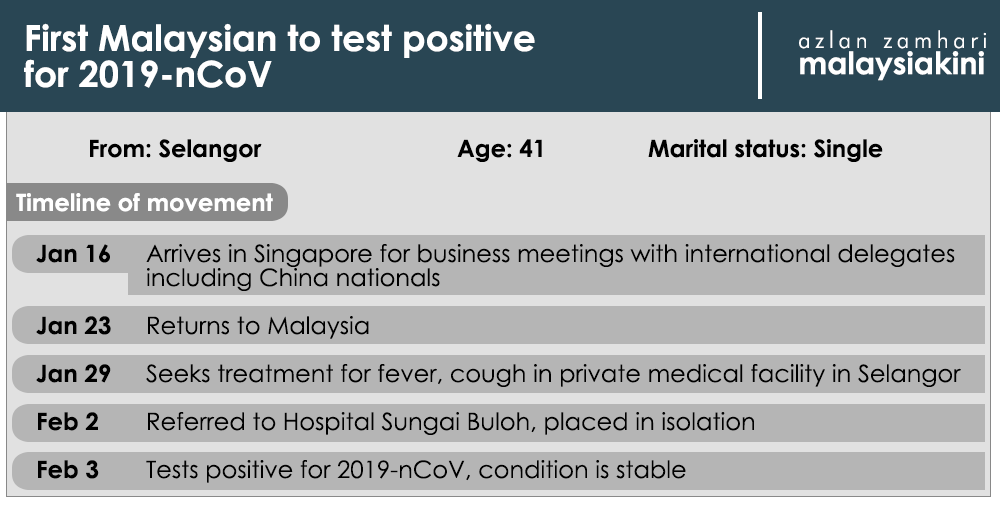 Dzulkefly said the man is presently in a stable condition and all his family members are being monitored.
Contact tracing procedures have also commenced in both Malaysia and Singapore.
Elderly China man tests positive
Meanwhile, Dzulkefly announced a second new 2019-nCoV case - a 63-year-old man hailing from Wuhan, China, who arrived in KLIA on Jan 18.
The man began experiencing a slight fever five days later on Jan 23 and sought medical treatment at a private hospital in Kuala Lumpur.
He was then placed under home surveillance for 14 days.
---
Read more:  New coronavirus outbreak: Here's what we know so far
---
As of Feb 2, the man continues to have a fever and is being treated in an isolation ward at Hospital Kuala Lumpur. He tested positive for the virus yesterday (Feb 3).
The minister said that he is in a stable condition.
This brings the total number of 2019-nCoV cases in Malaysia to 10 - nine China nationals and one Malaysian.