CORONAVIRUS | Malaysia has recorded two more cases of the novel coronavirus (2019-nCoV) - one Malaysian and a tourist from Wuhan, China.
This brings the total number of cases in the country to 14, up from 12 yesterday.
At a press conference in Putrajaya today, Health Minister Dr Dzulkefly Ahmad (photo) said that the Malaysian is the younger sister of the 41-year-old Malaysian man who tested positive for the virus on Feb 3 after returning from Singapore.
The woman had been in "direct contact" with her elder brother when he returned to his hometown of Sungai Petani on Jan 23 to celebrate Chinese New Year.
Nine days later on Feb 1, she developed a fever and sore throat.
On Feb 4, she developed a cough.
The woman then sought medical treatment from a private clinic. The minister did not mention where the clinic was or when she had visited it.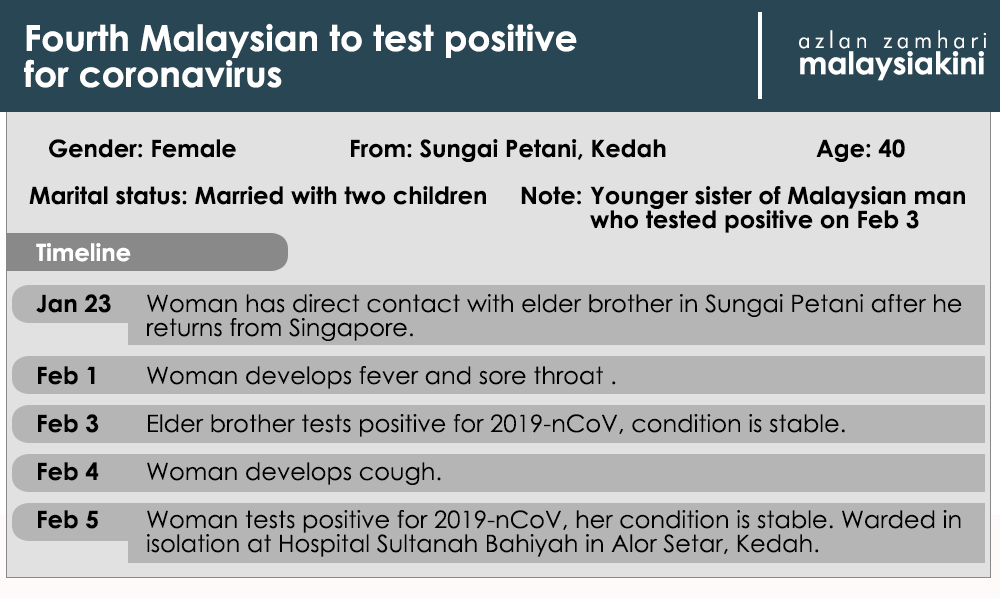 After her brother tested positive for 2019-nCoV, health ministry officials traced her and tested her. She tested positive for the virus yesterday (Feb 5).
Of the 42 people tested following contact tracing procedures initiated after her brother's case, the 40-year-old mother of two was the only person found with 2019-nCoV.
She had no history of travelling to China and is the first case of human-to-human 2019-nCoV transmission in Malaysia.
Warded in isolation at Hospital Sultanah Bahiyah in Alor Setar, Kedah; the minister said that she is currently in a stable condition.
Wuhan tourist is 14th case
Meanwhile, a 37-year-old female tourist from Wuhan - the epicentre of the virus outbreak - also tested positive for 2019-nCoV.
On Jan 25, she arrived in Malaysia with her mother and three friends. The group had visited several tourist sites around Kuala Lumpur, the minister said.
Seven days later on Feb 1, she sought medical treatment for a slight fever at Hospital Kuala Lumpur.
"The doctor who treated her allowed her to go home and gave her some medicine and a home assessment tool," Dzulkefly said as he read from a statement.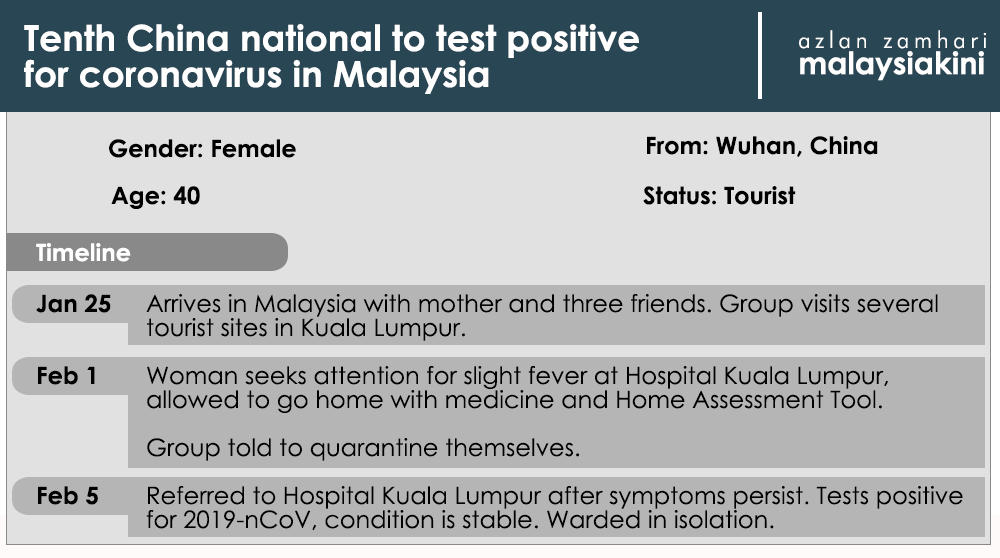 The tourist and the group were then told to quarantine themselves.
On Feb 5, the tourist was tested positive for the virus after a ministry official examined her and referred her to Hospital Kuala Lumpur.
She is presently being warded in isolation and is in a stable condition, the minister said.
Later on Twitter, Dzulkefly announced that the Canadian teen warded in Hospital Kuala Lumpur yesterday has tested negative for the virus.
"The teen has been allowed to leave the hospital," the minister tweeted. The teen was rushed to the hospital yesterday after collapsing at Suria KLCC.
 As of today (Feb 6), four Malaysians and 10 Chinese nationals have tested positive for the virus on Malaysian shores.
One of the 10 Chinese nationals - a four-year-old girl - has fully recovered and is set to return home.
 READ MORE: New coronavirus outbreak: Here's what we know so far