COVID-19 | The Health Ministry today reported 7,748 new Covid-19 cases and 86 deaths.
It has been 23 days since the start of the third movement control order (MCO 3.0) and yet there are no signs of things getting better.
The number of active Covid-19 patients, patients needing intensive care or patients needing ventilators all reached new highs today.
Active cases: 84,369
Patients in ICU: 883
Intubated: 459
Cases by states
Selangor (2,612)
Kuala Lumpur (851)
Negeri Sembilan (709)
Sarawak (706)
Johor (446)
Penang (376)
Perak (371)
Sabah (287)
Kelantan (286)
Kedah (263)
Malacca (234)
Labuan (230)
Terengganu (203)
Pahang (146)
Putrajaya (20)
Perlis (8)
A record 851 new cases were detected in Kuala Lumpur.
Notably, Labuan (230) - with a population of just 100,000 - was still reporting a relatively high number of infections.
In Selangor (2,612), a relatively significant number of people - one in six - were tested positive for Covid-19 only after they reported symptoms.
As of last night, the R-naught has remained at 1.06 for the second straight day. Every territory or state in the country has a R-naught of more than 1.00.
A R-naught of more than 1.00 suggests that the spread of Covid-19 is accelerating.
Deaths
The Health Ministry reported another 86 deaths attributed to Covid-19 today, bringing the death toll to 3,182.
The new deaths were reported in Selangor (20), Johor (14), Negeri Sembilan (13), Kuala Lumpur (7), Sarawak (5), Kedah (4), Pahang (3), Perak (3), Penang (3), Malacca (3), Labuan (3), Sabah (3), Kelantan (2), Terengganu (2) and Perlis (1).
There were two victims who were centenarians. The youngest was a 26-year-old victim in Labuan. Seven victims were pronounced dead upon arrival at the hospital.
Details of the deaths are documented on Malaysiakini's Covid-19 tracker site.
Clusters
The Health Ministry is monitoring 691 active Covid-19 clusters - the highest on record.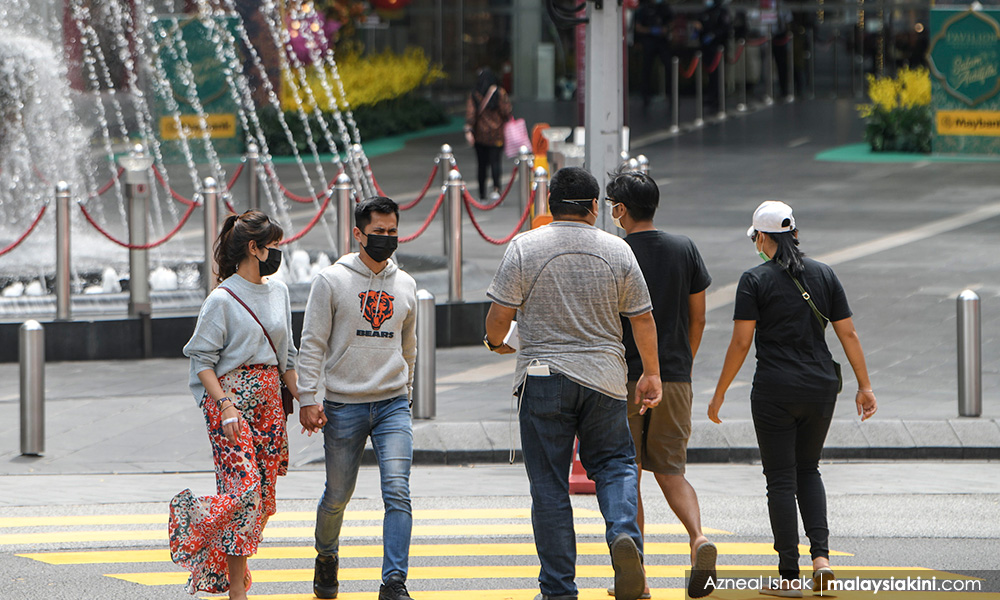 Another 23 new clusters were reported, involving 12 workplaces and seven community spread clusters. Details are as follows:
Persiaran Camellia cluster
Category: Workplace
State(s): Selangor
District(s): Hulu Selangor
Total infected: 14 out of 50 screened
Jalan Sungai Bakau cluster
Category: Workplace
State(s): Selangor
District(s): Gombak and Klang
Total infected: 42 out of 120 screened
Industri Sungai Buloh cluster
Category: Workplace
State(s): Selangor
District(s): Kuala Selangor and Petaling
Total infected: 32 out of 37 screened
Tapak Bina Desa Bakti cluster
Category: Workplace
State(s): Kuala Lumpur
District(s): Kepong and Lembah Pantai
Total infected: 28 out of 48 screened
Industri Persiaran Bunga Tanjung Dua cluster
Category: Workplace
State(s): Negeri Sembilan
District(s): Seremban and Rembau
Total infected: 27 out of 465 screened
Jalan Tampin – Gemas cluster
Category: Workplace
State(s): Negeri Sembilan
District(s): Tampin
Total infected: 44 out of 203 screened
Industri Jalan Senawang Tiga cluster
Category: Workplace
State(s): Negeri Sembilan
District(s): Seremban
Total infected: 53 out of 358 screened
Jalan Keluli Tiga cluster
Category: Workplace
State(s): Johor
District(s): Johor Bahru
Total infected: 27 out of 95 screened
Jalan Bandar Baru cluster
Category: Workplace
State(s): Penang
District(s): Seberang Perai Selatan
Total infected: 51 out of 198 screened
Jalan Jelapang 2 cluster
Category: Workplace
State(s): Perak
District(s): Kinta, Perak Tengah and Kuala Kangsar
Total infected: 28 out of 61 screened
Jalan Tanjung Machang cluster
Category: Workplace
State(s): Kelantan
District(s): Machang
Total infected: 15 out of 52 screened
Pasar Borong Jengka cluster
Category: Workplace
State(s): Pahang
District(s): Maran
Total infected: 19 out of 78 screened
Bunut cluster
Category: Community
State(s): Sarawak
District(s): Mukah and Sibu
Total infected: 35 out of 170 screened
Pulutan cluster
Category: Community
State(s): Sabah
District(s): Nabawan
Total infected: 11 out of 110 screened
Dah Fajar cluster
Category: Community
State(s): Kedah
District(s): Padang Terap
Total infected: 24 out of 79 screened
Dah Rimba cluster
Category: Community
State(s): Kedah
District(s): Sik, Kulim, Kuala Muda and Baling
Total infected: 35 out of 183 screened
Alor Serdang cluster
Category: Community
State(s): Terengganu
District(s): Setiu, Besut and Dungun
Total infected: 58 out of 244 screened
Gunung Senyum cluster
Category: Community
State(s): Pahang
District(s): Temerloh
Total infected: 14 out of 79 screened
Jengka Dua Puluh cluster
Category: Community
State(s): Pahang
District(s): Maran and Jerantut
Total infected: 19 out of 65 screened
Taman Seremban Jaya cluster
Category: Religious event
State(s): Negeri Sembilan
District(s): Seremban
Total infected: 48 out of 78 screened
Jalan Alor Gajah Lama cluster
Category: Religious event
State(s): Malacca
District(s): Alor Gajah and Melaka Tengah
Total infected: 26 out of 73 screened
Persiaran Mercu cluster
Category: Higher education
State(s): Selangor
District(s): Hulu Langat
Total infected: 48 out of 407 screened
Putra Enam Belas cluster
Category: Private education institution registered with Education Ministry
State(s): Putrajaya and Selangor
District(s): Putrajaya, Petaling and Sepang
Total infected: 8 out of 105 screened