Pro-Umno blog MyKMU.net has removed its article which quoted SRC International Sdn Bhd managing director Nik Faisal Ariff Kamil disassociating Prime Minister Najib Abdul Razak from accounts being investigated by the authorities.
The article was removed several hours it was first published and replaced with an editor's note which state that the article was withdrawn at the request of those close to Nik Faisal.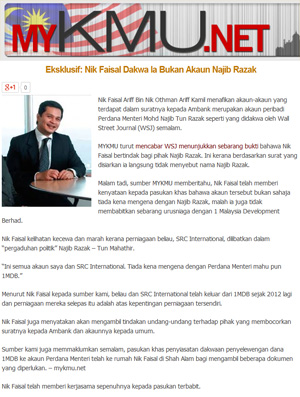 "We withdraw the article until (Putrajaya's) task force have completed its investigations," read the note.
Initially, the article quoted Nik Faisal claiming that he had already spoken to the task force that is investigating the claim that RM2.6 billion ended up in bank accounts belonging to Najib.
This allegation was made by Wall Street Journal in an article published last Friday, allegedly based on documents provided by Malaysian investigators. WSJ said documents showed that Nik Faisal reportedly had power of attorney to issue cheques on behalf of Najib.
The original MYKMU . net article claimed that Nik Faisal had told the task force that the accounts had nothing to do with Najib or 1MDB.
SRC International was formerly a 1MDB subsidiary. It is taken over by the Finance Ministry, which Najib heads, in 2012.
According to the WSJ article, the alleged fund transfer into AmBank accounts purportedly controlled by Najib began in 2013 while those specific to SRC International took place in December 2014 and February 2015.
The report, quoting sources, also said Nik Faisal claimed the accounts involved were his own but did not provide specifics.
It added that Nik Faisal was mulling legal action against those who leaked his letter to AmBank and bank accounts details.
The report added that the special taskforce had visited Nik Faisal's home to obtain some documents and that it received full cooperation.
Article amended
Prior to the removal of the article, MyKMU.net made some amendments by removing all references to the task force.
The special task force commenced investigations WSJ published its article.
After being challenged by some Umno figures, WSJ published nine-pages of documents, allegedly from Malaysian investigators, to prove that its allegations were legitimate.
Among others, the documents showed remittance forms and a letter by Nik Faisal to AmIslamic Bank Bhd, granting the power of attorney over the accounts to someone else.
Related reports
Cops to probe WSJ over leaked banking docs
Najib wants WSJ to confirm claims in 14 days
IGP: AmBank founder's murder not linked to 1MDB
SRC boss clears PM, says Umno website
Show us your bank accounts, Dr M tells PM
IGP rejects calls to arrest Mahathir
Ground crumbling from beneath Najib
Six options for ministers to prove they are patriots
PM faces renewed leave call after WSJ released docs
S'pore cenbank in touch with banks on 1MDB probe
Bank Negara in spotlight as scandal deepens
'Bravo' for making MPs look like criminals
There's more to dad's murder, says Pascal Najadi