Prime Minister Najib Abdul Razak offered a list of good news under Budget 2016 which included a hike in civil servants' pay, increase in BR1M cash handouts, and Goods and Services Tax rebate for mobile phone purchase.
But where is all the money coming from when the country is facing falling revenue from a slump in commodity prices?
Malaysiakini uncovers the 'bad news', by breaking down Budget 2016 for you based on ministries which have suffered the worst cuts.
What the premier failed to mention in his budget speech include the likelihood of pricier cooking oil, more expensive train and flight tickets on 'uneconomical' routes, the poor having to pay for their electricity bills, and other subsidy cuts.
1) Finance Ministry - General subsidies almost halved
At first glance, it would appear the Finance Ministry had suffered the worst from an austerity budget, with its allocation being slashed by RM7 billion or 17.8 percent, from RM39.247 billion to RM32.247 billion.
However, closer scrutiny showed the heavy cut was made possible through a reduction in subsidies which is expected to go down by a whopping 45 percent, or RM8.707 billion to RM10.633 billion.
Other notable cuts in the ministry include a 95 percent reduction in allocation to the Poor Students' Trust Fund (Kumpulan Wang Amanah Pelajar Miskin) from RM200 million to a mere RM10 million.
These cuts allowed for increased spending in other areas, including an allocation of RM1.073 billion to deal with the new increase in minimum wage.
The government has already embarked on an aggressive subsidy rationalisation exercise since the beginning of this year and it is unclear where the further subsidy reduction will come from.
2) High Education Ministry - Less money for universities
The second largest cut was targeted at the Higher Education Ministry which saw its budget reduced by RM2.4 billion to RM13.378 billion.
To make up for the shortfall, public universities will suffer the brunt of the cut as they will see their funding reduced by RM1.442 billion.
The worst hit universities are Universiti Malaya, followed by Universiti Malaysia Terengganu and Universiti Teknologi Mara, which budget were slashed b 27.3 percent, 23.76 percent and 23.72 percent respectively.
Some MPs, including Bayan Baru MP Sim Tze Tzin, have raised concerns if this will mean higher tuition fees next year.
3) Commodities Ministry - Pricier cooking oil
Plantation Industries and Commodities Ministry saw a 60.76 percent reduction to its budget from RM1.659 billion to a mere RM651 million.
While the ministry's programmes saw an across the board reduction in allocation, it will be the consumers who will feel the burden the most.
This is because the single largest cut came from the RM950 million cooking oil price stabilisation scheme which was completely defunded under Budget 2016.
Under the scheme which was introduced in 2007, it ensured a ceiling price on cooking oil, as well as sufficient supply in the market by compensating producers.
With the scheme effectively abolished next year, consumers are likely to pay more for cooking oil.
4) Transport Ministry - Train, flight subsidies reduced
The Transport Ministry will see a budget reduction of 14.1 percent, or RM648 million, to RM3.955 billion, the fourth largest cut among the ministries.
Areas that will see cuts include subsidies for KTM trains and flights from rural regions.
Specifically, the subsidy on "uneconomical" KTM routes will be slashed by more than half, from RM52.9 million to RM25 million.
Subsidy for rural flights, as well as on aircraft rental, will also be reduced by RM5 million from RM160 million.
Other reductions will come primarily from the ministries' operations.
5) Energy Ministry - No more electricity subsidy
The Energy, Green Technology, and Water Ministry comes in at fifth place for the largest allocation cut under Budget 2016, with a reduction of RM605 million to RM2.262 million.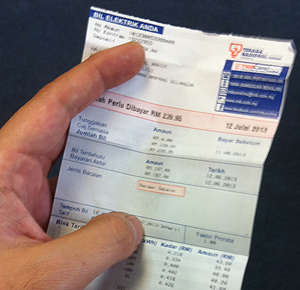 Likewise, it will be consumers who will suffer the most as the single largest slash is the electricity bill subsidy of RM150 million which will be completely defunded.
Presently, households which use less than RM20 in electricity have their bill fully subsidised by the government to help poor families.
6) Defence Ministry - Downsized national service
The Defence Ministry will see a budget reduction of RM459 million, the sixth largest cut to a ministry.
The amount is relatively small compared to the Defence Ministry's huge budget of 17.304 billion for next year.
The cut came largely from the downsizing of the national service programme which allocation will be reduced from RM614 million to RM276 million.
However, other areas have also seen cuts, including a reduction of RM100 million to RM2.701 billion for air defence, even as the government plans to acquire new assets in difficult economic times.
Under Budget 2016, the Defence Ministry will acquire six Littoral Combatant Ships, Very Short Range Air Defence weapons system, armoured vehicles, and the A-400M Airbus.
7) Urban Ministry - Solid waste management
The Urban Wellbeing, Housing and Local Government Ministry is the only other ministry to have experienced a cut of more than RM300 million.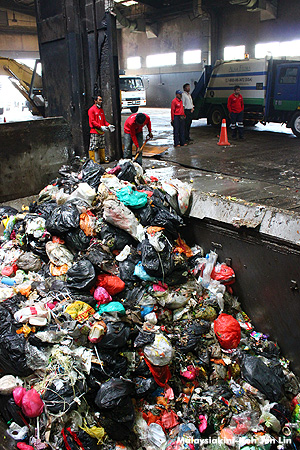 Under Budget 2016, the ministry will be allocated RM4.173 billion - compared to RM4.572 billion this year - a reduction of RM399 million.
The single largest cut will come from solid waste management; its funding will see a reduction of 17.3 percent from RM1.036 billion to RM857.1 million.
It remains unclear how the ministry is going to handle solid waste management while still saving RM178.9 million.
However, it should be noted the ministry's budget provided for RM15 million for the operation of a new landfill next year, which is a more economical method of waste disposal.
*This list excludes the Home Ministry; its Federal Expenditure Estimates has yet to be uploaded by the Finance Ministry.
Related Stories:
MP warns of varsity fee hike after heavy cuts in Budget 2016
PM's Dept gets record budget but royal allowances slashed
'Save Najib' budget cloaks heavy cuts with sprinkling of goodies
Azmin: Budget 2016 bad news for economic growth
A Vision 2020 budget, cheers Penang BN; lame, says Amanah
Budget 2016 handouts patronising for natives, says Joas
Najib's plan is working - for him, not Malaysia