POLL | After more than a decade, the Star Wars saga is returning to the silver screen, with Episode 7: The Force Awakens slated to open in Malaysian cinemas on Dec 17. The excitement and anticipation, as always, are at peak levels, with ticket bookings having opened weeks earlier.
But there is also a Star Wars of the Malaysian variant, with gripping scenes and clashing of light sabres, albeit in the form of accusations bandied about in press statements, media conferences, and social media.
Yes, this is in reference to the war in Umno and the gathering of party's stormtroopers at the Putra World Trade Centre (PWTC) for their annual meet.
To detractors, if an analogy is drawn between Star Wars and local politics, Umno and BN would be the evil empire hellbent on crushing the republic.
To those at the other end, it would be Anwar Ibrahim and the opposition coterie who are flirting with the dark side of the force.
Since it is Umno which is hogging the limelight at present, Malaysiakini decided to compare some of the main characters in Star Wars with those from the ruling party.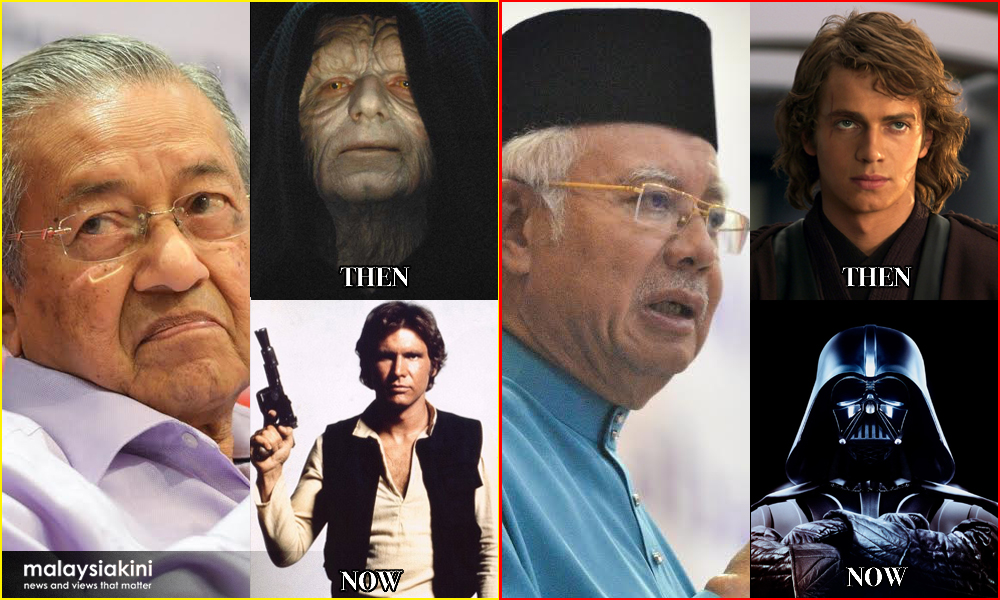 For example, Dr Mahathir Mohamad, once regarded as Emperor Palpatine, the Sith Lord himself, has now transformed into something of a Han Solo, the character portrayed once again by Harrison Ford in Episode 7, a junior to Mahathir by eight years.
And as far as Mahathir is concerned, now that he is Han Solo, Prime Minister Najib Abdul Razak is the ominous Darth Vader.
Since it is difficult to assign a character for Muhyiddin Yassin, as Star Wars - unlike some celluloid fantasies - does not have walking and talking trees, let alone stumps, we are letting you, our readers, decide on him and the rest of the cast.
[CLICK 'START' BELOW]
RESULTS
Related reports
MACC met RM2.6b donor? Stop pulling our legs
KJ runs with the hares and hunts with the hounds
'I'm in fighting shape,' says Najib of attacks on him
Jasa booklet demonises Bersih, extols red shirts
Najib: I'm a gentleman, come and meet me
PM: No salary hike for civil servants if GST not implemented
Dr M in the house, pro-Najib portal zooms in on pink attire
Najib: A two-party system? No way
Anina appeals court decision upholding Umno expulsion
Kit Siang flays Shahrizat over 'blood-curdling' claims