Millions of ringgit from an Ambank bank account purportedly belonging to Prime Minister Najib Abdul Razak were spent on jewellery, holidays, cars and political campaigns.
This is according to Australian Broadcasting Corporation (ABC) in its report which details the transactions of the account which is held in Ambank under the codename "Mr X", which it claims belongs to the prime minister.
The banking records were obtained by the ABC's 'Four Corners' journalists, the report said, but did not disclose the source of the records.
The spending include:
Jewellery – RM3.2 million (paid using a Platinum Mastercard and Visa credit cards);
Political campaigns - RM24 million to Solar Shine Sdn Bhd, a firm linked to 1Malaysia NGO which held many campaign events for BN;
Payments for media and advertising - sum undisclosed;
Payments for Sarawak United People's Party (SUPP) and Liberal Democratic Party (LDP) - sum undisclosed;
Rahah Foundation - RM7.5 million (The foundation and Najib once donated cows to the Selangor police for Aidiladha ritual slaughter);
Hotel stays - RM395,782.40 at Shangri-La Hotel, Kuala Lumpur;
Shopping - RM360,000 with fabric retailer Jakel Trading;
Holidays - RM178,000 for travel agency Two One Holidays Malaysia;
Luxury Cars - RM167, 959.50 for luxury car trader Signature Exotic Cars;
Businesspeople, academics and lawyers - sum unspecified.
When contacted, the Malaysian Anti-Corruption Commission declined to confirm if the details published by ABC matched its investigation findings.
Malaysiakini has contacted the Prime Minister's Office for a response.
Earlier the ABC reported that attorney-general Abdul Gani Patail was ready to charge Najib with corruption, before he was suddenly removed from office ostensibly for health reasons.
His successor, Mohamed Apandi Ali, exonerated Najib of wrongdoing.
The prime minister's wife, Rosmah Mansor, has been repeatedly criticised for her luxury handbags and expensive taste in jewellery, but Najib consistently denies using public funds for private use.
Najib had in 2011 threw an engagement ceremony for his daughter at Shangri La Hotel.
The bill for catering reportedly came up to RM409,767, with the menu including lobster bisque and wagyu beef, for some 900 guests.
The Prime Minister's Office said Najib's family footed the bill.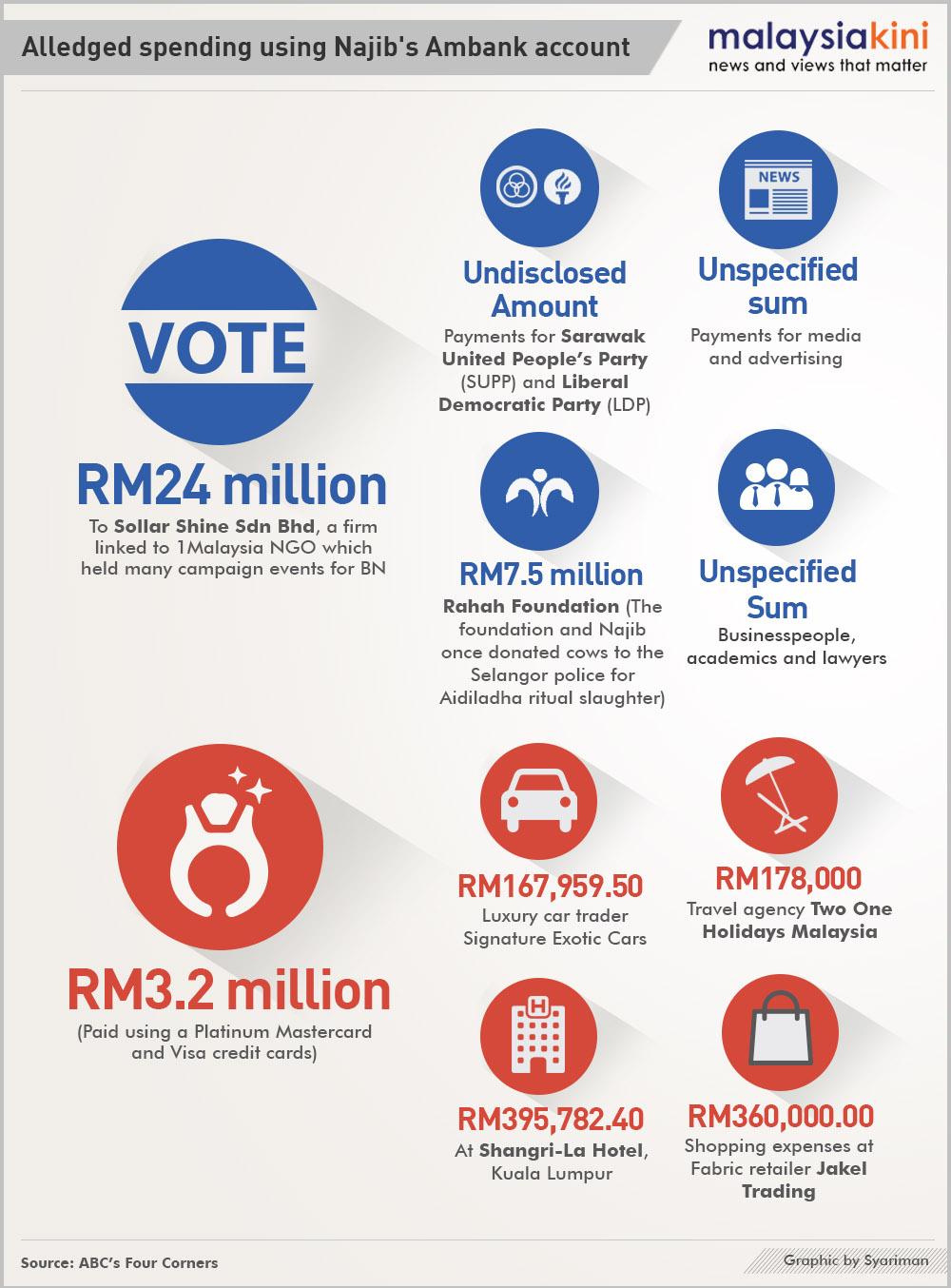 Related stories
Najib's lawyer has not watched Aussie documentary, declines to comment
Do as you please with US$375m gift: Saudi prince's letter to Najib
Pro-Najib portal: 'Four Corners' of liars, madmen and the senile
Aussie journos may face action if they return to M'sia
'Were 1MDB and RM2.6b issues measured in syariah index?'
Swiss gov't yet to reply to M'sia on 1MDB
Najib appoints Hafarizam as solicitor for Dr M's lawsuit
Analyst: Referendum on Najib for PM highly unlikely
Lawyers behind motion for AG's removal summoned under Sedition Act