The "seriousness" shown by Port Dickson MP Danyal Balagopal Abdullah in giving away his seat is what made Anwar Ibrahim choose the Port Dickson to chart his return to Parliament.
The PKR president-elect revealed this in a Skype interview with Astro Awani from Hong Kong today.
"Danyal was serious about making way for me. I mean there were several others (who offered), but in politics, some will announce (that they are willing) but then back down.
"He was serious (about the idea), so I met him and asked him for a reason, and he said he will continue as an assistant to me in Teluk Kemang," said Anwar, referring to the old name of the Port Dickson parliamentary constituency.
"Technically, it's not stepping down... he said it was an honour to Teluk Kemang and Negeri Sembilan. It was a good argument, I was impressed."
According to Anwar, he had known Danyal as an active PKR member in Perak for some time now.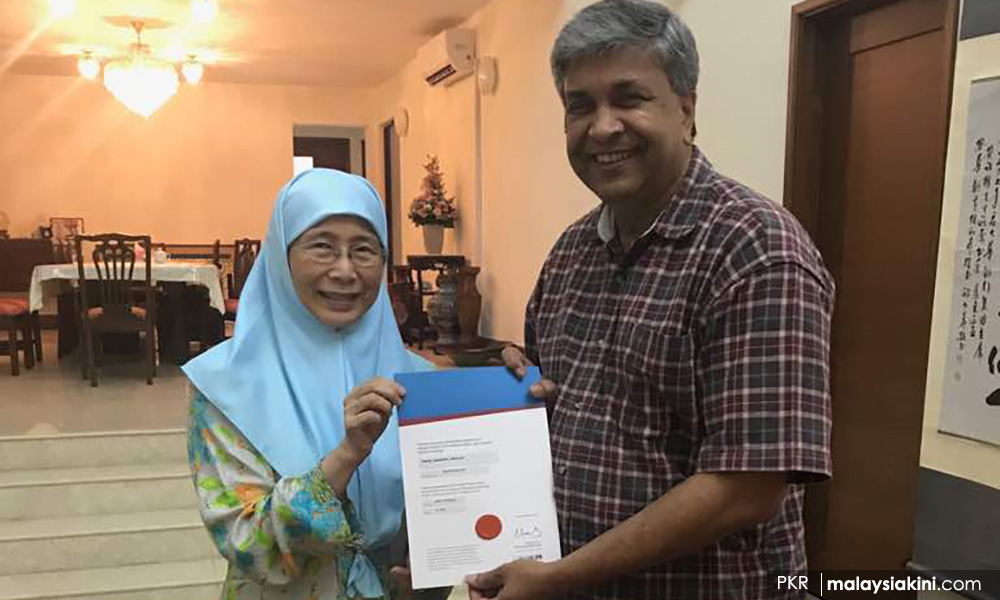 "Although he is not nationally prominent, despite being a former senior naval officer, his willingness to assist me was impressive.
"The choice (of seats) given to me were one in the north (of the peninsula), one in the central region and one in the south. Danyal impressed me with his personality and did not talk about stepping down, but about working together as a team."
Anwar said that if elected, he will further boost Port Dickson's status as a prime tourist destination.
Bernama later reported outgoing PKR president Dr Wan Azizah Wan Ismail as saying that the move will allow Anwar to make his return to active politics after being imprisoned for a total of 11 years.
"For him to return to active politics, this is the path for him to become an MP in the Dewan Rakyat," she said.
'State stand'
PKR earlier today announced that Danyal would vacate his seat for Anwar.
Port Dickson voters comprise 55 percent non-Malays (33 percent Chinese, 22 percent Indians) and 43 percent Malays.
In the 14th general election, Danyal defeated V Mogan of MIC and Mahfuz Roslan of PAS by a 17,710-vote margin.
After the announcement was made, however, PKR Wanita chief Zuraida Kamaruddin urged Anwar to state his stand on whether there was a consensus among party leaders on the engineering of the 'PD move'.
---
RELATED REPORTS
Zuraida hopes Anwar explains stand on 'PD Move'
PAS, MIC to hold party meetings over Port Dickson seat
'PD Move': PKR optimistic despite possibility of low turnout
KJ suggests BN fields Linggi lawmaker against Anwar
Leave PD to us - veterans' group pleads with Anwar