Umno Youth has demanded an explanation from attorney-general Tommy Thomas and chief justice Richard Malanjum over their controversial dance video.
Its chief Asyraf Wajdi Dusuki said the pair and de facto Law Minister Liew Vui Keong, who also danced on stage with them, should hold a press conference immediately to clear the air.
"They should explain whether their dancing together on a stage with other lawyers are within the Judges' Code of Ethics and conduct of appointed civil servants," he added.
Asyraf said only the Pakatan Harapan leadership and their supporters have defended the dancing, while Thomas and Malanjum have remained tight-lipped on the matter.
"The issue Umno Youth has with the incident is that it raises the perception and casts doubt on the separation of powers, as well as the judiciary's ethics and integrity," he added in a statement today.
Asyraf (photo) also trained his guns on former Bar Council chairperson Ambiga Sreenevasan, questioning her silence on the matter when she had voiced her opinions on issues related to the judiciary in the past.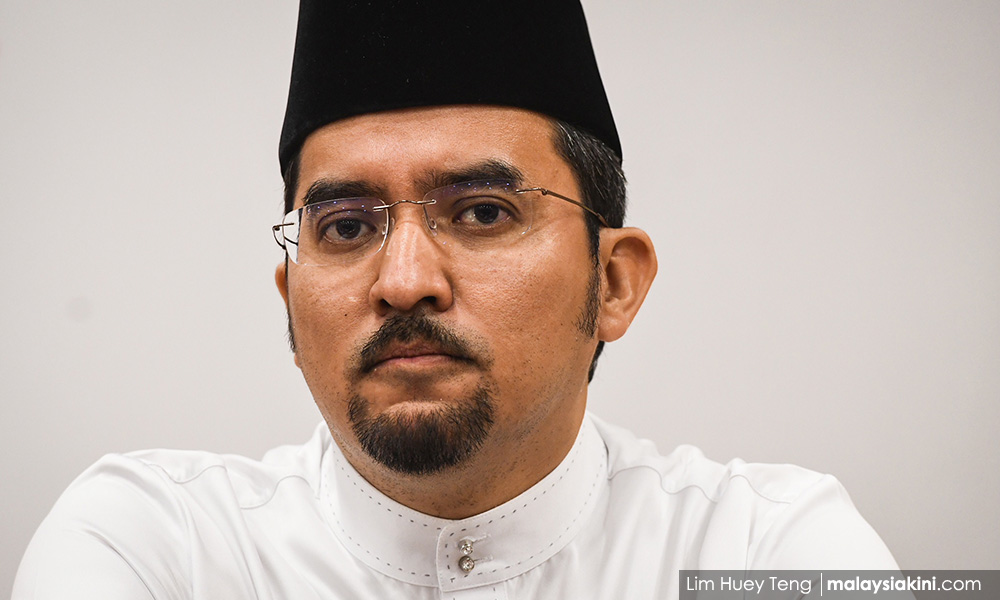 The Umno leader also said the silence over the episode leads to the question if those involved have become "arrogant with power" that nobody, including Prime Minister Dr Mahathir Mohamad, could compel them to provide an explanation.
---
Read more: Hadi: In the West, heads would roll over AG, CJ's 'twist'
---
Earlier today, PAS president Abdul Hadi Awang said in the West, resignations would have been tendered if top legal officials and members of the executive had been filmed dancing together on stage. 
This was in response to a video showing Thomas, Malanjum and Liew dancing with several others during the Opening of the Legal Year 2019 gala dinner to the tune of Chubby Checker's "Let's do the Twist."
Critics claimed that the fraternising had brought disrepute to the judiciary.
PKR leadership council member Nik Nazmi Nik Ahmad was also among those who criticised the incident, saying that there must be a consistent stand on such matters.
He noted how former attorney-general Mohd Apandi Ali and BN ministers were criticised in 2016 for a similar incident.
However, Liew explained that the trio only danced because they were invited by the event organisers to do so.
Others have rebuked the criticisms as frivolous and disrespectful of East Malaysian culture.