Bersih has criticised Pakatan Harapan candidate M Manogaran's excuse for wearing a shirt with the coalition's logo at a polling station and urged the Election Commission to file a police report.
"While we noted his apology, we still find the excuse given by Manogaran, a seasoned election campaigner and lawyer himself, that it was early in the morning and he was in a rush, rather flimsy.
"As firsthand eyewitness of the offence, we urge the EC to lodge a police report for this violation. We call for an investigation and commensurate actions be taken by the police and the Attorney-General's Chambers," said the electoral watchdog in a statement this evening.
Bersih noted that the act of wearing a party logo or having party ornaments within 50m of a polling station is an election offence under Section 26(1)(g) and carries a jail term up to one year or a fine of up to RM5,000 or both.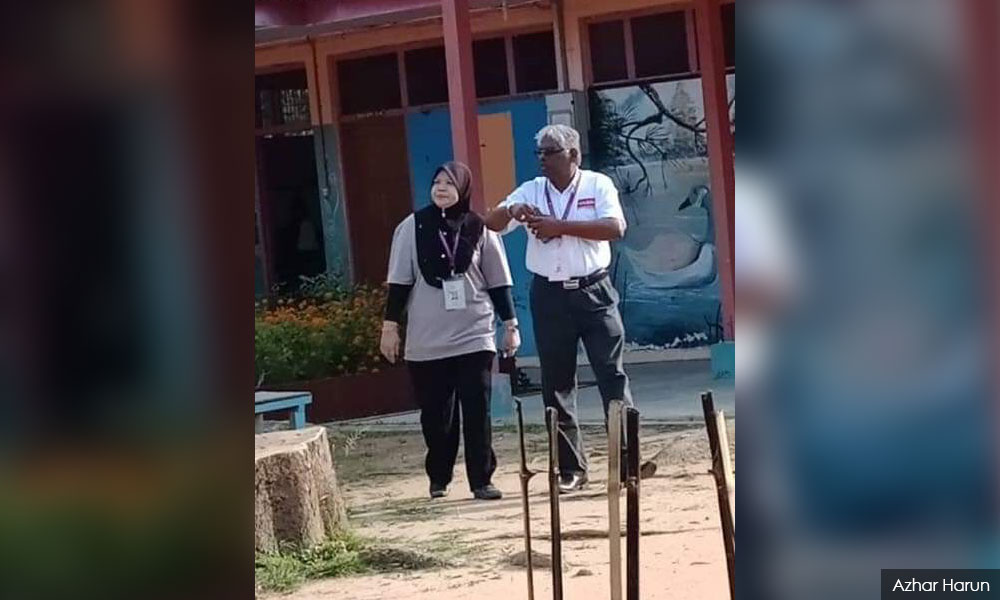 The watchdog also applauded the EC officers on duty for their awareness of this election offence and for escorting Manogaran out of the polling station.
However, it said the police personnel stationed at the gates should have stopped the candidate from entering in the first place.
Compliance parameters needed
"The continual instances of election offences being committed by the two main contesting candidates in this by-election reinforce the need for all political parties to come together to discuss what are the reasonable compliance parameters for election laws and what are the areas that need urgent update and reform.
"This was first proposed by (Umno lawmaker) Khairy Jamaluddin on Jan 20. Bersih would be happy to organise such a roundtable discussion and to moderate the discussion," it added.
Bersih said it would publish a comprehensive report on the Cameron Highlands by-election within a week from today.
"Apart from highlighting election offences by the candidates, we will also be making some recommendations on how we can move forward to ensure future elections are cleaner and fairer," it added.
Earlier, Manogaran apologised for wearing the shirt, claiming that he made a mistake.
"It was my personal mistake. It was early in the morning and I was rushing. I immediately left the polling centre when the (EC) officer told me to," he said.
---
RELATED REPORTS
Malaysiakini's Cameron Highlands live coverage
EC satisfied with highest by-election turnout since GE14
Kit Siang congratulates Ramli for being first Orang Asli MP
Hadi: BN win a rejection of DAP's 'extreme politics'
Mat Hasan thanks PAS for helping BN retain Cameron
Harapan's silver lining: Gaining ground among Orang Asli
Najib: It is a 'people's victory'
Official: BN retains Cameron, Ramli to be first Orang Asli MP