Universiti Malaya (UM) said the scuffle between student protestors and supporters of former premier Najib Abdul Razak yesterday could have been avoided if there were no provocations.
In a statement, the university said while it has been "consistent" on granting students the freedom to express their ideals, it does not condone verbal or visual provocation by students or "certain groups".
"This incident could have been avoided if everyone avoided provocative words and actions," UM vice-chancellor Abdul Rahim Hashim said in a statement today.
"It is hoped that those involved in this incident, whether students or supporters of certain groups, can be more mature in their actions in the future without resorting to force," he added.
Yesterday, six UM students staged a protest across the street from a restaurant where Najib was giving a talk.
The students had held placards, which read: "Arrest Najib", "Najib is shameless", "Return the people's money" and "Where is RM2.6 billion?"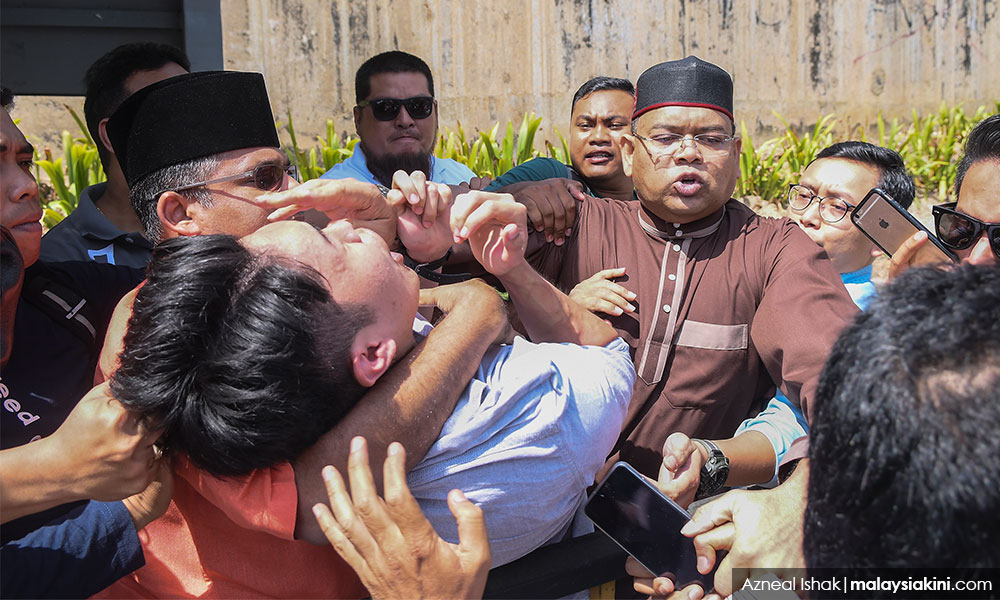 UM Association of New Youth (Umany) president Wong Yan Ke, meanwhile, held up a clown-face caricature of Najib.
The group were then confronted by a group of Najib's supporters, led by Umno supreme council member Lokman Noor Adam.
Lokman snatched the 'clown-face' cutout from Wong and tore it.
Subsequently, another supporter grabbed Wong in a reverse chokehold and attempted to pull him over the railing which separated the pavement from the road.
However, other supporters, including Lokman, intervened and stopped him.
Lokman told reporters later that he was provoked because they had used his "boss" Najib's image.
Following this, Lokman and others harassed two Malaysiakini interns over the news portal's report on the incident.
---
RELATED REPORTS
MCA Youth slams attack on students, offers them legal aid
UM student: I protested against Maszlee too but was not harassed
Hands off journalists, says communications minister
Academics tell cops to go after real wrongdoers in attack on UM students